3 Luxury Hotels in Sri Lanka That You'll Love (2024)
Last Updated on: 9th September 2023, 03:55 pm
When you think about luxurious island getaways, Sri Lanka may not be the place you are imagining. However, there are very good reasons why this jewel-shaped island in the Indian Ocean has become the dream destination for many. The tiny country just south of India has become Asia's hottest new destination especially among young millennials, travel bloggers, and social media influencers. This is partly due to the exotic nature of the land and partly due to the prevalence of luxury hotels in Sri Lanka.
You may have noticed those gorgeous images of travelers hanging out of train windows and doors while hurtling through a scenic green landscape – well, that is the magic of Sri Lanka. There is no other place quite like Sri Lanka with its year-round sunshine, golden beaches, ancient cities, colorful cultures, and romantic landscapes.
Ceylon Tea Trails in Dimbula
The first of our luxury hotels in Sri Lanka is truly unique.
The tea-growing district of Dimbula is full of sprawling peaks and slopes that have been cloaked in tea for generations after the arrival of British planters. With the success of Ceylon Tea in the region, the tea fields expanded. Dimbula lies amidst a silhouette of mountains and tea fields wrap around the hills coloring the slopes in peaceful green hues.
This distinctive part of Sri Lanka includes the picturesque region of Nuwara Eliya which connects to Kandy via the aforementioned epically scenic train journey. Dimbula District is well known for its lush greenery, stunning waterfalls, and gently sloping plantations that produce some of the best tea in the world.
Nestled among the golden valleys and green hills are the five Ceylon Tea Trails bungalows – one of the top luxury hotels in Sri Lanka. The five colonial bungalows are spread out from each other and were built between the years 1888 and 1925. Each bungalow has between four and six rooms, is completely unique and comes with its own manager, chef, butler, and staff. Guests can book a room at Norwood Bungalow, Tientsin Bungalow, Castlereagh Bungalow, Summerville Bungalow, or Dunkeld Bungalow.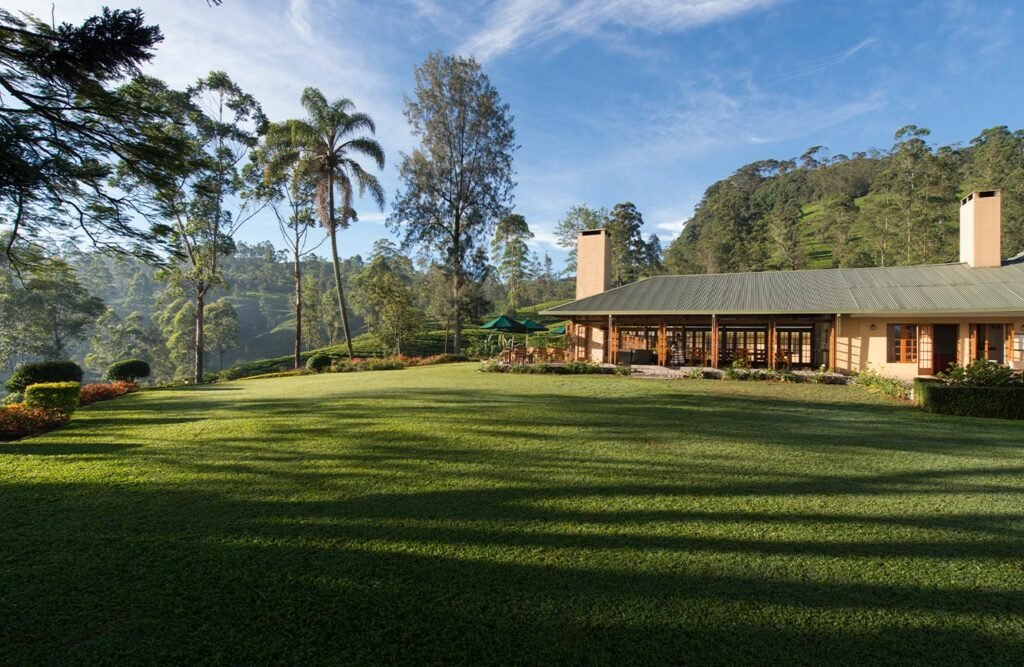 Each distinctively luxurious bungalow has sweeping lawns, English gardens, opulent lounges, and a swimming pool. All the rooms are decorated opulently and named after the particular tea planters who originally lived in these bungalows. The colonial-era luxury consists of wooden furniture, antique treasures, and other special touches. Master Suites have their own lounge, Garden Suites have patios with private gardens, Luxury Rooms are full of character, and the Owners Cottage is set apart and secluded.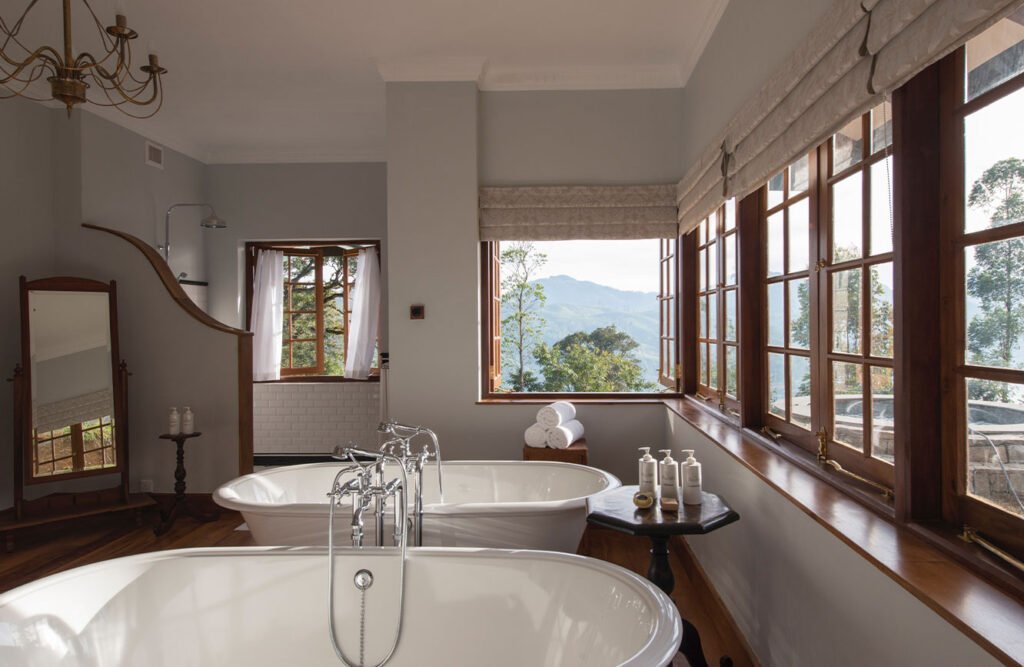 Each guest has access to the butler service from dawn to dusk and every request is attended to for the ultimate luxury experience. Every morning guests are treated to a traditional 'Bed Tea' for a stylish start to the day. All rates at Ceylon Tea Trails Bungalows include their gourmet meals and drinks for an all-inclusive experience. Guests are encouraged to indulge during their stay and can order in-room luxury spa treatments. Finally, there is a wide range of activities and excursions in the area, many of which revolve around experience the gorgeous natural surroundings.
Amanwella in Tangalle
The next of our luxury hotels in Sri Lanka is a coastal gem.
Tangalle is a beach haven located on the south-east coast of Sri Lanka and the ultimate island getaway destination. The long white sandy beaches, turquoise waters, and palm-tree-lined shores are unbelievably inviting. Tangalle is a recently developed beach destination with a few exclusive luxury resorts catering to travelers who wish to escape. Experience this diamond in the rough before it gets overcrowded by tourists like other luxury hotels in Sri Lanka.
Currently, Tangalle is the beach town to visit if you are looking for peace and quiet in a luxurious environment. Besides the stunning beaches, Tangalle is wonderfully close to many of the most rewarding attractions in Sri Lanka making it a great base. The Indian Ocean offers many water-sport opportunities whereas the surrounding jungles are full of natural treasures and national parks.
Amanwella is one of the few luxury hotels in Sri Lanka that grace this quiet sun-baked coastline and offers guests one-of-a-kind experiences. The distinctly contemporary design is similar to the Tropical Modernist movement that has become popular throughout Southeast Asia. By combining minimalism with indigenous materials, the resort is able to blend perfectly with the natural surroundings which are a rare treat. Amanwella's contemporary suites all feature floor-to-ceiling glass doors on both sides that can be opened up to experience the unique sights and sounds of this area. One door reveals a private plunge pool while the other opens on to a large furnished terrace with attractive views.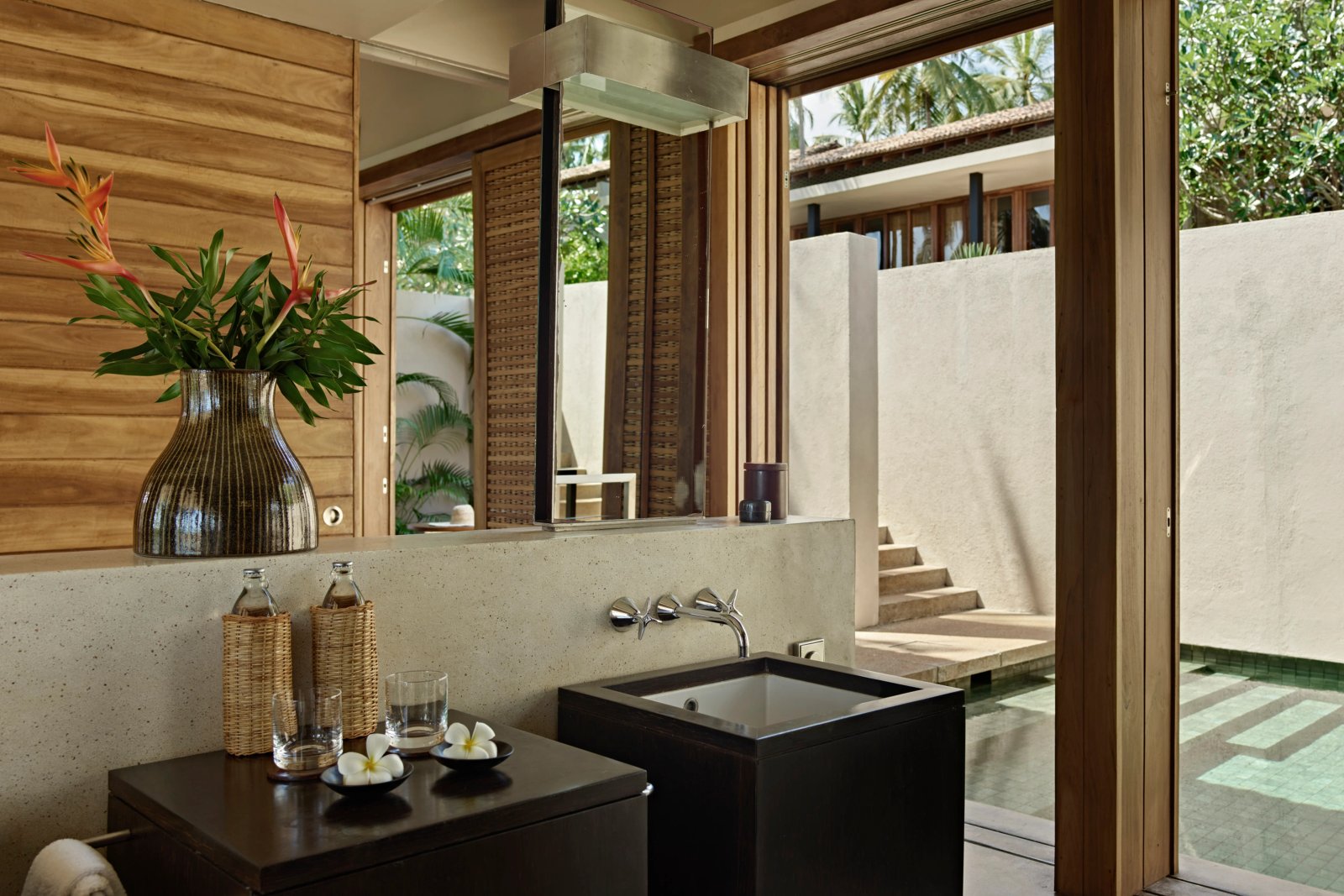 Guests can select between three different types of suites, all of which have their own appealing factors. The Garden Pool Suite offers views of the gardens and coconut groves. The Ocean Hill Pool Suite has a higher vantage point and views of the sea from above. The Ocean Pool Suite provides you with views of the sea and beach.
Experience a range of unique retreats, journeys, and adventures at Amanwella by booking one of their exclusive packages. There are many attractions to see, national parks to visit and ocean adventures to be had along the Tangalle coastline and Amanwella will make your dreams come true. Most packages are all-inclusive which means guests can sample the delightful Sri Lankan cuisine and freshly caught seafood. With undiluted views of the Indian Ocean, a private beach and surrounded by tropical palm trees, Amanwella has a secluded oasis-like feel making it an excellent wellness destination as well.
Tri Lanka in Galle
The last of our luxury hotels in Sri Lanka is my top choice for Eco-friendly and sustainable accommodations.
Galle is another seaside town that is a true gem of Sri Lanka and most well-known for its fort. The rich history of the area includes the Portuguese colonists who built the fort and later the Dutch settlers who expanded the town and built the stone sea walls. The historic city is a UNESCO World Heritage Site and simply delightful to explore on foot make it a much-loved destination. Nearby you will find Koggala Lake, a serene freshwater lagoon that is part of the Galle District. Koggala Lake is bordered by jungles and forests with a landscape full of wildlife. Small islands are dotted throughout the lake and some even have temples that can be visited.
Tucked away between the lush vegetation on the banks of Koggala Lake is the secret hideaway destination of Tri. Tri Lanka is the country's first modern sustainable luxury design hotel. The eco-resort is a tranquil hideaway that feels secluded while still being close to the walled city of Galle and some of the best beaches. Tri offers a wide variety of extravagant rooms and suites for their environmentally conscious guests.
The Water Tower Rooms are found within the cinnamon-wood-covered water tower at the center of Tri Lanka. The Lake Suite is a private villa right on the bank of Lake Koggala. The Lake Villa is a standalone building with incredible views over the lake. The Lake Villa with Pool is similar except you have your own open-air plunge pool to enjoy. Tri-Villa is more spacious and has two terraces and its own plunge pool. Finally, the Family Villa is two separate Lake Villas that are in close proximity and share a plunge pool so perfect for four people.
Just like everything else at Tri, dining focuses on sustainability and locally sourced produce. The motto is from the lake to table and garden to plate and you can rest assured that each meal is an extraordinary dining experience. Wellness is rather special at Tri and your well being is a natural side effect of staying at this exemplary resort. However, a variety of therapies and treatments are available to guests as well as Quantum Yoga sessions in the elevated yoga shala platform.
Luxury Hotels in Sri Lanka
Although Sri Lanka can definitely be visited on a budget, opting for a luxury experience ensures comfort.
Make sure to consider these three luxury hotels in Sri Lanka while planning your future travels to this exotic island nation.
Have you visited Sri Lanka or is it still on your bucket list?
Previously published in the November 2018 issue of Rare Magazine.
PIN IT FOR LATER: