Do not close this page, your order is not yet complete.
Almost finished…
You just unlocked a secret offer!
For a limited time you can get my entire collection of resources for the crazy low price of $33!
I've bundled up my most popular products into the ultimate travel blogger's bundle!
If you're ready to take action and become a wildly successful travel blogger/writer in 2023 then this is the bundle for you…
Get $78 Off Right Now​
Only $33

Yes! Add this Bundle to my order!


No thanks, I don't want this.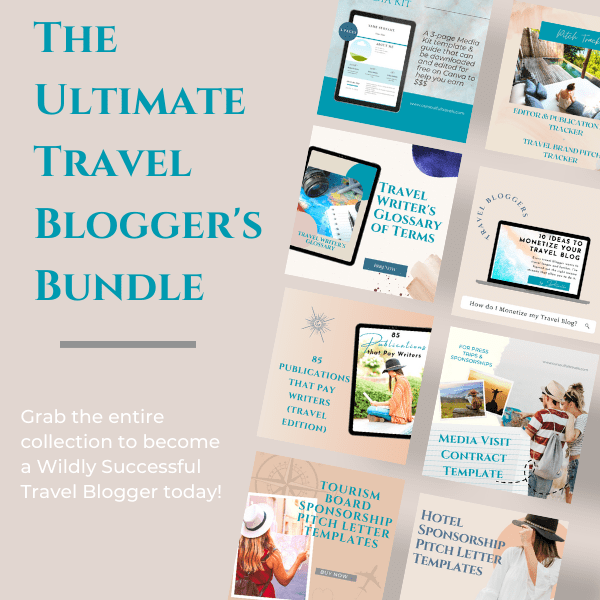 Here's What You Get
Media Visit/Press Trip Contract Template
Tourism Board Sponsorship Pitch Letter Template
Hotel Sponsorship Pitch Letter Templates
Query Letter Template for Pitching Editors
Travel Writer's Glossary of Terms eBook
2x Pitch Tracking Spreadsheets for Pitching Publications & Brands
3-Page Media Kit Template for Travel Bloggers
85 Publications that Pay Writers (Travel Edition) eBook
10 Ideas to Monetize Your Travel Blog eBook
What They're Saying
The resources you provide are all invaluable. Especially for someone just starting out that has no idea what they're doing, as the templates are a great base to start.


Jeanine De Diana
Travel Blogger
I loved seeing what a travel blog needs to have and do to grow. I just started two months ago, so everything was new and a little bit overwhelming for me but this bundle helped me get started.


Natali Simić
Travel Blogger
I don't really know what I'm doing yet when it comes to pitching, so having guides (especially ones with examples and templates) is extremely helpful.


Ashley G
Travel Blogger

Yes! Add this bundle to my order!


No thanks, I don't want this.

© OUR SOULFUL TRAVELS 2022. All Rights Reserved.