10 of the Most Beautiful Irish Islands to Visit
Last Updated on: 9th September 2023, 02:11 pm
Ireland, an island in its own right, is surrounded by hundreds of smaller islands. However, only a small percentage of Irish islands are inhabited.
History, ancient castles, animal viewing opportunities, breathtaking landscapes, sandy beaches, friendly locals, and traditional Irish food are all in abundance. There are plenty of hidden gems throughout Ireland and these islands are some of the most unique spots in the country.
So here are 10 of the most gorgeous Irish islands to visit:
Table of Contents
Disclaimer: This post may contain affiliate links. If you make a purchase from one of them I will receive a small commission at no extra cost to you, which allows me to keep this blog up and running!
Achill Island, Mayo County
Achill Island, the biggest of the Irish islands, is home to blue flag beaches, towering sea cliffs, and breathtaking landscapes. The island, which is connected to the mainland by a bridge, is easily accessible for a day excursion or longer if desired. The mountains of Croaghaun and Slievemore are ideal for hikers and provide breathtaking views from the top. Achill Island is also home to Carrickkildavnet Castle, a fortified tower castle and National Monument, and Keem Bay, one of the most stunning Irish beaches.
Clare Island, Mayo County
Clare Island, which is only six kilometers from the mainland, has a population of about 150 people. This magnificent island's diversified environment includes breathtaking coastal cliffs, hills, bogs, and woods, making it particularly popular among outdoor lovers. Clare Island Abbey, a former Cistercian abbey, Granuaile's Castle, one of the strongholds of the 15th-century pirate queen Grace O'Malley, and the Clare Island Lighthouse are all historical attractions on the island. The island contains tourist accommodations and is accessible by ferry from Roonagh on a daily basis.
Sherkin Island, Cork County
Sherkin Island is 3 miles long and 1.5 miles broad, and many people come for the lush walking paths, sandy beaches, animal viewing, and breathtaking views. Explore the ancient remnants, which include the Franciscan Friary, a 15th-century abbey, and the ruins of Dun na Long Castle. Despite having a population of barely 100 people, the island has a plethora of visitor services, including two bars and lodging choices. It is one of the most accessible Irish islands, with a 10-minute boat ride from Baltimore year-round.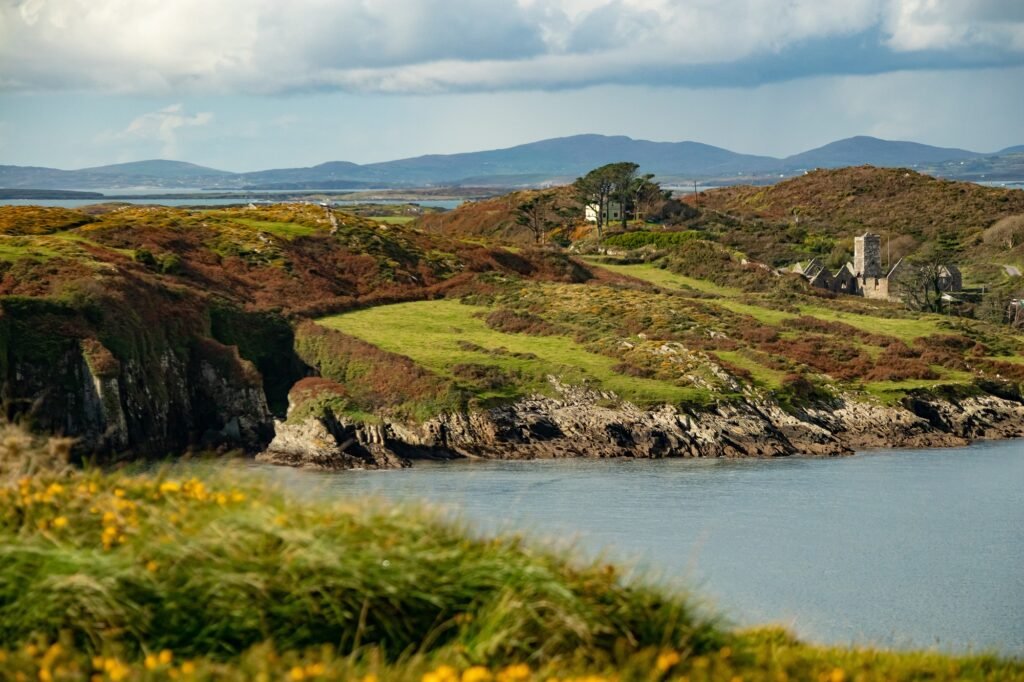 County Cork's Cape Clear Island
Cape Clear Island is the southernmost inhabited section of Ireland, located off the southwest coast of County Cork. The little Irish island is about 3 miles long and 1 mile broad, and it has a population of about 150 people. The island is home to a number of noteworthy ruins and monuments, including megalithic standing stones, a 12th-century church, and the 14th-century O'Driscoll castle. Seals, basking sharks, and dolphins, as well as many migrating marine birds, are frequently sighted in the seas here, making it a nature watcher's dream. The island may be reached by boat from either Baltimore or Schull.
Skellig Michael, County Kerry
Skellig Michael, which was seen in Star Wars: The Force Awakens, is located 12 kilometers off the coast of Kerry. It is a UNESCO World Heritage Site that is only accessible by boat and is home to a monastic town originating from the sixth century. Because of the island's protected status, only 180 persons are permitted to visit each day. You may get to the island by taking an island cruise from Portmagee. Because it is one of the most popular Irish islands, you should get your tickets well in advance.
County Galway's Aran Islands
The Aran Islands are a trio of islands located near the mouth of Galway Bay (Inishmore, Inishmaan, and Inisheer). These Irish islands are rich in tradition and culture, with historic monuments, ancient ruins, and religious places on all three. The biggest island, Inishmore, is home to Dun Aonghasa, a remarkable archaeological site and National Monument containing Bronze Age ruins. There are several methods to travel to the islands, but the most common is by ferry, which sails from Rossaveal every day.
County Kerry's Blasket Islands
The Blasket Islands are a series of six mountainous islands off Ireland's west coast. Due to terrible living circumstances, the last of the residents were evacuated in 1953, leaving the island desolate. Great Blasket, the archipelago's largest island, may now be visited on a day excursion. Wildlife abounds in the seas surrounding the island, including basking sharks, dolphins, minke whales, and seals. During the summer, there are frequent ferry services from Dunquin to Great Blasket Island.
Arranmore, County Donegal
Arranmore is County Donegal's biggest populated island. The island, which is located on the Wild Atlantic Way touring route, is famed for its scenic settlements, music festivals, friendly Irish-speaking residents, and stunning views. The pristine seas around the island are ideal for a variety of water sports like diving, kayaking, sea angling, and sailing. Walking, cycling, and rock climbing are among the most popular activities on dry land. Visitors may reach the island via boat from the community of Burtonport.
Inishbofin, Galway County
Inishbofin is a tiny island off the coast of Connemara with a population of roughly 180 people. The Cromwell Barracks, built in the 17th century, is one of the city's most notable structures, monastic sites, and archaeological remnants. Visitors to the island may also learn about the island's rich history at the Inishbofin Heritage Museum. Beautiful coastline with white, sandy beaches and clean seas makes for perfect swimming, snorkeling, and water sports conditions. Cleggan has a ferry service to the island.
Saltee Islands, County Wexford
The Saltee Islands are a pair of small islands that comprise a total area of 1.2 square kilometers. The deserted Irish islands known as Great Saltee and Little Saltee are a protected refuge for sea birds and other species. Great Saltee is a popular day trip destination that can be reached by ferry from Kilmore Quay Harbour. There are no amenities on the island, so bring food and water with you.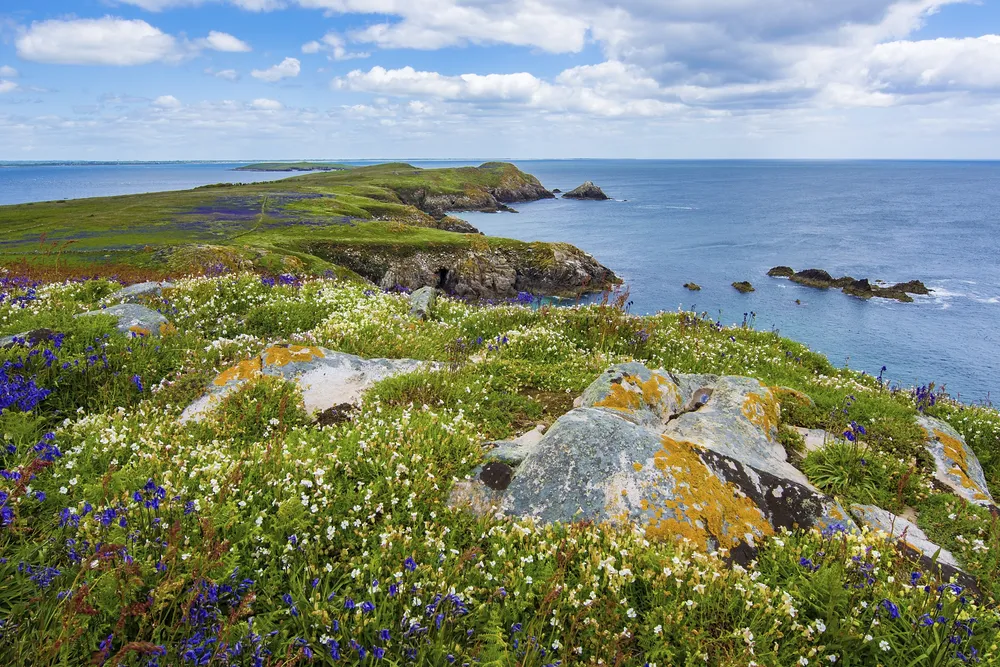 Discover the Magic of Irish Islands
Ireland is a land of myth, legend, and magic. Its islands are no different. The Irish islands in this guide each have something special to offer visitors. These are the places you go to when you want to feel the raw power of the ocean and the fickle nature of the weather. Not only will these destinations make you feel like you're at the edge of the world (the moody Atlantic Ocean has that effect) but they will connect you to the rich history of the Eire (Ireland).
Have You Visited Any Irish Islands?