Review of Mar d'Estorias: Eat Like a Local in Lagos
Last Updated on: 7th October 2023, 05:11 pm
Mar d'Estorias in Lagos, Portugal, is a hidden gem where you can experience the true flavors of the local cuisine in a vibrant and friendly atmosphere.
This rooftop restaurant has received rave reviews from customers who praise the quality of the food and the warm hospitality of the staff. The stunning views and relaxed ambiance add to the overall charm of the dining experience.
Visitors to Mar d'Estorias have particularly enjoyed the meat and cheese sharing board, which offers a delightful mix of flavors. The gin cocktails and local IPA are also highly recommended by patrons. The menu features an array of tempting dishes, including mixed starters, mackerel salad, and a tart of the day. The portions are generous, and the prices are reasonable, making it a great option for both locals and tourists looking for a delicious and affordable meal.
Mar d'Estorias is more than just a restaurant; it also has a beautiful gift shop where you can find authentic Portuguese products to take home. From artisanal goods to local artwork and coastal fashion, the gift shop offers a range of unique gifts that capture the essence of Portugal.
If you're planning a trip to Lagos, Portugal, make sure to include a visit to Mar d' Estorias on your itinerary. It's a must-visit spot that showcases the best traditional cuisine and provides a memorable dining experience.
Key Takeaways:
Mar d' Estorias in Lagos, Portugal, offers an authentic taste of local cuisine in a vibrant and friendly atmosphere.
The restaurant has received excellent reviews for its quality food, friendly staff, and stunning views.
Must-try dishes include the meat and cheese sharing board, gin cocktails, and local IPA.
The menu also features mixed starters, mackerel salad, and a tart of the day.
Mar d' Estorias has a beautiful gift shop where you can find unique Portuguese products, artisanal goods, local artwork, and coastal fashion.
Disclaimer: This post may contain affiliate links. If you make a purchase from one of them I will receive a small commission at no extra cost to you, which allows me to keep this blog up and running!
Foodies in Lagos
Portugal is a paradise for foodies and nowhere is it more evident than in lively Lagos.
Looking for a great restaurant in Lisbon? Check out our review of Lost in Lisbon Esplanada!
In the heart of the bright white and vibrant Lagos Old Town is the hidden gem Mar d'Estorias. Mar d'Estorias is a multifunctional space that seamlessly blends Portuguese culture and tradition with the modern world.
Dining at Mar d'Estorias served as an introduction to Portuguese customs and highlighted the true spirit of the Algarve. This innovative space that is so much more than just the sum of its parts values all that makes Portugal unique and aims to bring people together for delicious food, great drinks, and good conversation.
The historic venue offers a great mix of both the traditional and modern aspects of Portugal. Mar d'Estorias consists of a shop, an art gallery, a restaurant, and a rooftop terrace bar and is a must-visit location when in Lagos.
Central Location in Lagos
Mar d'Estorias is situated in a really central location at the heart of the busy Lagos Old Town.
On the busy thoroughfare and cobblestone street of Rua Silva Lopes, you will find the large white building with a small sign marking it as Mar d'Estorias. This special place is close to the marina and the other attractions and landmarks of Lagos.
With such a central location, Mar d'Estorias is the perfect spot for lunch, dinner, or sunset drinks. This is especially evident when you take in the gorgeous views from the rooftop terrace.
Love an epic view? Then you need to visit these 8 miradouros in Lisbon!
From this vantage point, visitors have views of the surrounding streets of Old Town and a glimpse of the blue Atlantic Ocean.
Mar d'Estorias Building & History
The Mar d'Estorias building has been around for a long time both witnessing and absorbing the history of Lagos. Mar d'Estorias was created as a way to honor and remember this history and the experiences of the Algarvian people.
Originally built in the 15th century as a church the building reflects the early Algarve Renaissance period in its style. The building then went on to be the headquarters for the Lagos Maritime Association and was embellished with a majestic entrance.
After the 1755 earthquakes it had to be renovated and was then used as a warehouse for wines and cereals before becoming the headquarters of the Lagos fire brigade.
Finally, the Mar d'Estorias team restored the building to its former glory. By filling the spaces with crafts, art, food, and other locally created products they have managed to restore its soul.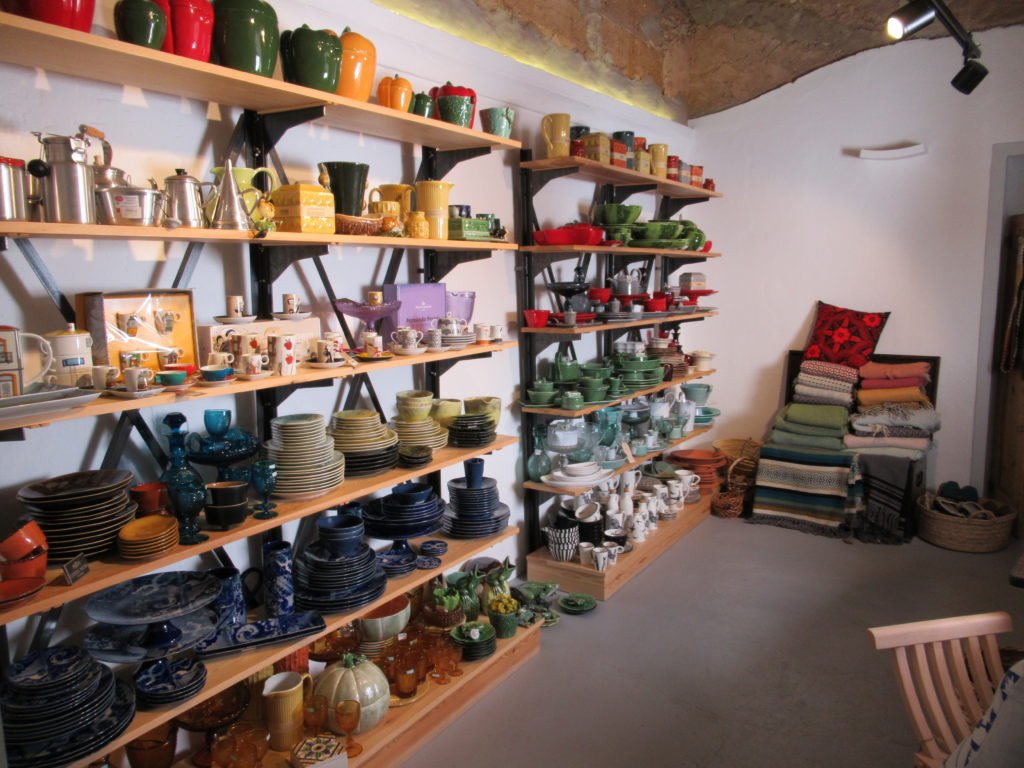 Drinks & Starters
We had the absolute pleasure of having lunch at Mar d'Estorias which we enjoyed on the rooftop terrace. The tasty food combined with the warm spring sunshine, fresh ocean air, and vibrant sights and sounds of Lagos was a real treat.
We started off with an Algarvian Caprhina cocktail made from Medronho which is a local Algarve fruit that was incredible. During lunch, I also savored the sweet home-made lemonade and my husband enjoyed a local craft beer.
Our starter was a wonderful mix of dishes such as cured tuna belly (salty but surprisingly good). We loved the variety of different homemade pieces of bread (my favorite was the carob and fig) that were paired with mackerel and spicy tuna dips.
Main Course & Desserts
The main course was also a superb mix of dishes that allowed us to sample the best on the Mar d'Estorias menu.
We tried the cockles with their tasty lemon garlic and coriander flavoring. Also, the traditional Portuguese dish of egg and tomato is a must-try while in the country. However, the seared tuna really stood out and was served with bean salad and sun-dried tomatoes.
Finally, we ended our amazing meal with some special sweet treats that included a truffle and ice cream. The carob and chocolate truffle have velvety texture and the cacao gave it a bitter-sweet taste. We thoroughly enjoyed the strong-tasting banana ice cream created from bananas grown on the island of Madeira.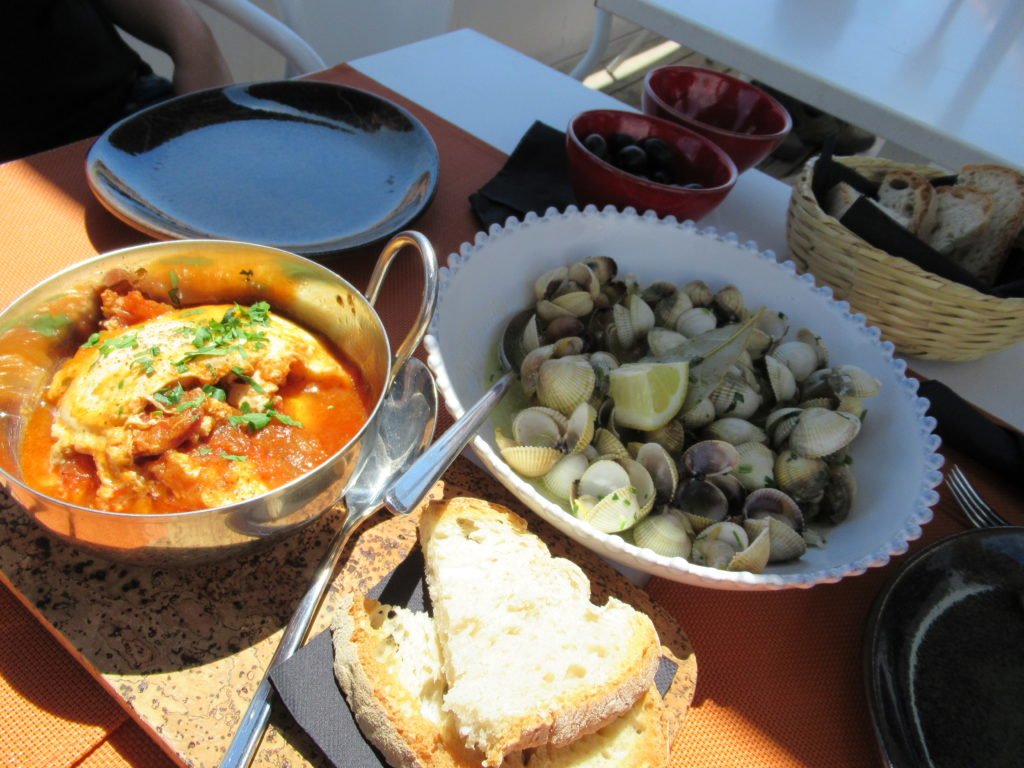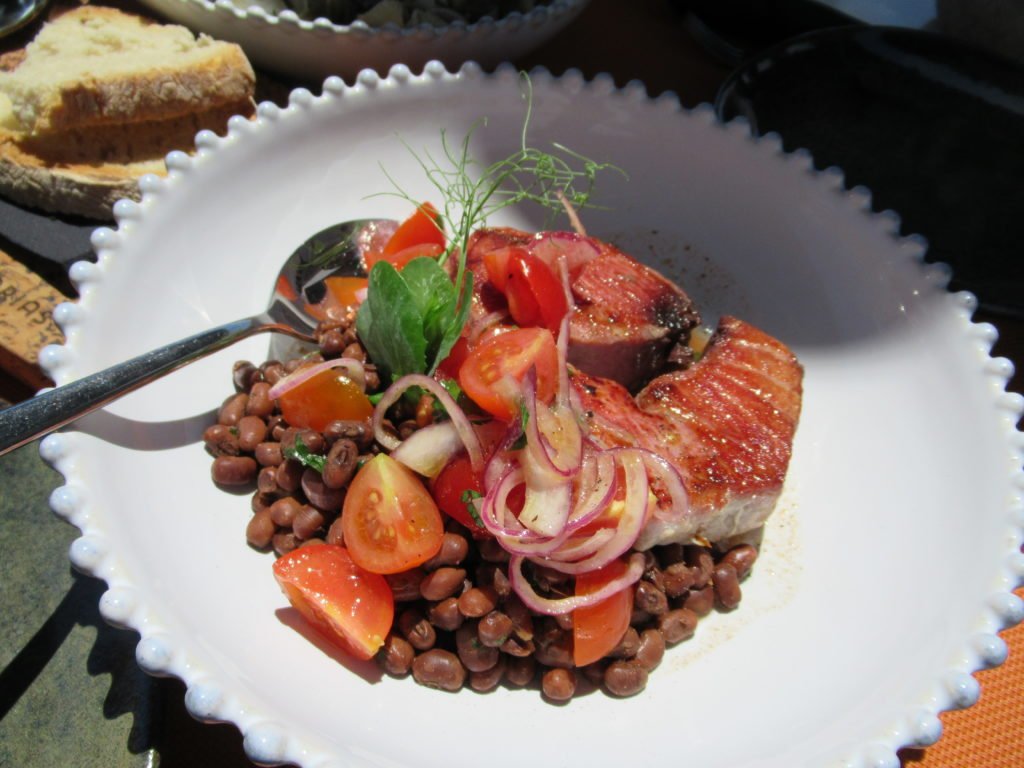 Our Highlights
In terms of the food, I cannot emphasize enough how much I loved the homemade carob and fig bread (locals can order and buy loaves). Also, we truly loved the concept of the locally sourced, freshly made meals.
The menu is changed seasonally to accommodate the different produce available at the time and to support the local community fully.
The high-quality and innovative dishes created by talented chef Megan Melling are all health-conscious and delicious.
Mar d'Estorias even has events and workshops aimed at educating people about healthy lifestyle choices and informing them about local products. However, the best part of Mar d'Estorias is the interesting use of space and the inviting atmosphere. The friendly staff members, top-quality products, beautiful environment, and mouth-watering food will ensure that you return for more.
Mar d'Estorias truly is a one-of-a-kind place that will have you falling in love with the Algarve.
Mar d'Estorias FAQs
Discover Portugal's Culinary Charm at Mar d'Estorias
At Mar d'Estorias, you can not only indulge in delicious traditional Portuguese cuisine but also immerse yourself in the coastal charm of Lagos through the artisan products, local artwork, and unique gifts available in the restaurant's boutique.
Located in beautiful Lagos, Portugal, Mar d'Estorias is a hidden gem where food and culture come together. As you step into the establishment, you'll be greeted by a delightful ambiance that perfectly captures the essence of this coastal town.
But it's not just the great atmosphere that sets Mar d'Estorias apart. Their commitment to showcasing the best of Portugal is evident in the array of artisan products that line the shelves of their boutique. From handcrafted ceramics to locally produced jams and preserves, each item reflects the rich cultural heritage of the region.
And let's not forget about the food.
Mar d'Estorias is known for serving up outstanding traditional cuisine that showcases the flavors of Portugal. From fresh seafood to hearty meat dishes, their menu is designed to satisfy even the most discerning palates. Don't miss the opportunity to try the meat and cheese sharing board, a delightful combination of local flavors.
After a satisfying meal, take a moment to explore the boutique. You'll find unique gifts that make for the perfect souvenirs or presents for loved ones back home. Whether it's a piece of local artwork or a handwoven textile, these treasures will forever remind you of the coastal charm of Lagos.
Overall, Mar d' Estorias is more than just a place to eat. It's an experience that allows you to fully immerse yourself in the beauty and flavors of Portugal.
So, if you find yourself in Lagos, be sure to visit this culinary gem and let your taste buds and senses be delighted.
We would like to thank Mar d'Estorias for hosting us for lunch. As always all opinions are my own.
PIN IT FOR LATER: