A Local's Review of aha Makalali River Lodge (2024)
Last Updated on: 22nd September 2023, 04:58 pm
Welcome to our honest review of aha Makalali River Lodge in Limpopo.
Join us as we explore the magic of this luxury wilderness getaway, indulge in culinary delights, and embark on unforgettable safari adventures. At aha Makalali River Lodge, you'll experience a truly immersive and extraordinary stay in the heart of nature.
A sense of peace washes over you the moment you arrive and with attentive staff and the wild surroundings, you are in for a truly enjoyable stay.
Key Takeaways:
Luxury accommodations with spacious rooms and beautiful views.
Thrilling game drives to spot the Big Five and other wildlife.
Attentive and friendly staff.
Delicious regional African cuisine.
Exciting activities such as hot air balloon rides and visits to a cheetah breeding project.
Disclaimer: This post may contain affiliate links. If you make a purchase from one of them I will receive a small commission at no extra cost to you, which allows me to keep this blog up and running!
About Makalali River Lodge
aha Makalali River Lodge is situated on a private game reserve, offering guests a unique opportunity to immerse themselves in nature's wonders. The luxury accommodations feature spacious rooms with stunning views of the surrounding wilderness. Imagine waking up to breathtaking landscapes and sounds of African wildlife right outside your window.
One of the highlights of your stay at aha Makalali River Lodge will be the exhilarating game drives. Accompanied by experienced guides, you'll have the chance to spot the Big Five – lions, elephants, leopards, rhinos, and buffalos. These magnificent animals roam freely in their natural habitat, providing you with unforgettable encounters and incredible photo opportunities.
While the lodge's setting and wildlife are undeniably captivating, it is the exceptional service that sets aha Makalali River Lodge apart. The staff is warm, friendly, and always ready to assist you, ensuring your stay is comfortable and enjoyable. Whether it's arranging special requests or sharing their knowledge about the local flora and fauna, the team goes above and beyond to make your experience memorable.
No luxury getaway is complete without delectable cuisine, and aha Makalali River Lodge certainly delivers. Meals are served on private decks or in the dining lounge, where you'll savor mouthwatering regional African dishes prepared with fresh, locally sourced ingredients. Every bite is a culinary delight that transports you deeper into the flavors of South Africa.
aha Makalali River Lodge also offers a range of exciting activities to enhance your stay. Take to the skies on a hot air balloon ride and witness the stunning landscapes from a unique perspective. For a closer encounter with nature, visit the lodge's cheetah breeding project and learn about efforts to conserve these incredible creatures.
The Location
The luxury lodge is located within the stunning and wildlife-rich Makalali Private Game Reserve which is just west of the Kruger National Park. Close to the safari hub Hoedspruit and just about 5 hours away from Johannesburg.
READ: A Foodie Traveler's Guide to Dining in Johannesburg.
The drive to Makalali was scenic and enjoyable and the closer you get the more relaxed you feel. We spent our second night at this lodge which is located right along the banks of the dry Makhutswi River. Because of this, we were collected from Makalali Main Lodge by a ranger with one of their open-game vehicles.
Our escort took us over to the other side of the river and once again on arrival, we were greeted by smiling staff who offered us cold towels and refreshments.
Accommodations at aha Makalali River Lodge
Experience true luxury at aha Makalali River Lodge, where you'll find spacious rooms designed to provide the utmost comfort and beautiful views that will take your breath away. The lodge offers a range of accommodations to suit every guest's needs, from cozy chalets to elegant suites.
Each room is tastefully decorated with African-inspired furnishings and modern amenities. The spaciousness allows for a relaxing and rejuvenating stay, while large windows offer uninterrupted views of the surrounding wilderness. Whether you choose a room overlooking the river or the expansive savannah, you'll be treated to stunning vistas that showcase the raw beauty of Limpopo.
With an emphasis on sustainable tourism, the lodge makes use of natural and Eco-friendly materials to create a space that fits in seamlessly with the surrounding environment.
Across the river bed is Makalali Main Lodge, but it is barely visible through the thick bush and lush vegetation.
READ: Our Review of Makalali Main Lodge!
Although it is part of the same tourism property management company, the style and experience are completely different. Split into 3 separate camps each with 6 suites makes it feel very exclusive. Each camp is equipped with all its own facilities and one of the best features is the lovely plunge pool that gives you a great view over the river bed.
As you step out onto your private deck, you'll feel a sense of serenity wash over you. Take a moment to soak in the sights and sounds of nature, with the gentle rustling of leaves and the occasional sighting of wildlife. It's the perfect place to enjoy a cup of coffee in the morning or unwind with a glass of wine as the sun sets on the horizon.
| Room Type | Features |
| --- | --- |
| Chalet | En-suite bathroom, air conditioning, minibar |
| Suite | Separate living area, private plunge pool, outdoor shower |
| Premium Suite | Spacious lounge, private deck, outdoor sala |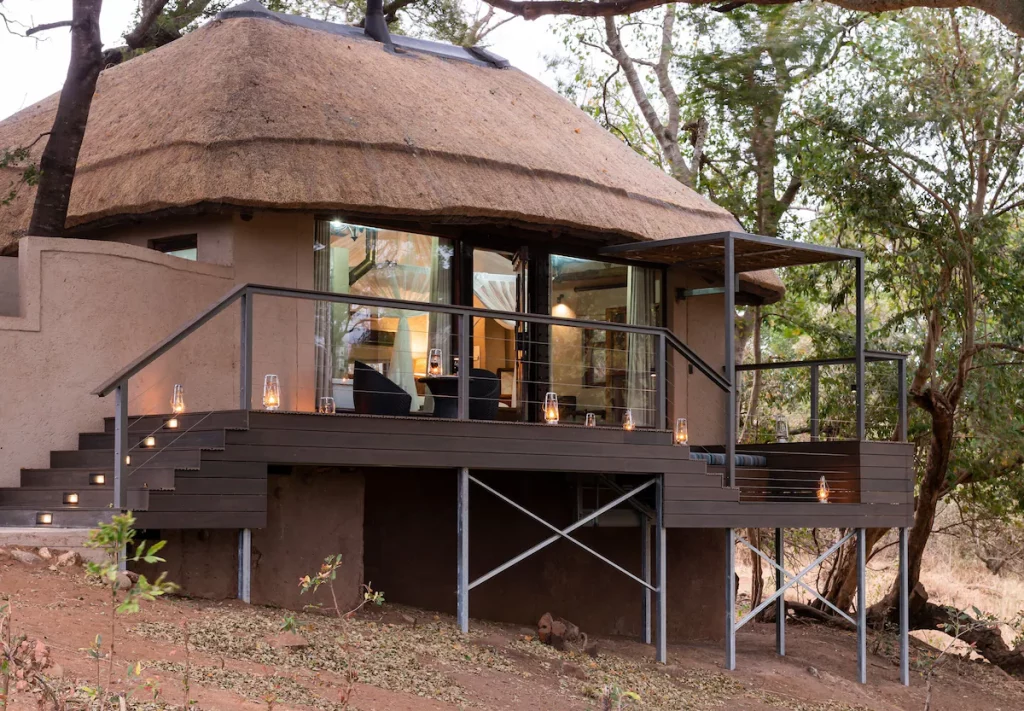 With luxury accommodations and breathtaking views, aha Makalali River Lodge ensures that every moment of your stay is filled with comfort and beauty.
Although each suite is set apart to ensure a private and authentic immersion in the bush, each is equipped with luxurious comforts.
Each suite consists of a large bed, a fireplace, an en-suite bathroom with a huge shower, a large tub, and for those feeling more adventurous an outdoor shower. Provided is everything you could possibly need such as a bar fridge, tea and coffee station, an air conditioner, mosquito net and a lovely selection of toiletries.
Once again the thoughtful touches in the form of a handwritten note, a gift bag with necessities, and goodies left during the turn-down service make the stay extra special.
However, our absolute favorite part was the deck with its own private game viewing sala. Our stay there was on a particularly rainy day and we spent a fantastic afternoon lying in our sala with drinks and enjoying the very welcome storm.
Delicious Cuisine at aha Makalali River Lodge
At aha Makalali River Lodge, exceptional service is their pride, with friendly and attentive staff always going the extra mile to ensure your stay is unforgettable. Add to that their delightful regional African cuisine, and you have a recipe for the perfect getaway.
From the moment you arrive, you will be greeted with warm smiles and a genuine desire to make your experience exceptional. The staff is dedicated to providing personalized service, catering to your every need. Whether it's arranging special requests, recommending activities, or simply offering a friendly chat, they are there to make your stay truly memorable.
When it comes to dining, aha Makalali River Lodge takes pride in offering a delectable culinary experience. Their talented chefs create mouthwatering dishes using the finest local ingredients and flavors, showcasing the richness and diversity of African cuisine. Indulge in a variety of dishes, from traditional South African specialties to international favorites, all prepared with passion and flair.
Whether you choose to dine on your private deck, savor a meal in our dining lounge, or enjoy a picnic in the bush, every bite will be a delightful celebration of flavors. Immerse yourself in the ambiance of the lodge while relishing the exquisite tastes and aromas of our carefully crafted dishes.
Sample Menu
| Starter | Main Course | Dessert |
| --- | --- | --- |
| Butternut Squash Soup | Sesame-Crusted Springbok with Potato Gratin | Malva Pudding with Amarula Sauce |
| Beetroot and Goat Cheese Salad | Ostrich Fillet with Roasted Vegetables | Chocolate Mousse with Berry Compote |
| Grilled Prawn Skewers | Karoo Lamb Shank with Creamy Polenta | Citrus Tart with Vanilla Chantilly Cream |
Pair your meal with a selection from their extensive wine list, showcasing the finest South African vintages. Their knowledgeable sommeliers are available to guide you through the perfect pairing, ensuring a truly unforgettable dining experience.
We arranged to arrive at Makalali River Lodge in time to enjoy lunch in this new location. The view from the dining area deck was gorgeous and we spotted some nyala grazing near the main area during our meal. Lunch was a delicious burger, with salad and even a tasty dessert.
During the meal, we had a ranger standing close by to make sure the mischievous monkeys didn't get away with any of our food.
Dinner was served inside that night because of the rain and there was a selection of meats. I enjoyed the kudu meat stew with steamed vegetables and the traditional Malva pudding dessert with custard.
Since we had to leave early the next morning we were treated to a lovely private and early continental breakfast on the deck with a large selection of tasty fruit, yogurt, and croissants.
Safari Adventures at Makalali Private Game Reserve
Get ready for a safari adventure like no other at Makalali Private Game Reserve, where game drives twice a day offer the chance to spot the iconic Big Five and create lasting memories of incredible wildlife encounters. Nestled in the heart of Limpopo, this highly-rated safari lodge provides an immersive experience in the African wilderness.
During your game drives, expert guides will take you on a journey through the reserve, revealing the natural beauty and diverse wildlife that call Makalali home. From majestic elephants and stealthy leopards to powerful lions and graceful giraffes, you'll have the opportunity to witness these magnificent creatures in their natural habitat.
The thrill of encountering the Big Five is just the beginning. Makalali Private Game Reserve is teeming with wildlife, offering sightings of zebras, wildebeests, hippos, and a wide array of bird species. As you explore the reserve, each turn of the safari vehicle presents a new and thrilling discovery.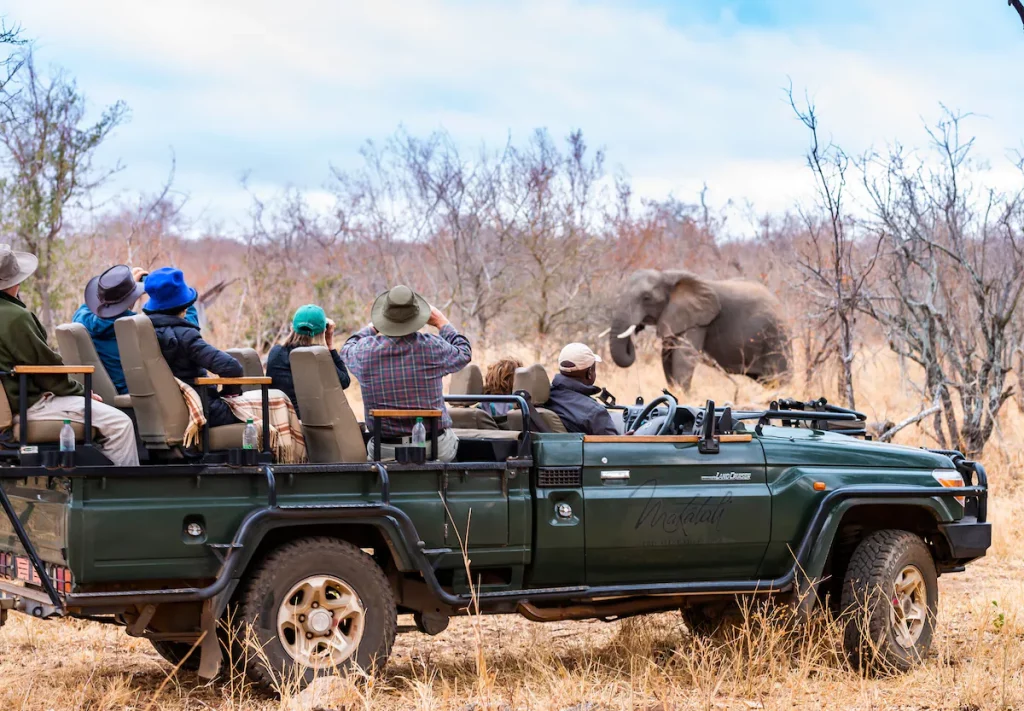 Memorable Wildlife Encounters
Every safari adventure at Makalali Private Game Reserve is filled with memorable wildlife encounters. Whether it's witnessing a pride of lions on a hunt or observing a herd of elephants as they graze peacefully, each moment is unique and awe-inspiring. The knowledgeable guides will share their expertise and stories, enhancing your understanding and appreciation of the animals and their behaviors.
Aside from game drives, the reserve also offers guided bush walks, allowing you to get even closer to nature. Led by experienced trackers, these walks provide a chance to explore the smaller creatures, fascinating plants, and intricate ecosystems that make up the African bush.
READ: 6 Thrilling Cape Town Safari Tours for Families.
A stay at any of the Makalali Lodges will include 2 game drives a day.
One game drive starts early in the morning just as the sun is about to rise and the other is in the late evening and lasts until after sunset drinks thanks to the mobile bush bar that gets set up for guests.
The evening game drive is always my favorite and I love the sights and energy of exploring the bush in the evening.
The rangers are all very knowledgeable and work together to track down as many animals as possible which makes it very exciting for guests. During our game drives, we saw 3 of the Big 5 and we got up close to all of them. Their open vehicles make the game drives quite fun and everyone has a great view of the wildlife.
Exciting Activities and Unique Experiences at aha Makalali River Lodge
Your adventure continues at aha Makalali River Lodge, where you can soar above the magnificent landscape in a hot air balloon, visit a cheetah breeding project, and immerse yourself in a range of other unique experiences curated just for you.
The lodge offers an array of thrilling activities that will make your stay truly unforgettable.
Hot Air Balloon Rides
Experience the breathtaking beauty of Limpopo from above as you float gently across the sky in a hot air balloon. Marvel at the incredible vistas of the pristine wilderness below and feel the exhilaration of being suspended in the air. This captivating experience provides an unparalleled perspective of the landscape and is perfect for nature enthusiasts and adventure seekers alike.
Cheetah Breeding Project
As a guest of aha Makalali River Lodge, you have the unique opportunity to visit a cheetah breeding project. Learn about the conservation efforts being made to protect this magnificent species and get up close and personal with these graceful creatures. Witness their incredible speed and agility as you observe them in their natural habitat. It's an experience that will leave you with a deep appreciation for the importance of wildlife preservation.
Other Unique Experiences
In addition to hot air balloon rides and the cheetah breeding project, aha Makalali River Lodge offers a variety of other one-of-a-kind experiences.
Take a guided bush walk with an experienced ranger and discover the secrets of the African bush. Enjoy a romantic sundowner picnic in a secluded spot, watching the sunset paint the sky with vibrant hues. Or indulge in a relaxing spa treatment, soothing your body and mind after an exhilarating day of adventure.
Whatever your preference, the lodge ensures that every moment is filled with wonder and excitement.
At aha Makalali River Lodge, the possibilities for adventure and discovery are endless. Immerse yourself in the beauty of the wilderness, connect with nature, and create memories that will last a lifetime.
| Activities | Highlights |
| --- | --- |
| Hot Air Balloon Rides | Enjoy stunning views of the Limpopo landscape from above. |
| Cheetah Breeding Project | Get up close and personal with these majestic creatures. |
| Guided Bush Walks | Explore the African bush and discover its hidden treasures. |
| Sundowner Picnics | Relax and unwind while watching the beautiful sunset. |
| Spa Treatments | Indulge in a pampering session to rejuvenate your body and mind. |
Makalali River Lodge FAQs
What is aha Makalali Private Game Lodge?
What type of accommodations does the lodge offer?
The lodge offers luxury accommodations with spacious rooms and beautiful views.
What wildlife can guests spot during the game drives?
Guests can spot the Big Five and other wildlife during the game drives.
How is the staff at aha Makalali Private Game Lodge?
The staff is friendly and attentive, making guests feel welcome and comfortable.
What have guests experienced at aha Makalali Private Game Lodge?
Guests have had a fantastic experience, appreciating the outstanding service, stunning surroundings, and memorable wildlife encounters.
We would like to thank aha Hotels and Lodges for inviting us and Makalali River Lodge for hosting us. As always, all opinions are my own.
Ready to Book a Stay at Makalali River Lodge?
Overall, aha Makalali River Lodge provides an exceptional African bushveld experience. With its luxury accommodations, thrilling safari adventures, exceptional service, delicious cuisine, and unique experiences, it truly stands out as a destination where guests can create memories to last a lifetime.
South Africa Travel Planning Guide

Do I need travel insurance for South Africa?
YES — With basic coverage averaging just $5-10 USD per day, enjoy peace of mind with a plan from SafetyWing, one of the biggest names in travel insurance.

Is it safe to rent a car in South Africa?
Yes — Renting a car in South Africa is one of the best ways to see the country and the safest way to get around! I always rent with Discover Cars, which checks both international companies and local South African companies, so you get the best rates.

Will my phone work in South Africa?
Maybe — It depends on your company, so check with your provider. If you don't have free South African service, buy an Airalo eSim for local coverage.

What's the best way to book my South African accommodations?
For South African hotels, Booking.com is usually the best site but you can also check TripAdvisor for a larger variety of local options. If you're considering a South African Airbnb, don't forget to check VRBO, which is often cheaper than Airbnb.

What's the best site to buy South African flights?
For finding cheap South African flights, I recommend using the WayAway App to search and find the best deals – plus you'll get cashback on your purchases! (Read more)