What it's Like Taking a Work Holiday During a Global Pandemic
Last Updated on: 9th September 2023, 03:48 pm
After 12 months working on the front lines of the Covid 19 pandemic it was time for a work holiday.
So I checked out of the Covid and the hospital, scheduled 3 months off yet ended up as busy as ever.
The pandemic's social distancing has made it even more interesting to travel solo…
But at least I have several gorgeous places in Belize to work and enjoy the gentle breeze … over the lagoon, through the palm trees as I sit on the balcony, or on the roof deck under the palapa or poolside …
Taking a Work Holiday
While not everyone is able to take a work holiday, with the new telecommuting opportunities, it's something you should consider.
When you're done working, wouldn't you love witnessing a tropical sunset? Or a walk on the beach at lunch?
Just sayin'…
Pro Tip: If you're going to a tropical climate like Belize, here's what you pack: a couple of t-shirts and shorts, flip flops and walking shoes, toiletries, and underwear – have things laundered rather than packing heavy.
I learned early to create my work TO DO list, but not a schedule per se.
If you're able to keep what you accomplish done on any particular day "loose," you'll be able to leave spontaneously when the neighbors invite you to go deep-water fishing, visit Mayan ruins or the dive boat reschedules the Blue Hole dive due to weather.
Getting Ready to Go
The most important step was checking the need for the Covid test and insurance information.
For example, Costa Rica requires a negative Covid test and a letter from your insurance carrier stating you have full coverage for the duration of your trip.
Belize requires a negative Covid test within 72 hours of travel. Check.
Double mask for your flight and don't remove it to eat. Check.
The flight from Phoenix to Dallas was packed. Every seat filled. More uncomfortable than it was pre-pandemic to be sure.
The flight from Dallas to Belize was blessedly light with room for each of us to stretch out on the 3 seats to relax as we began our vacations, adventures, and work holidays.
Arriving
I think every time you go to a new country's border patrol, you have pause.
Belize City's airport was surprisingly rustic but is several miles from the city itself. With a population nearly 60,000 it has the reputation of being very much like St. Louis.
Each person at the airport was polite and professional.
We lined up, 6 feet between families, and approached one by one to present our passports and negative Covid tests.
Anyone without the test paid $75 and waited until the results returned negative.
PRO TIP: Have a paper copy of your negative Covid test results.
Next, collect your baggage and proceed to customs where they examine the contents of each bag. Then off to passport control where we received our visa stamp for a month (getting an extension is available for a fee each time your original visa time has elapsed).
Quick and efficient.
On our way to Ambergris Caye!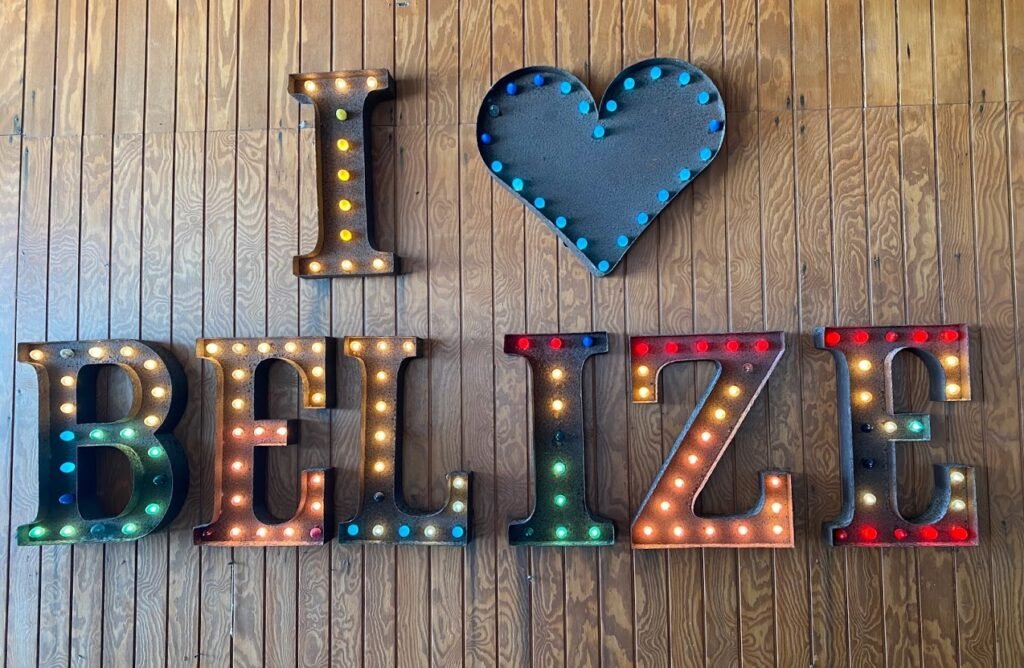 San Pedro
An ex-pat in Belize recommends visitors stay in Ambergris Caye first for five days – where it's a tourist community and has an active vibe – but the water isn't potable – and then Placencia for five days – where it's an ex-pat community with a chill vibe – and the water is potable.
Then choose where you want to stay for the duration of your visit.
My first week in Belize was filled with scuba diving – the Blue Hole! – and walking the beach – and restaurants. All while masked. It was even pointed out to me that scuba divers are the original social distancers … ☺
Yet, with the exception of Ramon's Dive Village – where everyone wore masks while on dock, and on the boat until the first dive – you don't really see too many people.
And you certainly don't interact as much as previous travels.
Yet I also dug through my suitcase full of work and read 4 books, completed 12 pounds of paperwork (recycled).
As I completed my work tasks – for me, completing online coursework, pitching articles, reading business proposals – allowed me to shed that weight mentally as well as physically.
It was time to move on.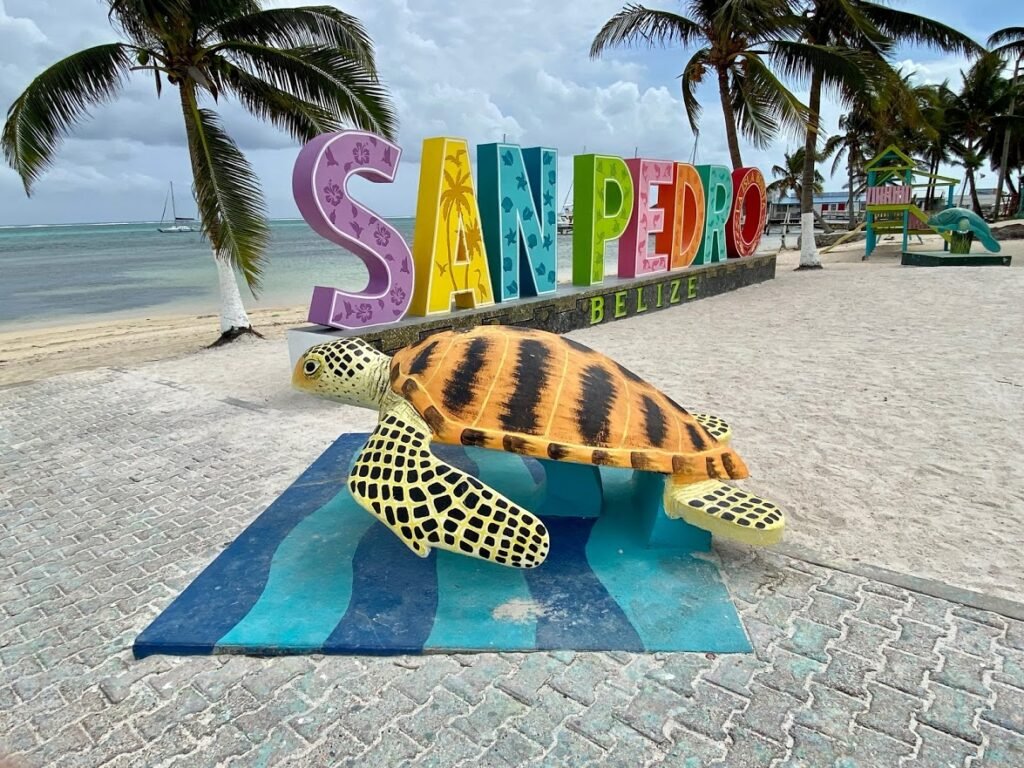 Placencia
The flights are short, simple and independently booked. One flight from San Pedro to Belize City (13 minutes). Second flight from Belize City to Placencia (22 minutes). The airline does transfer your baggage for you.
I'd chosen Carol's Cabanas for my first week in Placencia.
Lovely in its rustic-ness, it felt like camping to me – a cabana on stilts with a great porch and fabulous hammock where I spent the hottest afternoons reading with the Caribbean Sea breezes wafting across me.
Two bedrooms. No closet. No microwave. No TV.
It possessed what I needed most. A stable internet.
Sunrise walks on the beach became the norm. Then three or four hours of work.
Lunch as the big meal of the day seems standard in this lovely fishing village.
There are a surprising number of restaurants to choose from – a new one every day.
Ruth's food (across from Wallen Market) became my go-to meal after trying every restaurant in town the first month.
You'll see most people congregate at the beach at the point of the village, just in front of The Shak (great smoothies). Shade-covered Adirondack easily available – as is a giant chair for photo opportunities.
After lunch, work or siesta.
Then a sail or another walk as the sun sets over the Maya Mountains.
Another peace-filled day in paradise.
I chose Placencia. And rented a home for two months.
And settled in quickly with long-term neighbors who took me along on their adventures.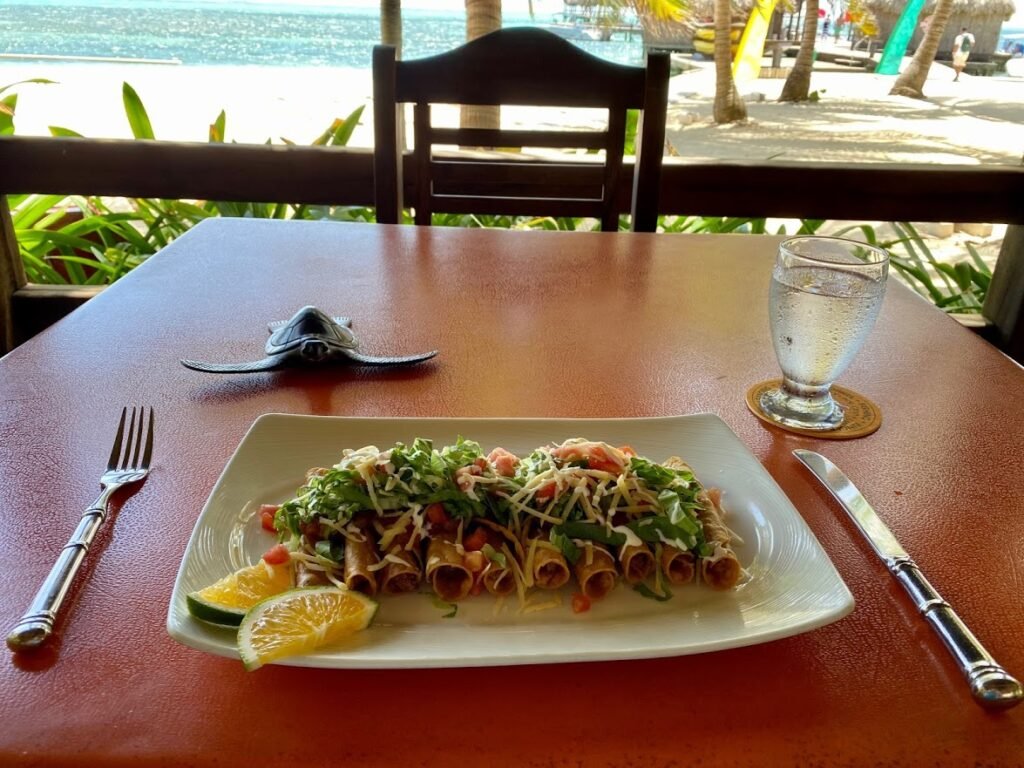 Don't walk. Run!
With the right homework, during this pandemic, with proper mask wearing, hand washing, and physical distancing from those not in your household bubbles, taking a work holiday to break the strain of this pandemic was the perfect solution for me.
I hope it'll work for you as well.
Are you planning a work holiday this year?
---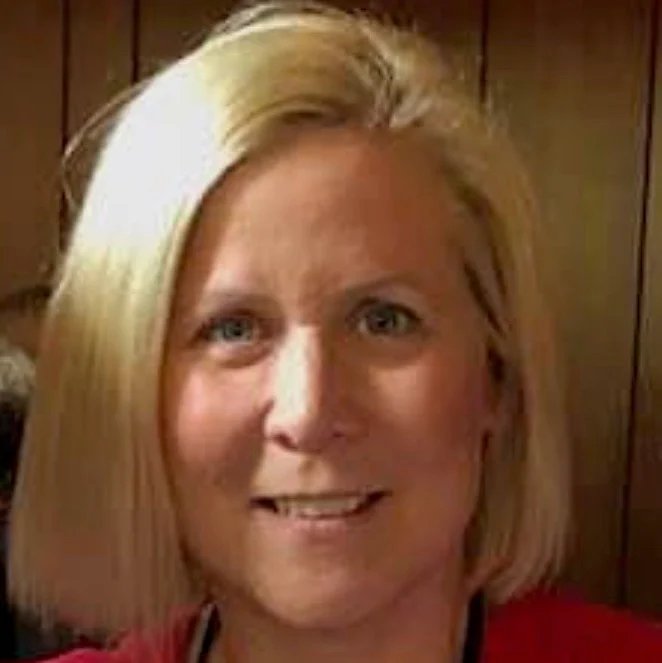 Gail Clifford, MD, a physician for 30 years has traveled to five continents and all 50 United States. An avid traveler, she happily goes on new adventures, especially on birthdays. She enjoys inter-generational and solo travel focused on learning a new skill. When traveling locally, she enjoys digging deeper into history to discover new things about old experiences. Her articles have been published in area, national and international magazines and websites. She is an award-winning photographer and travel writer. Website: www.ABLETravelPhoto.com Instagram: https://www.instagram.com/abletravelphoto/ Facebook: https://www.facebook.com/ABLETravelPhoto?ref=bookmarks
---