9 Luxury Resorts in Mauritius to Book in 2024
Last Updated on: 9th September 2023, 02:28 pm
Tropical lagoon beaches, perpetually hot weather, and coral reefs teeming with colorful underwater wildlife make Mauritius an intriguing island retreat. The island's top luxury hotels feature prime settings on tranquil, reef-protected beaches that mix white sands with calm, clear seas, ideal for kayaking and other fun watersports. For the adventurous, mossy forests await at Black River Gorges National Park. If you're planning a trip to Africa, consider staying at one of these top-class luxury resorts in Mauritius.
Table of Contents
Disclaimer: This post may contain affiliate links. If you make a purchase from one of them I will receive a small commission at no extra cost to you, which allows me to keep this blog up and running!
Luxury Resorts in Mauritius You Need to See
Mauritius is full of incredible resort hotels from adult-only honeymoon-orientated resorts to family-friendly entertainment-focused resorts and everything in between. Best of all, there's no need to compromise on luxury regardless of whether you're on a romantic couples getaway or traveling with the extended family. This tropical island has something for everyone…
So, here are my top choices of luxury resorts in Mauritius:
LUX Grand Gaube
This is probably one of my all-time favorite luxury resorts in Mauritius. Although all the LUX* properties are exceptional (including SALT of Palmar which is setting the standard for sustainable luxury). A century-old banyan tree provides shade for a rum den at the luxurious LUX* Grand Gaube, Mauritius' only resort with such a feature. In addition to the LUX Me Spa, the area has six other pubs and several highly regarded Peruvian and international restaurants. Book a spot on the "Rum Adventure," which includes a journey to a sugarcane field, a distillery tour, and a taste, to discover more about the island's hallmark spirit. Beach-chic accommodations are scattered among rooms, suites, and villas with interiors by Kelly Hoppen.
Preskil Island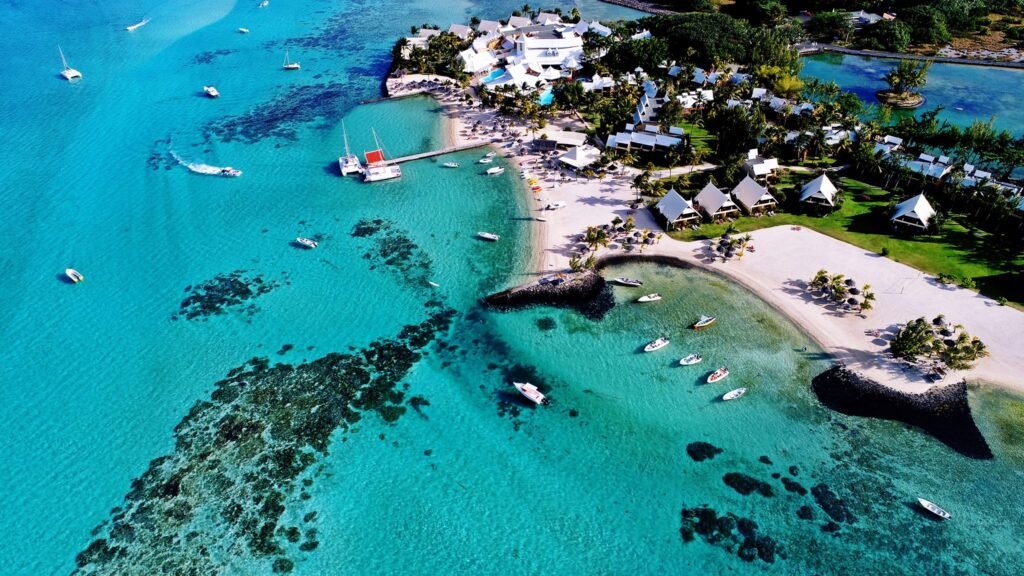 Located in the island's southeast, a 10-minute drive from the airport, the Preskil Island resort in Mauritius is a terrific alternative for families. "Tikoulou Kids Club," named after a mythical Mauritius youngster with a penchant for mischief, offers a variety of fun activities for kids up to the age of twelve. Meanwhile, adults can start their day with breakfast on a bobbing canoe and then enjoy kayaking, snorkeling, biking, or kitesurfing. Dine in the 1810 and Mosaic restaurants, offering Mauritian and pan-Mediterranean fare respectively, and have a drink at Bar Medley, which sells twelve beers from twelve different nations. Definitely one of the top family-friendly luxury resorts in Mauritius.
Constance Belle Mare Plage
Constance's five-star Belle Mare Plage resort stands on a private bay just back from a magnificent, 2km-long beach on Mauritius' east coast. Rooms, suites, and palatial villas all have furnished terraces with views of the garden or the Indian Ocean. All the amenities are light and airy which is the ideal equation when it comes to luxury resorts in Mauritius. There's simply everything you could possibly need or want on site: seven restaurants providing anything from Mauritian cuisine to pizza, six bars, four swimming pools, boutique stores, and a range of adventures ranging from deep-sea fishing to helicopter flights. Oh, and there are two pro-level golf courses to play on, too.
Zilwa Attitude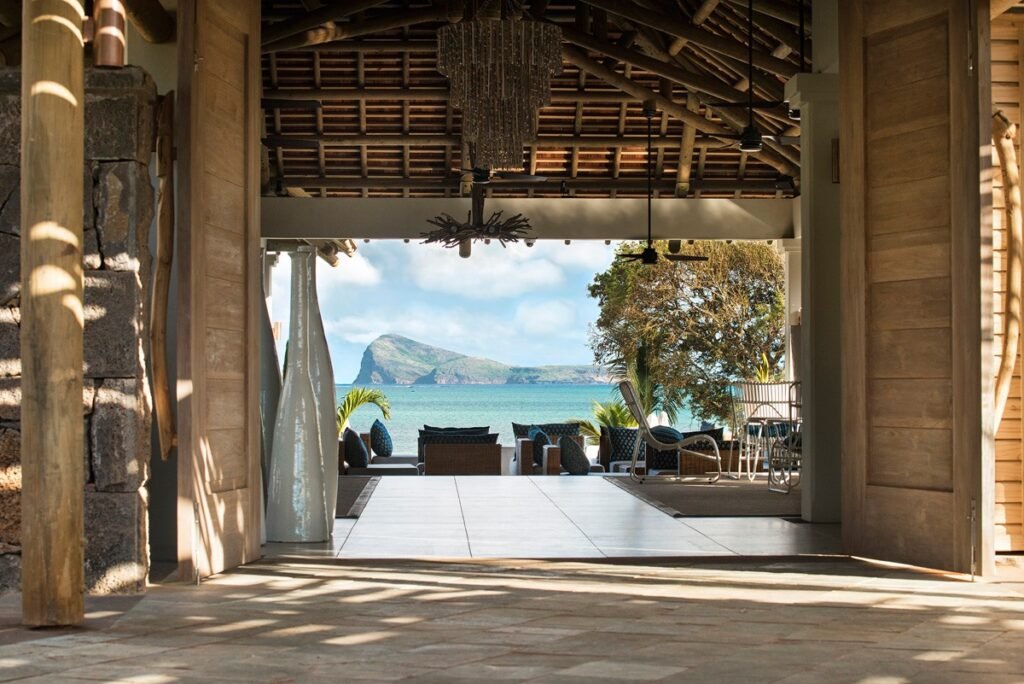 Zilwa Attitude is the only luxury resort in Mauritius to employ a Creole word in its name, which tells you exactly how proud of its local tradition and culture this place is ("zilwa" means "islander" in Creole). Located on the northern coasts, in the small fishing village of Grand Gaube, it offers rooms inspired by Mauritian coastal homes, with their colorful walls and roofs made of tin, shingle, or thatch. Once a week, guests have the opportunity to join one of the owners in their home for supper, learning traditional cooking techniques, sipping rum, and dancing the sega.
One&Only Le Saint Géran
Mauritius' east coast has its fair share of luxury resorts, but the One&Only Le Saint Géran stands out for its exclusive peninsula setting, great dining, and sophisticated environment, appealing to both couples and children. Honourable mentions go to the outstanding spa and palapa-dotted lagoon beach with complimentary water sports. All suites (which span direct-beach-access rooms through to a super-secluded villa with private infinity pool) enjoy views of the water. Lots of creatures make One&Only's tropical grounds home, including a resident crowned crane.
20 Degres Sud
20 Degres Sud, tucked away behind a coconut grove near Grand Baie on Mauritius' northern edge, is a favorite honeymoon destination. The beach-facing apartments at this premium hotel are beautifully created by Belgian designer Flamant and range in size from the Charm Rooms, with their own outdoor showers, to the Austral Suites, which have their own plunge pools or hot tubs. All provide access to two pools, one on the main terrace, one in the world-class spa, a games area with billiards, a library with over a thousand volumes in different languages, and a program of water-based and inland activities. If you're on a honeymoon, this is one of the luxury resorts in Mauritius I would recommend.
The Oberoi Beach Resort
This outstanding luxury resort in Mauritius rambles along a stunning stretch of the northwestern coast. The Oberoi Beach Resort's 71 pavilion-style rooms and villas (the majority with private pools) include pitched ceilings and glass walls, as well as Nespresso machines, private terraces, and daily fresh fruit. The barbecued lobster and shellfish at On The Rocks restaurant, just feet from the coast; the four-course meal in the herb garden, made in an underground fire pit and smokehouse; and the classic Creole or omakase Japanese meals served in an 18th-century stone gunpowder room are among the dining options.
Maradiva Villas Resort & Spa
Maradiva is one of the luxury resorts in Mauritius that offers a unique experience – every one of its 65 units is a solitary villa with a private infinity pool and outdoor garden shower. There's also a magnificent community infinity pool, with views of the spectacular Le Morne Brabant to the south, as well as a restaurant and bars for visitors who want to interact. In-villa dining is also a possibility, thanks to the 24-hour butler service. Maradiva's Tamarin Bay beach, with its reef-sheltered seas and white coral sand, is the perfect place to relax with a book and a towel.
Royal Palm Beachcomber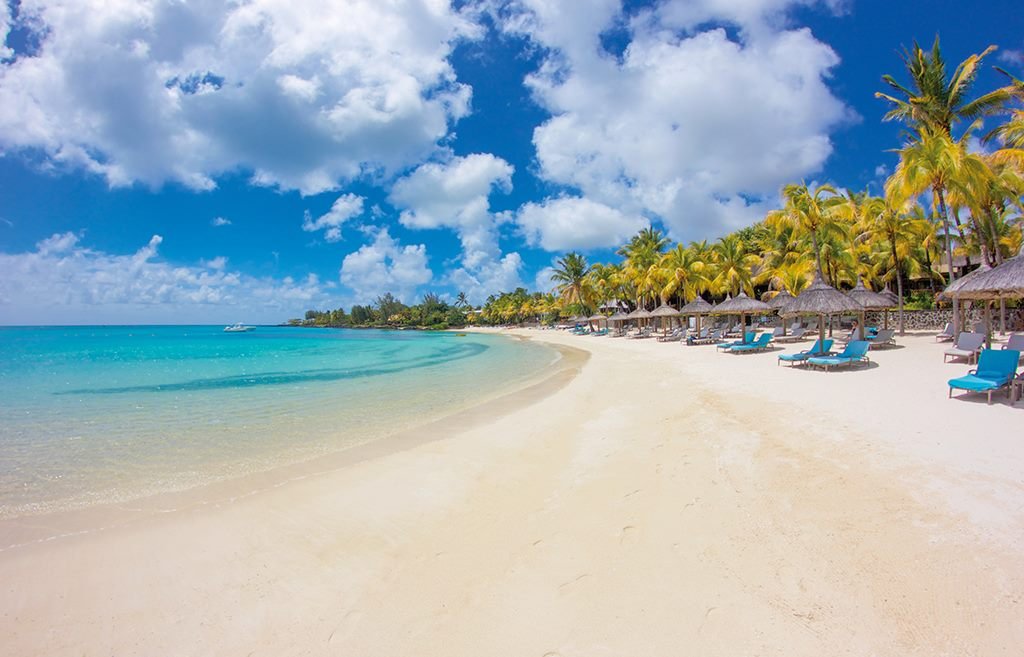 Royal Palm Beachcomber is the most extravagant property in the Mauritius-based Beachcomber hotel group — and one of the most stunning resorts in Mauritius. Royal Palm, located on the Indian Ocean in the center of vibrant Grand Baie, provides raved-about dining options (including a superb breakfast buffet and romantic beach bar set beneath palm trees), a premium spa, and complimentary water sports in the pristine lagoon — water skiing, wakeboarding, and stand-up paddleboarding, as well as sailing.
Ready for a Luxe Vacation?
This tropical island is the perfect destination for a luxe vacation. Plus, Air Mauritius (my favorite airline) ensures that you can book direct flights to your island getaway from various destinations across the globe. If you're dying for an idyllic island escape this year, head to this Indian Ocean island and opt for one of these exceptional luxury resorts in Mauritius!
So, do you want to visit Mauritius?