Why You Should Make Santa Cruz Tenerife Your Next Destination (2024)
Last Updated on: 9th September 2023, 03:38 pm
Tenerife is one of Europe's most popular destinations, with tourists flocking to the south every year. But just an hour north by bus is the capital city of Santa Cruz – the true heart of the Canary Islands.

With Tenerife's most beautiful beach, pools that open onto the ocean, and a true taste of Canarian culture, it's a wonder that Santa Cruz has gone unnoticed for so long.
As a now seasoned traveler, I wasn't sure my favorite teen vacation spot would still hit the mark.
But after moving to Santa Cruz for a year to be near family, it was even better than I remembered.
Most tourists stay in southern Tenerife, not realizing that they're missing the best beaches, food, and architecture on the island.
Santa Cruz showcases the true Tenerife, and the Canarian culture tourists never knew existed…
How Do I Get to Santa Cruz?
There are two airports in Tenerife – one in the North and one in the South.
The 111 bus from the south takes an hour, and the 20 from Tenerife North is only 30 minutes.
Taxis are available from the bus terminal in Santa Cruz, though as it's such a small city, you have the option of just walking to your accommodation.
Where Should I Stay?
Santa Cruz isn't just small – it's also VERY safe. There aren't any neighborhoods you need to avoid, and everything is within walking distance.
That being said, if you want somewhere specifically atmospheric or with a view, there are three places I'd recommend:
The center of Santa Cruz consists of a big lagoon opening onto the marina, with incredible views of the ocean.
It's THE place to be, both day and night, with restaurants, bars, shopping malls, and live music.
If you want to stay right on the plaza, the Marriott has just opened an AC hotel.

There's an NH hotel right across from that, or there are the HI suites on the other side of the plaza.
One of Santa Cruz's most beautiful neighborhoods, the main street is lined with trees, fountains, and art displays.

The surrounding area is very stylish, with classic Spanish architecture, parks, and eateries.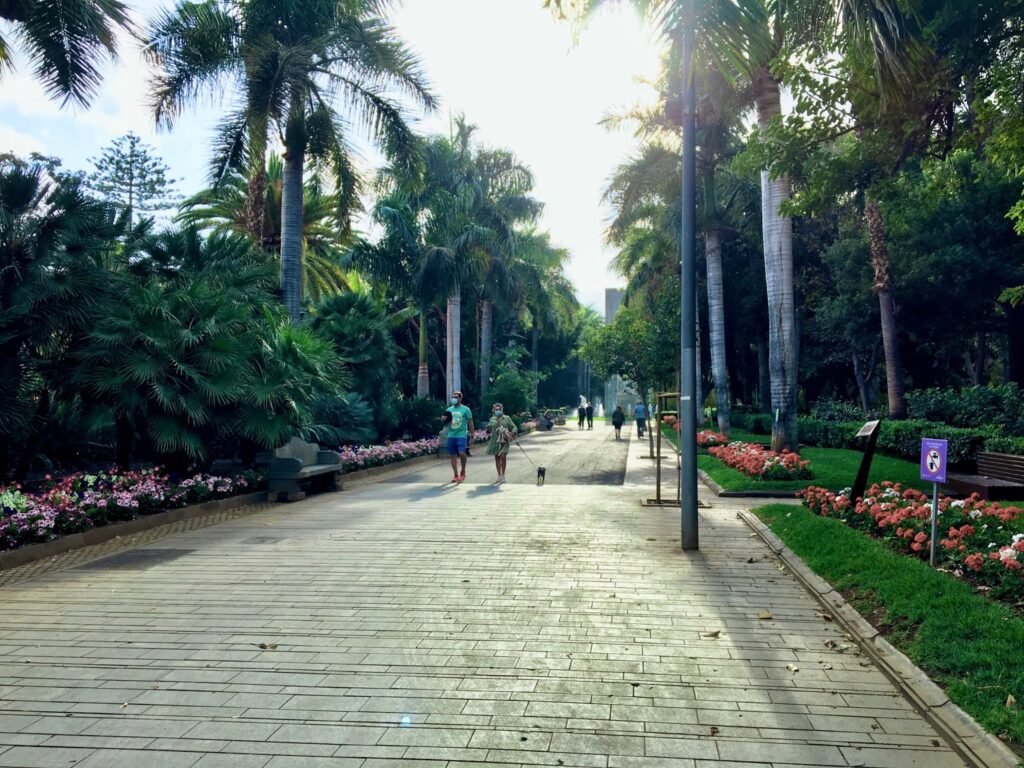 If you're looking for a hotel, the Iberostar has its own pool and is Instagram gold.

For something a little cheaper, I've stayed at this Airbnb and loved it!
For a truly Canarian experience, San Andres is just 15 minutes away from the city center by bus. Set against the mountains, and opening onto Las Teresitas Beach, the views here are practically unrivaled.

(The golden sand of Las Teresitas was actually imported from the Sahara Desert!)
There are no hotels here – but there are plenty of Airbnbs. I stayed in this one a few years ago, and can't wait to go back.

If you're looking for a relaxing beach holiday, San Andres is perfect, away from the hustle and bustle of the city.
What are the Best Things to do in Santa Cruz?
There are tons of things to do in Tenerife but if you're staying in Santa Cruz, I suggest the following:
Las Teresitas is a must when visiting Tenerife – but if you hate the sand, Parque Maritimo is a godsend!

A collection of stunning pools jutting out into the ocean, entry costs only €5, which includes deckchairs and umbrellas.

There's also an in-pool bar serving food, drinks and (of course!) cervezas.
Right next to the pools you'll find the Auditorio – a famous piece of architecture by Calatrava. It was inspired by the Sydney Opera house, and it frequently holds concerts and exhibitions.
Ramblas contains beautiful parks, shops, restaurants, and plazas. Parque Garcia is full of native plants, and you have the chance to see classic colonial architecture.
The most popular market on the island, full of local and exotic fruits, vegetables, and delicacies. You'll also find cafes and food stalls serving typical dishes.
If hiking is your thing, there are plenty of trails in the mountains. You can start in Santa Cruz or from Las Teresitas.
Snorkeling, sailing, or even scuba diving are readily available in Santa Cruz.

If you want something more chilled out, you can also try sea kayaking and paddleboarding at Las Teresitas.
What Should I Eat?
You'll find Spanish tapas anywhere in Santa Cruz, with some of the best dishes being garlic prawns (Gambas al Ajillo) blistered peppers (Pimiento de Padrón), and meatballs (Albondigas)

The one traditional Canarian dish you can't miss, though, is the Papas Arrugadas con Mojo.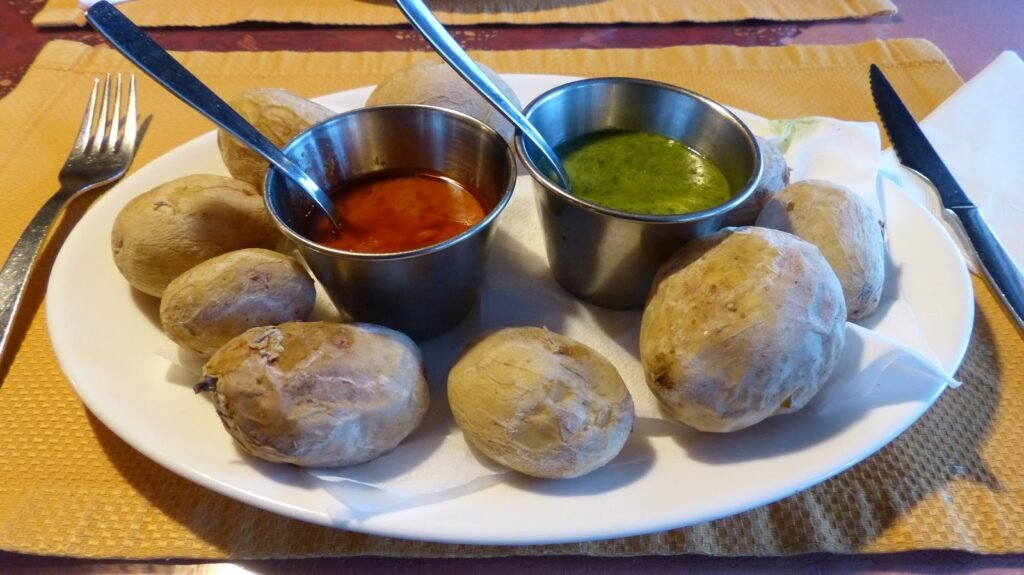 It's a traditional dish of salted potatoes with red and green sauces made of spices and herbs. It sounds simple, but it's unbelievable!

You should also try the smoked goats' cheese (Herreño) and the traditional stew (Rancho Canario)
Where Should I Eat?
For the best tapas place in Santa Cruz, head to D'tapas,26. In San Andres, it's El Peton.
If you really want to get a taste of the best food the island has to offer, head to the aforementioned central market.
Downstairs, you'll find the fish market and food hall, where you can grab a glass of Cava and select the fish you want to have cooked for you.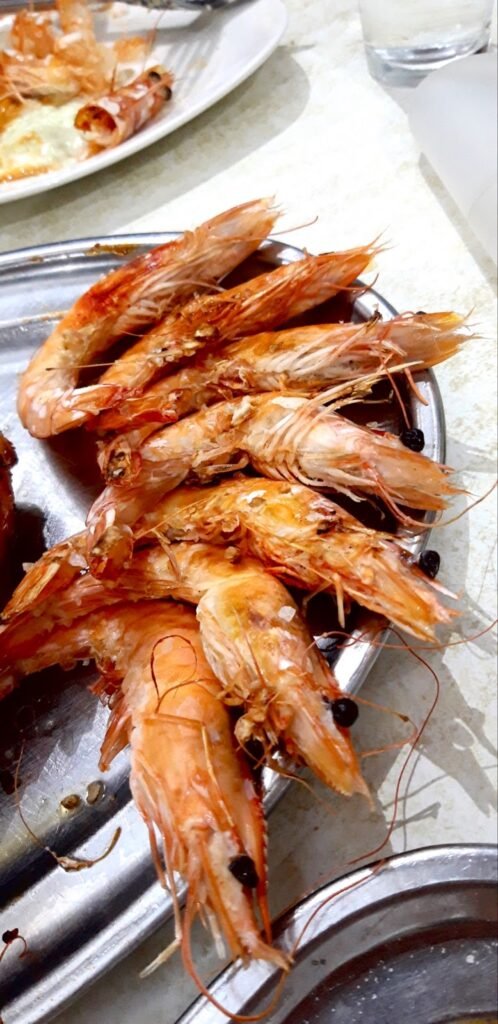 And if you want to eat somewhere really atmospheric, head over to Plaza 18 in Plaza San Francisco to eat next to a church!
When Should I Go?
Santa Cruz has good weather year-round, with the average being 18 C in January and 25 C in July. The flights are cheapest in spring and fall, especially outside school holidays.
Late February to March, though, is when the Carnival is usually held. It's the second-largest carnival outside Rio de Janeiro, including multiple parades, festivals, street parties, and concerts.
Now that you know what you're missing, you can put Santa Cruz straight on your bucket list!

Just remember to stay safe when visiting:
Covid Requirements:
Currently, in order to enter Tenerife, you need either:

– An antigen test 48 hours before arriving (European Citizens)
– A PCR test 48 hours before arriving (Non-European Citizens)

You'll also need to fill out a health declaration form here.
Are you convinced that Santa Cruz Tenerife should be your next travel destination?
---
---
PIN IT FOR LATER