3 Exciting Places to Visit on Your Indonesian Adventure (2024)
Last Updated on: 9th September 2023, 02:30 pm
Indonesia – a country known for its many breathtaking islands and amazing culture has become a bucket list country for many travelers and explorers. And for a good reason! You won't just be surrounded by stunning beaches wherever you turn but will see amazing waterfalls, colorful underwater life and corals, exotic animals, crystal clear water, and so much more.
It's time to pack your bags for your next Indonesian adventure and explore its top three places.
Table of Contents
Disclaimer: This post may contain affiliate links. If you make a purchase from one of them I will receive a small commission at no extra cost to you, which allows me to keep this blog up and running!
1. Bali
First up on your Indonesian adventure is beautiful Bali. Also known as The Island of the Gods, Bali is home to stunning temples, white and black sand beaches, volcanos, waterfalls, and amazing snorkeling spots. There are a couple of famous areas in Bali that all have their unique characteristics and attract specific crowds.
Canggu is the new digital nomad hotspot with tons of cute cafes where you can work, amazing coworking spots, and nice bars. With that being said, Canggu can be a bit more hectic and has a city vibe to it. Canggu also has great beaches for surfers but the surfers' "dream" is definitely in Uluwatu. Uluwatu is located in the south of Bali and is famous for its turquoise water and has the most beautiful beaches that you can find in Bali. When in Uluwatu, you're bound to run into a lot of surfers and people who prefer a more relaxed and easy-going vibe.
[tp_widget][/tp_widget]
Next up, we have Ubud which can be found in the middle of Bali. It is famous for its monkey forest and is home to most of Bali's temples, rice fields, and waterfalls. Ubud is the place to be if you're looking for nice yoga retreats and want to tap into the more spiritual side of Bali. Get ready for "eat pray love" vibes.
Up north, you'll find the lesser-known areas of Bali such as Amed or Lovina which are both great if you're seeking a true Indonesian adventure. These areas are especially good for those of you who want to go snorkeling or diving. If you want to relax on black sand beaches for a change, Amed is the place to be because of its close proximity to the volcano. Lovina is most famous for its amazing dolphin-watching tours. And last but not least we have Sanur, the port to all the other stunning islands close to Bali, such as Nusa Penida.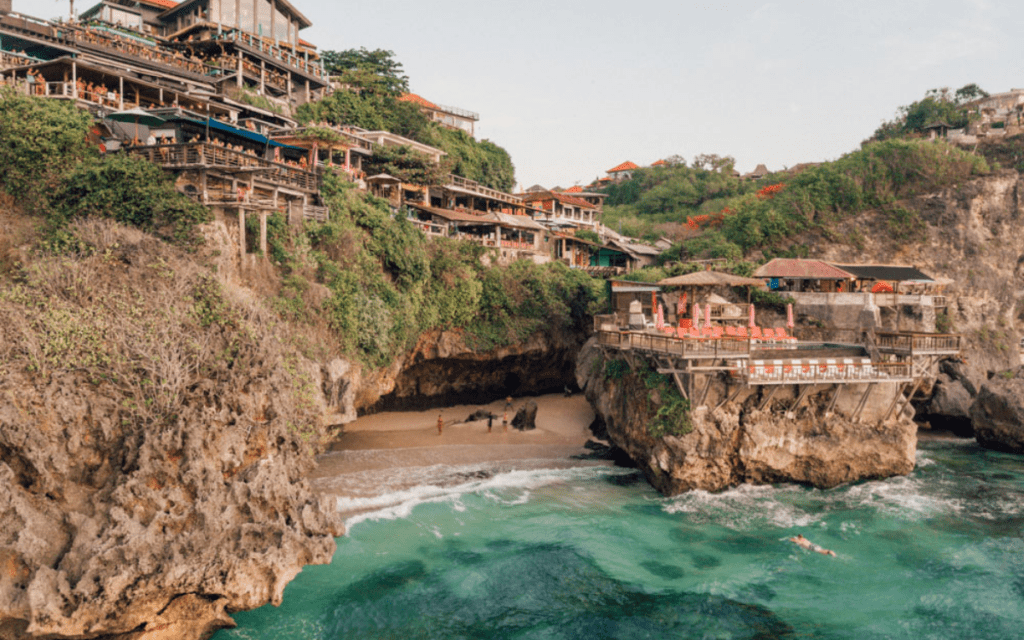 Seek Out Nusa Penida for an Extra Adventure in Indonesia
While on an Indonesian adventure in Bali, you may want to consider a side trip to Nusa Penida.
Nusa Penida is probably the most famous island close to Bali. It's only a 45-minute boat drive away and definitely deserves a spot on your Bali Bucket list. It is known for its T-rex rock formations and postcard views of cliffs and beaches.
I suggest spending 3 days and 2 nights in Nusa Penida to have enough time to explore both the east and the west of the island. On day 1, explore the east by visiting the Goa Giri Temple, Atuh Beach, Diamond beach, and the Rumah Pohon Treehouse. On day 2, it's time to explore the west, such as Angel's Billabong, Broken Beach, Kelinking beach, and Crystal Bay. Day 3 can be all about exploring the lesser-known parts of Nusa Penida before heading back to Bali, such as the Banah Cliff point, Peguyanan waterfall, and Tembeling natural pool.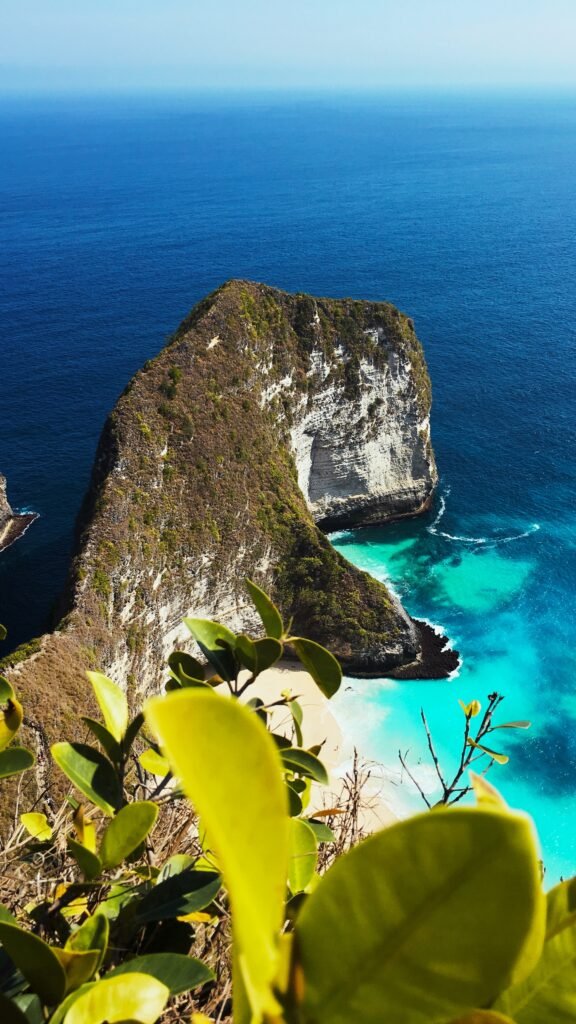 2. Flores
Next up on your Indonesian adventure is Flores; specifically, a Flores boat trip. Flores may be less popular than Bali but is just as beautiful – if not more beautiful. After exploring the island of Flores itself, most people book a boat trip to explore all of the surrounding islands. You can choose the duration of your boat trip as well as the type of boat – a luxurious private boat or a cute shared boat with others.
I suggest doing at least a 3-day and 2-night boat trip to really get to explore all the different jewels surrounding Flores. Let me tell you, living on a boat, sleeping under the stars, and being blown away by one island after another will be a trip you never forget.
[tp_widget][/tp_widget]
If you do decide to explore this area on your Indonesian adventure, get ready to see the beautiful pink sand beach (yes, it's actually pink), the famous Komodo Dragons on Komodo Island, other breathtaking islands such as Padar island and Kelor island, a stunning sand bar in the middle of the ocean called Taka Makkasar, and huge flying foxes at Kalong Island. To top it all off, you even get to swim with turtles and manta rays. If you're lucky you might even see a dolphin.
3. Raja Ampat
The final destination for your adventure in Indonesia is Raja Ampat. Looking for an Indonesian adventure that's off the beaten path, remote, and a place to hide away from all the stressors of daily life? Then visiting Raja Ampat, an archipelago of more than 1000 islands might just be what you need.
It is considered to be the most isolated group of islands that you can find in the world and is an absolute hotspot for marine biodiversity. Many people come here to relax, experience the easy-going simple life, and snorkel and dive. It will feel like swimming in a tropical aquarium in the middle of the ocean. Besides snorkeling with dolphins, manta rays, and thousands of colorful fish, you can hike up Piaynemo island to reach one of the most breathtaking viewpoints in Indonesia.
Trust me, you will be blown away!
Ready for Your Indonesian Adventure?
No matter what you're looking for, Indonesia has something for everyone. Whether you're into exploring stunning temples, waterfalls, and surf spots, or whether you're into island hopping or just prefer the off-the-beaten-path jewels, you will not be disappointed. So, get ready to pack your bags for your Indonesian adventure!
Have you been to Indonesia or do you have plans to visit soon?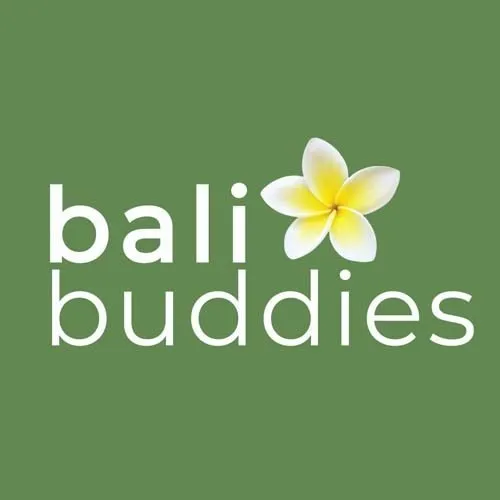 Bali Buddies has been Bali's number one Insider's guide to exploring the best of Bali. Written by a dynamic team who live & work on the Island, you can expect all of the most up-to-date information on all things Bali and its surrounds from the Bali Buddies team.
Bali Buddies is your Insider's Guide to enjoying Bali on any budget!
Facebook: Bali Buddies
Instagram: @balibuddies
---