South African Safari Magic at Makalali Main Lodge (2024)
Last Updated on: 9th September 2023, 06:45 pm
There is no other word to describe the experience you get at Makalali Main Lodge. From arrival to departure our time there was pure magic and I know that this is one of the best South African safari experiences. Located within Makalali Private Game Reserve, the lodge allows for a more luxurious and modern stay rather than the traditional South African safari bush experience. This 4-star stay is a great option for both foreign travelers and locals looking for a memorable time in the African wilderness.
Great Location
Makalali Private Game Reserve is situated close to Hoedspruit and west of the Kruger National Park. Our drive from Johannesburg took about 5 – 6 hours including stops. A scenic drive that was pleasant especially passing through picturesque towns and stunning mountain passes. For those not in the mood to drive there is a small airport in Hoedspruit and an airport transfer can be arranged.
Once we reached the game reserve we took a slow drive to the reception and were lucky enough to spot small animals along the way. Your South African safari experience starts from the moment you arrive. At the reception you get asked to leave your car behind, you and your luggage are transferred to a safari vehicle and you get taken to the lodge. By this point it quite warm and the greeting we received at the lodge was a welcome relief – cool towels and a refreshing icy cold drink.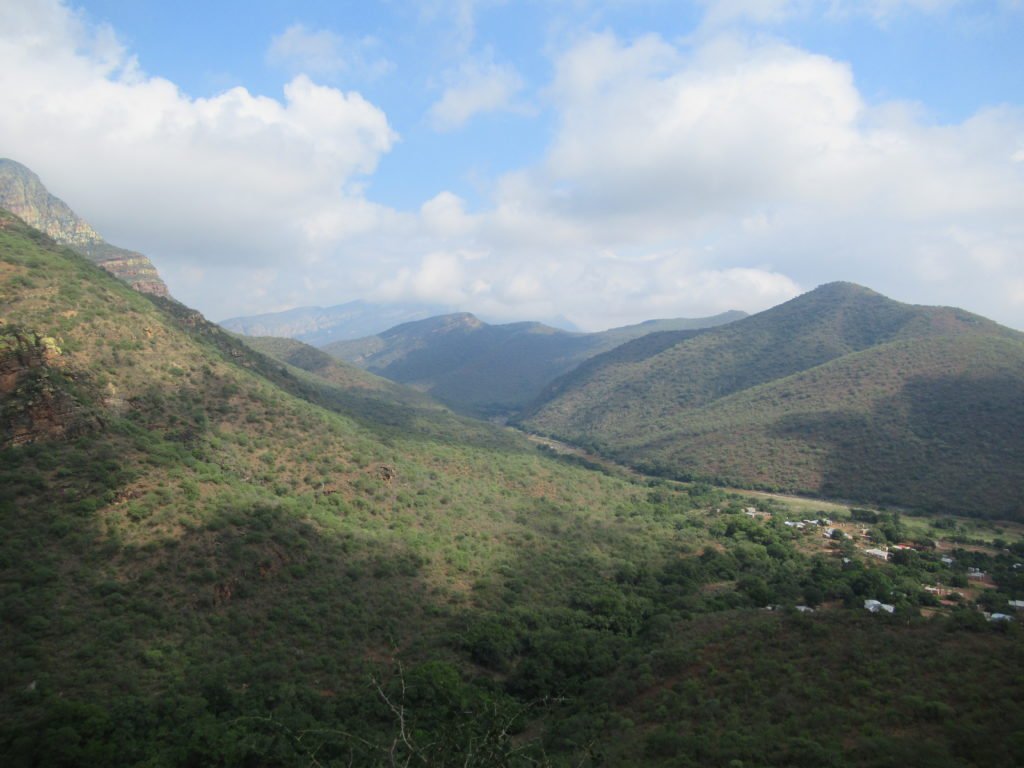 Modern Lodge
The main lodge area is absolutely stunning and completely different from most other bush lodges. Bathed in natural sunlight because of the big open and airy spaces this contemporary space is a work of art in itself. The sense of space and openness seamlessly blends with the wilderness around it. Conveniently located in the bush but feeling more like a boutique hotel.
The modern area consists of lots of couches and sitting areas, a library, a bar, and large fireplaces. Built with natural materials all sourced from the surrounding environment. As you explore further you will discover the gorgeous pool area – the rim-flow pool overlooks the Makhutswi River and we found that it was a cool place to spot wildlife.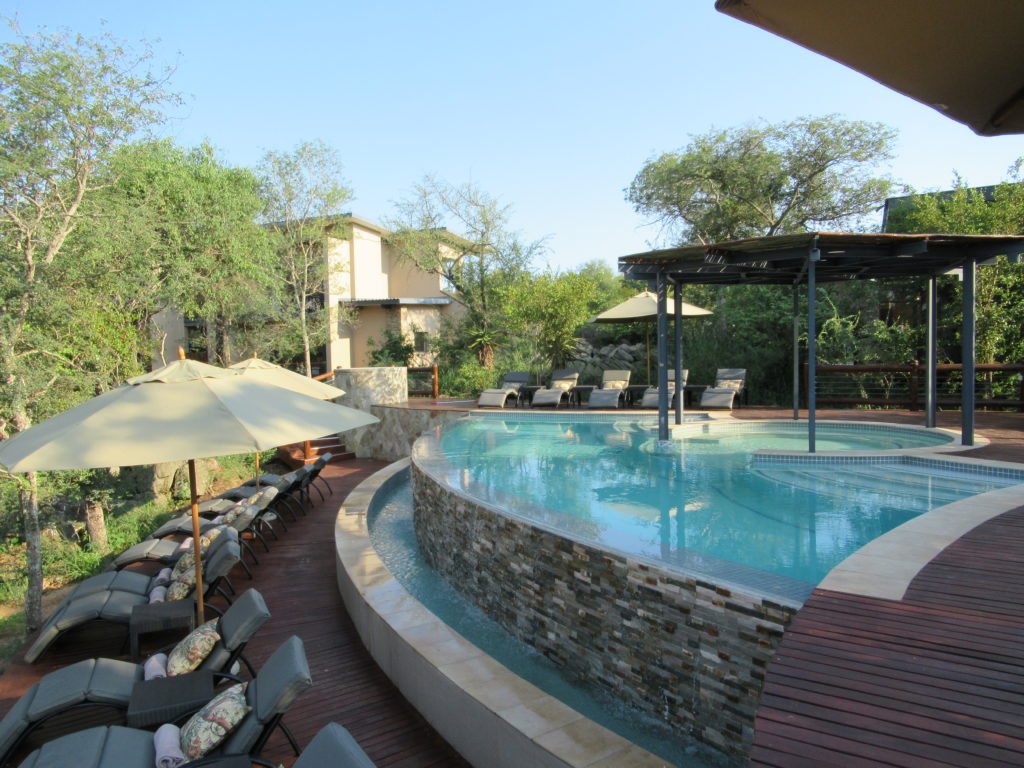 Spacious Rooms
All 30 rooms are immaculate and the special extras left by staff members really ensure your comfort. Such as the hand-written note, mosquito lotion, and robes. The rooms are decorated in stylish neutral colors but your eyes are instantly drawn to the huge glass sliding doors and their view. We just loved sitting on the balcony and watching animals pass by. Each room has a huge outdoor shower and the indoor shower is almost just as big.
The bar fridge had cold water for us to enjoy but we especially loved the jars of jelly beans, the tea station that even had our favorite tea, and the delicious chocolate chip cookies. Another lovely feature is the turndown service which includes a weather prediction card, your schedule for the next day, a bookmark with a cute African story, and a piece of fudge left on your bedside table.
Delicious Meals
We arrived at the lodge just in time for lunch and after a long drive, we were quite hungry. Their lunch selection was excellent and we enjoyed some ribs, salads, and the best, sweetest bread I have ever tasted. Dinner was served in typical South African safari-style after we returned from our game drive and was a magical experience. The circular Boma was transformed into a beautiful space with a large bonfire and lanterns.
We were seriously impressed with the food and even dared to taste the crocodile meat that they had on offer – tastes like a combination of chicken and fish. Breakfast the next morning was just as good and we started off with some fresh fruit before having a standard meal of eggs, bacon, and toast.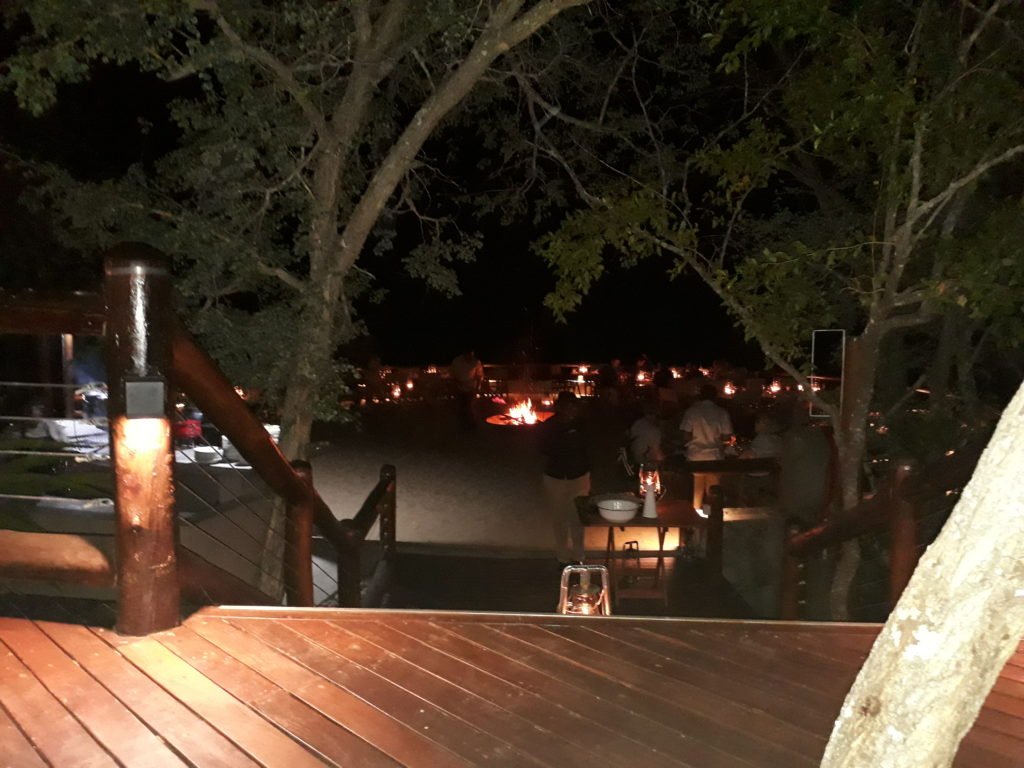 South African Safari Game Drives
The stay at Makalali includes two game drives a day. The drives are exciting, especially in their open-top game vehicles that allow you to get as close as possible to some amazing animals. During our drives, we saw plenty of buck, zebras, giraffes, and also some of the Big 5. We drove alongside an elephant that had just been soaking. And we got to watch four lionesses sleep while their eight cubs played and groomed each other.
The game rangers were such knowledgeable guides that made the experiences even better. The guides in each vehicle worked together very well to ensure that we got to see as many animals as possible. A fun part of the evening drive was the bush bar that served drinks during sunset to enjoy while standing in the middle of the bush. A classic South African safari experience that's not to be missed.
The Staff and Community
Finally, I want to mention how impressed I was with each and every staff member at the lodge. Their friendly smiles and helpful natures are truly what make the experience magical. From the moment we arrived to the moment we left we were made to feel special and completely spoiled.
Each staff member is knowledgeable and will go out of their way to ensure the comfort of guests. Many of the staff members have been there for a while and come from the neighboring communities. All of them are acutely aware of the importance of tourism and how the lodges' success will positively affect them. This sense of community and focus on culture is what makes Makalali one of South Africa's best-kept secrets.
We would like to thank aha Hotels and Lodges for inviting us and Makalali Main Lodge for hosting us. As always all opinions are my own.
Have you been on a South African safari adventure?
PIN IT FOR LATER