What to Know About Going on a Stone Town Walking Tour in Zanzibar (2024)
Last Updated on: 9th September 2023, 03:54 pm
If you're planning a trip to Zanzibar, a Stone Town walking tour is an absolute must-do.
As I discovered on both my trips (2016 and 2021), there's no better way to immerse yourself in the history, culture, and flavors of this beautiful island than by exploring its vibrant city on foot.
Despite its reputation as a bustling urban center, Stone Town is a deeply charming and safe destination that's well worth a visit. With a knowledgeable guide leading the way, visitors can explore the maze-like streets, admire the stunning architecture, and discover the hidden treasures that make this city so unique.
Key Takeaways:
A Stone Town Walking Tour is an essential experience for anyone visiting Zanzibar.
Stone Town is a safe and charming destination that's well worth exploring on foot.
A knowledgeable guide can help visitors discover the hidden gems that make this city so unique.
Do You Need a Guide for Your Stone Town Walking Tour?
YES!
Although you can do a self-guided Stone Town walking tour if you want a free option, I highly recommend opting for a tour guide. Stone Town is rather chaotic, full of winding streets and narrow alleyways, and can feel incredibly overwhelming if it's your first time visiting
I'm super grateful that we had a tour guide and private group for our Stone Town walking tour the first time we visited. We were collected from our hotel, transferred to Stone Town, and had a tour guide with us the entire time. It helped me feel safe and prevented us from getting lost in the maze that is Stone Town.
On our second visit, we spent a few nights at the stunning Zanzibar Serena Hotel which is in Stone Town (right on the beach). This gave us a solid base to explore Stone Town without a guide. Plus, we had already done a Stone Town Walking Tour in 2016, so we felt a bit more comfortable in our surroundings.
So, if this is your first time visiting Stone Town or Zanzibar and you're staying at a resort and not a Stone Town-based hotel, then definitely opt for a legit Stone Town walking tour!
3 Best Stone Town Walking Tours
Here are our top 3 choices if you're ready to book your Stone Town walking tour…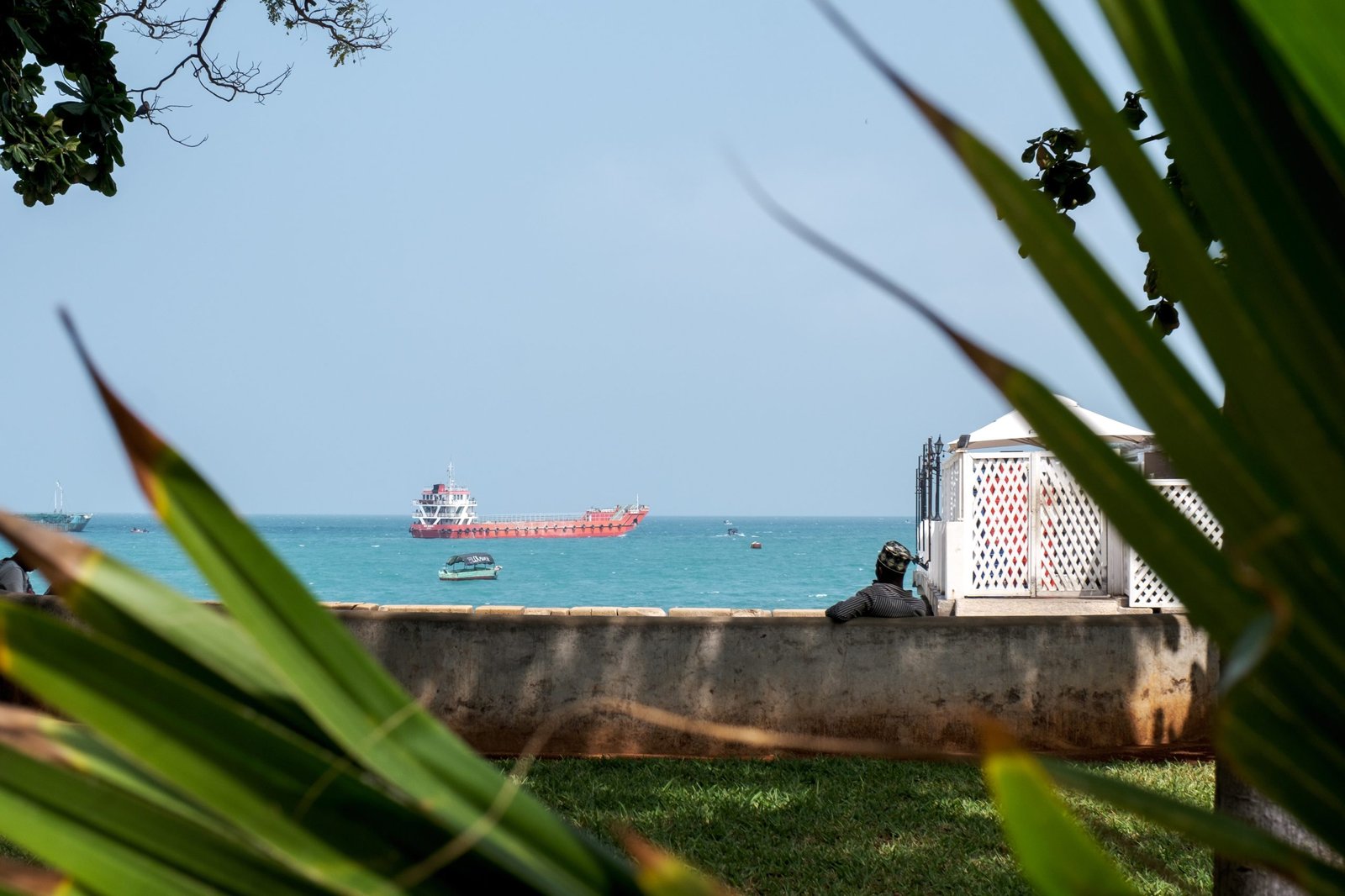 ⭐️⭐️⭐️⭐️⭐️
Stone Town Walking Tour
✔️ Private guide
✔️ Hotel transfer
✔️ Attraction entry fees
Highlights
The Old Fort (Ngome Kongwe)
House of Wonders (Beit-el-Ajaib)
Old Slave Market
Anglican Cathedral
Freddie Mercury Museum
People's Palace Museum
⭐️⭐️⭐️⭐️⭐️
Zanzibar Stone Town Walking Tour
✔️ Professional guide
✔️ Entry fees
✔️ Private tour
Highlights
House of Wonders (Beit-el-Ajaib)
The Old Fort (Ngome Kongwe)
Freddie Mercury Museum
Forodhani Park
Old Slave Market
Darajani Bazaar
⭐️⭐️⭐️⭐️⭐️
Stone Town Tour
✔️ Private guide
✔️ Bottled water
✔️ Entry fees
Highlights
The Old Fort (Ngome Kongwe)
Old Slave Market
Anglican Cathedral
Freddie Mercury Museum
Darajani Bazaar
House of Wonders (Beit-el-Ajaib)
Forodhani garden
Exploring Stone Town's Historic Streets and Landmarks
As I mentioned earlier, Stone Town is steeped in history and culture. Walking through its narrow, cobblestone streets is like taking a step back in time. With each turn, there is something new to discover and explore.
There are several key landmarks that you won't want to miss during your Stone Town tour. One of these is the Old Fort, a 17th-century fortress that was once used to protect the city from invading Portuguese forces. Today, it serves as a cultural center and holds exhibits on Swahili culture and history.
| Landmark | Description |
| --- | --- |
| Forodhani Gardens | A waterfront park that hosts a nightly food market with local delicacies like grilled seafood and samosas. |
| The House of Wonders | A grand palace that was once the Sultan's residence. Today, it houses a museum dedicated to the island's history and culture. |
| The Anglican Cathedral | A striking cathedral that was built on the site of a former slave market. It serves as a powerful reminder of the island's dark past and the fight for freedom. |
While these are some of the more well-known landmarks, don't be afraid to stray off the beaten path and discover some of Stone Town's hidden gems. The city is full of surprises, like quaint cafes and colorful street art. Exploring on foot is the best way to get a true sense of the city and its unique charm.
Here are some other attractions:
Darajani Market
The first thing that catches your attention as you get off the tour bus near the Stone Town market is the strange mix of pleasant and unpleasant smells. As we made our way through this market, generally used by locals, we were overwhelmed by noise, color, and smell. This changed according to which part of the market you were in. We chose to avoid the meat and fish market.
The Former Zanzibar Slave Market
Zanzibar was one of the main slave trade ports in East Africa and it was a dark period on the island. This was the last open slave market which now has a large Anglican Cathedral on its site to mark the triumph over inhumanity. This market was started by the Portuguese and finally outlawed by the British thanks to David Livingstone's campaign.
There is a statue of chained slaves as a reminder of what happened here. You can also ask a guide to show you around the Cathedral, they are knowledgeable and able to discuss all the symbolism that was included. There are also guides that will lead you down into the last remaining holding cells – it is quite unpleasant in these small holes and can only take a few people. It will make you feel truly grateful for your life of freedom.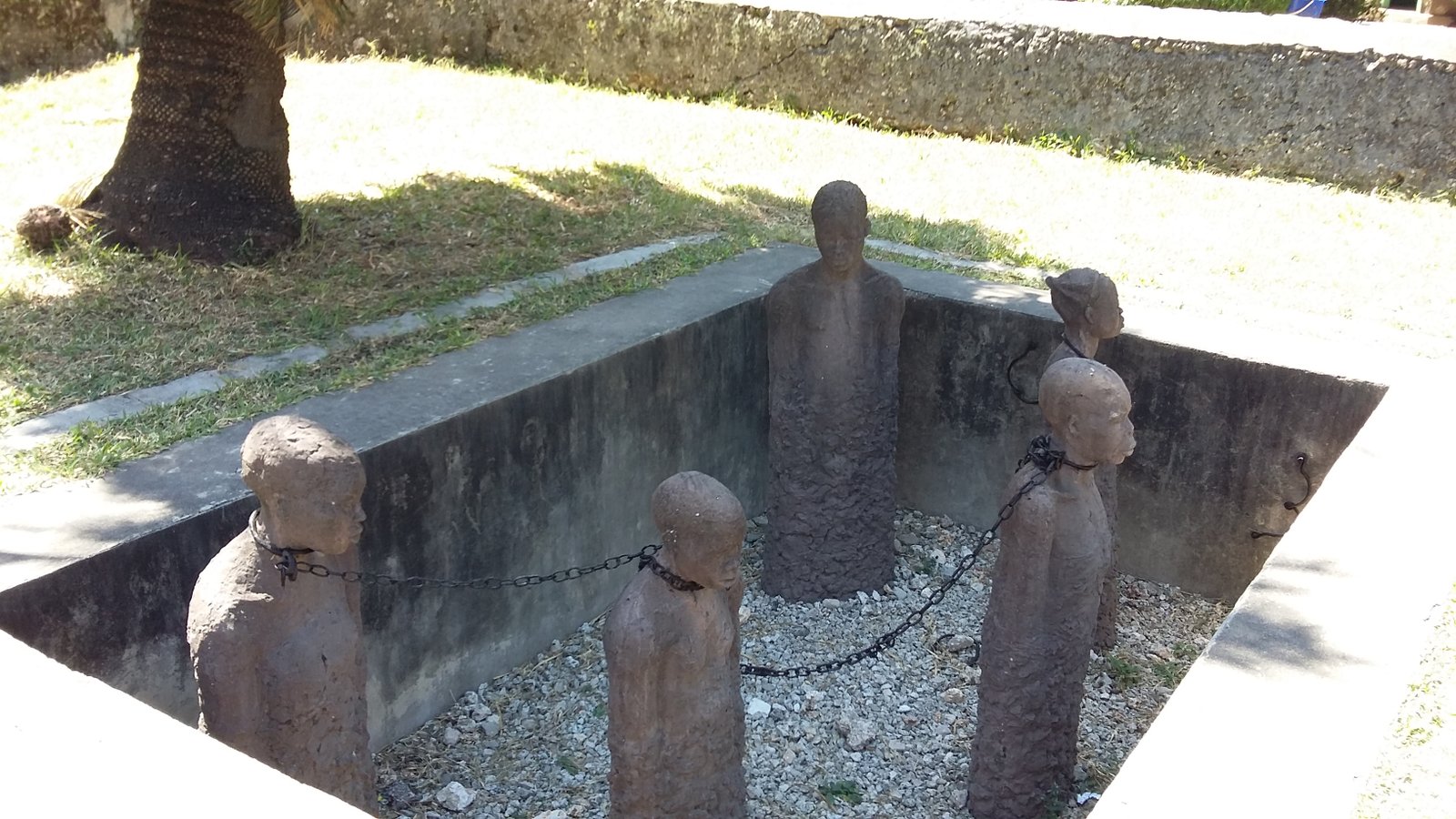 Winding Alleys, Tiny Shops, Crazy Bikers, Grand Architecture, and Famous Doors
Stone Town is best explored on foot which is why there are so many Stone Town walking tours.
Wandering through its narrow winding alleys can be quite exciting. You will find many interesting shops along the way and there is something new to see around every corner. Just beware, these tiny alleys can be quite hazardous, especially when bikers come speeding down on you. When you hear a horn behind you, make sure to get out of the way, as they do not slow down or stop for any reason, not even travelers!
Make use of a guide if you are worried about getting lost in the labyrinth, but don't worry the locals are friendly and willing to help. As you wander, make sure to look up and admire the detailed balconies and beautiful buildings. As you go along you will also notice many of the famous Zanzibari doors with intricate carvings and different meanings to each of the cultures they stem from.
Freddie Mercury and David Livingstone
As Queen fans, we were pretty eager to visit Mercury House. This is where the legendary lead singer, Freddie Mercury was born and lived for the first decade of his life. Unfortunately, there is not much to see, as the house has been turned into a hotel and only guests can enter. Photos at the entrance with a board of band photos were all we got but I believe they now have a Freddie Mercury Museum you can visit – so ask your guide!
For lunch our guide led us to a little gem of a spot right on the coastline – you can sit at tables with your feet in the sand, enjoying a view of the ocean while you eat.
As it turned out, this excellent old building (with the most amazing spiraling wooden staircase) was lived in by David Livingstone during his many stays in Zanzibar. The food was so tasty and the atmosphere was relaxed and comfortable – we even made friends with two local cats while enjoying our lunch.

The Old Fort
This massive structure is hard to miss and is a large fortification along the waterfront. It was built in the 18th century as a defense against attacks on the island. It was later used as a prison but is now in use as an event location for musical and theatrical performances. Inside we found colorful stalls selling clothing, jewelry, and food. The fort is a historical spot that was once a vital part of Zanzibar and definitely worth a visit.
Forodhani Gardens and the House of Wonders
In between the Old Fort and the ocean, you will find Forodhani Gardens, a local park. During the day it is a green, shady, and calm spot to relax in. Every night the whole garden is transformed into a busy night market. It is a buzz of activity as locals and tourists alike are attracted to delicious smells and the warm glow of oil lamps.
Right next to the gardens is the House of Wonders with its unmissable white clock tower (which tragically collapsed recently). It was closed for renovations when we were there, but it was still remarkable from the outside. The huge front doors were built to be big enough for the sultan to pass through on an elephant, as the story goes. It was also the first building in East Africa to have electricity, running water, and an elevator.
Immerse Yourself in the Vibrant Flavors of Stone Town
No trip to Stone Town would be complete without indulging in the vibrant flavors of the island. The Spice Island is famous for its exotic blends of spices, which find their way into every dish.
One of the must-visit places in Stone Town is the spice market section of the Darajani market, where you can immerse yourself in a world of fragrant herbs and spices. Here, you'll find a dizzying array of unique blends that have made Zanzibar famous around the world. You can sample everything from cinnamon and cloves to turmeric and cardamom.
To truly experience the essence of Stone Town, I highly recommend trying the local cuisine. From traditional Swahili dishes to international cuisine with a Zanzibari twist, you'll find something to suit every palate. Don't be afraid to explore the narrow streets and alleyways for hidden gems that serve up the best food in town.
As you wander through the streets of Stone Town, you'll notice a multitude of shops selling everything from local crafts to spices. Be sure to stock up on a few unique souvenirs to take home with you. Whether it's a piece of intricately woven fabric or a bag of exotic spices, these treasures will ensure that your memories of Stone Town last a lifetime.
Discover Hidden Gems and Island Treasures
A Stone Town walking tour in Zanzibar is an excellent opportunity to discover the less-traveled paths and hidden gems of this fascinating city. Beyond the iconic landmarks and famous spice market lies a world of island treasures waiting to be explored. During my tour, I was amazed by the beauty and serenity of some of the off-the-beaten-path spots.
One such hidden gem is the Hamamni Persian Baths, located in the heart of Stone Town. Built-in the mid-19th century, the baths are a testament to the city's rich cultural history. The architecture and design of the building are awe-inspiring and offer a glimpse into the region's past. The tranquil atmosphere of the baths offers a refreshing contrast to the hustle and bustle of Stone Town's busy streets.
The key to discovering these hidden gems is to have a knowledgeable tour guide who can take you off the beaten path and show you the true essence of Stone Town. With a trustworthy guide, you can discover a side of the city that many tourists miss. When booking your Stone Town walking tour, make sure to ask about the opportunity to visit some of these lesser-known spots.
Exploring Stone Town's Streets: Tips and Tricks
Before you set off on your Stone Town walking tour, there are a few things to keep in mind to ensure a safe and enjoyable experience.
Wear comfortable shoes. Stone Town's streets are uneven and can be slippery, so it's important to wear shoes with good traction.
Be respectful of local customs and dress modestly. Stone Town is a predominantly Muslim city, so it's important to dress appropriately out of respect for the culture.
Don't be afraid to haggle. If you plan on doing some shopping, keep in mind that prices are often negotiable.
Stay hydrated. Stone Town can get quite hot, so be sure to carry a water bottle with you.
By keeping these tips in mind, you'll be able to make the most of your Stone Town walking tour and truly immerse yourself in the city's rich culture and history.
FAQs
Is it safe to walk around Stone Town?
Yes, Stone Town is generally safe to explore on foot. However, it's always recommended to take necessary precautions and be aware of your surroundings.
Is Stone Town worth visiting?
Absolutely! Stone Town is a UNESCO World Heritage Site and offers a unique blend of history, culture, and vibrant atmosphere. It's a must-visit destination in Zanzibar.
What can I expect on a Stone Town walking tour?
On a Stone Town Walking Tour, you can expect to explore the charming historic streets, visit iconic landmarks such as the Old Fort and Forodhani Gardens, immerse yourself in the local flavors and spices, and discover hidden gems and treasures of the island.
How long is the Stone Town tour?
The duration of the Stone Town tour can vary depending on the itinerary and your preferences. It can range from a few hours to a full day. It's best to check with the tour operator for specific details. However, most tours are about 3 hours.
What is Prison Island, and can I visit it during the Stone Town tour?
Prison Island, also known as Changuu Island, is a small island near Stone Town. It was originally built as a prison but is now a popular tourist destination. Many Stone Town tours include a visit to Prison Island, where you can explore its history, interact with giant tortoises, and enjoy the beautiful beaches. Some tours can be combined to include Prison Island on the same day as a Stone Town tour.
How many days in Zanzibar are enough?
While it depends on your travel preferences, we would recommend spending at least two to three days in Zanzibar to fully experience the beauty and charm of a day in Stone Town. This will give you enough time to explore the city, enjoy the local cuisine, and discover the nearby attractions. But personally, I would book at least a week on the island!
Map of Our Favorite Zanzibar Hotels
Ready to Visit Stone Town?
A Stone Town Walking Tour in Zanzibar is a unique and exciting way to explore the city. Whether you're a history buff, a foodie, or an adventurer seeking hidden gems, Stone Town has something for everyone. With the help of a knowledgeable tour guide, you'll uncover the city's treasures and create memories that will last a lifetime. I highly recommend putting it on your bucket list and experiencing the magic of Stone Town for yourself.
PIN IT FOR LATER