Fun Day Trips from Lagos Portugal: Discover the Best of the Algarve in 2024
Last Updated on: 17th November 2023, 03:21 pm
Do you want to plan some fun day trips from Lagos Portugal?
Then you've found the right blog post!
My family absolutely adores Lagos and it's a destination on the Algarve that we return to often.
Best of all, Lagos is well-placed for exploration of other parts of the Algarve and a day trip is the best way to discover what this region of Portugal has to offer.
From stunning beaches to historic towns, there are plenty of options for memorable excursions from Lagos. Whether you're interested in natural landmarks or cultural attractions, you'll find something to suit your preferences.
Discover the best day trips from Lagos Portugal and embark on an unforgettable adventure in the beautiful Algarve region.
Key Takeaways:
Immerse yourself in the rich history of Silves, the former Moorish capital
Embrace the diverse natural beauty found at Sagres and Cabo de São Vicente
Discover hidden gems on a Benagil Cave boat tour along the breathtaking Algarve coastline
Experience the bustling nightlife and shopping opportunities in Portimão and Praia da Rocha
Unwind in the quaint coastal towns of Luz, Burgau, and Salema
Explore the untouched Vila do Bispo coastline and its scenic hiking trails
Take a cultural journey through Lagos's historic streets on a walking tour
Disclaimer: This post may contain affiliate links. If you make a purchase from one of them I will receive a small commission at no extra cost to you, which allows me to keep this blog up and running!
Day Trips from Lagos Portugal
Explore the Historical Charm of Silves
Embarking on a day trip from Lagos Portugal to the enchanting town of Silves will transport you to a place steeped in history and culture.
Once the Moorish capital of the Algarve, Silves boasts architectural marvels and a unique charm that will capture your imagination. One of the must-see attractions in town is the impressive red brick Moorish castle, which holds its majestic presence over the picturesque skyline.
As you meander through the cobbled streets of Silves, you'll find an array of traditional buildings lining your path. Take a moment to admire the fortified city gate that seamlessly integrates into the main square. The serene Arade River nearby sets a tranquil scene, offering the perfect backdrop for your Algarve day trip experience.
One of the keys to Silves' allure lies in its intimate size. It's small enough to comfortably explore in a day, meaning you'll have ample time to uncover its hidden gems and delve into its storied past.
Navigating to Silves from Lagos is relatively straightforward. You can opt for an Algarve train to Silves or take a bus with a required connection in Portimão. Keep in mind, though, that the Silves train station is a little distance away from the historic center, so plan accordingly.
Visit the iconic red brick Moorish castle and discover its fascinating history.
Wander along cobbled streets, appreciating the traditional buildings and picturesque views.
Find the fortified city gate and soak in the calm ambiance of the Arade River.
Silves offers a truly captivating day trip option for those visiting Lagos, Portugal.
The town's unique blend of historical monuments and charming Southern Portuguese character make it an ideal choice for anyone looking to experience the best of the Algarve region on their next trip.
Day Trips from Lagos Portugal
Embrace the Natural Beauty at Sagres and Cabo de São Vicente
Sagres, located at the western tip of the Algarve, is a truly breathtaking destination that is perfect for day trips from Lagos Portugal by car.
With its dramatic cliffs, wide beaches, and mighty waves, it attracts adventure enthusiasts and surf lovers alike. Its enchanting mix of beauty and relaxation makes it an ideal escape for those seeking a natural paradise.
The magnificent Fortaleza de Sagres, an iconic fort situated on the edge of these majestic cliffs, is an attraction not to be missed. Visitors can marvel at the fort's unique construction and embrace the raw beauty of Sagres' famous beaches. Sagres Surf offers thrilling opportunities for both beginners and experienced surfers, while its charming atmosphere provides a laid-back vibe.
Just a short distance from Sagres is Cabo de São Vicente, a windswept location that lures visitors with its enchanting sense of being on the edge of the known world. The powerful lighthouse, with its brilliantly bright beam, adds to the allure of this barren yet mesmerizing landscape.
Marvel at the towering cliffs and natural beauty of Sagres.
Experience world-class surfing at one of the area's many beaches.
Explore the historic Fortaleza de Sagres.
Visit Cabo de São Vicente, the southwesternmost point of Europe.
Witness the awe-inspiring power of the Cabo de São Vicente lighthouse.
For those embarking on day trips from Lagos Portugal by car, the breathtaking sights of Sagres and Cabo de São Vicente are easily accessible. However, if a car rental isn't an option, the Algarve bus service does provide public transportation from Lagos to Sagres, with limited service to Cabo de São Vicente.
The area also offers excellent hiking trails for those looking to explore the stunning landscapes on foot.
A day spent in Sagres and Cabo de São Vicente promises to be an exciting adventure filled with captivating scenic views, thrilling activities, and a connection with the natural beauty of the Algarve.
DON'T FORGET TO PIN & SAVE THIS POST FOR LATER
Day Trips from Lagos Portugal
Nautical Adventures: Benagil Cave Boat Tour
Embark on a thrilling adventure and explore the captivating Algarve coastline with boat trips from Lagos Portugal.
Among the various options available, the Benagil cave boat tour stands out as a must-try experience, taking you on a journey through the region's intricate network of hidden sea caves and majestic rock formations.
Discover Hidden Sea Caves by Boat
Guided boat tours provide a fantastic opportunity to witness the natural beauty of the Algarve, as you navigate through its dramatic coastline and uncover a world of enchanting caves and secluded caverns. Your experienced captains and tour guides will regale you with fascinating information about the area, giving you unique insights into the caves' formation, marine life, and the area's rich history.
Marvel at the Famous Benagil Skylight
The highlight of your sea cave tour is undoubtedly the awe-inspiring Benagil Cave, where you'll be captivated by its grand skylight.
This natural wonder creates a magical atmosphere as the sun pours in, casting a spellbinding light upon the cave's magnificent structure. Make sure to have your camera ready to capture the breathtaking moment you witness the glorious intersection of sunlight and the enchanting environment created by the cave's interior.
Whether you're an adventure-seeker, a nature lover, or someone looking to experience the unique charms of the Algarve, a Benagil cave boat tour is an unforgettable experience that will leave you with cherished memories and a newfound appreciation for the Algarve's coastline wonders.
Day Trips from Lagos Portugal
Vibrant Seaside Experience in Portimão and Praia da Rocha
For those seeking a blend of leisure and excitement during their trip, visiting Portimão and Praia da Rocha offers just that. These two destinations complement each other perfectly, creating a perfect balance of historic charm and beachside fun.
Shop and Stroll in Portimão's Historic Center
Known for having the best shopping in the western Algarve, Portimão offers a variety of pedestrianized streets and plazas teeming with unique shops and boutiques.
The historic center of Portimão is an enchanting backdrop for your shopping experience, with its beautiful marinas capturing the essence of the coastal town. Well-connected by bus and train services from Lagos, Portimão is easily accessible for a day of exploration and retail therapy.
Praia da Rocha's Bustling Nightlife and Beach Fun
Just a short distance from Portimão, Praia da Rocha boasts a stunning beach framed by an array of modern tourist developments and mega hotels.
This popular resort town is known for its vibrant nightlife, with a bustling main street filled with themed bars and happy hour promotions, ensuring a lively holiday atmosphere throughout the day and night.
The contrast between the party resort vibe of Praia da Rocha and the historic authenticity of Portimão offers an enticing mix of experiences, allowing visitors to capture the essence of the Algarve coast. Spend your day lounging on the stunning beach or strolling through Portimão's charming streets before diving into the excitement of Praia da Rocha by nightfall.
Experience the historic charm of Portimão's pedestrianized streets and shopping plazas.
Relax on Praia da Rocha's stunning beach, surrounded by impressive tourist developments.
Immerse yourself in the bustling nightlife of Praia da Rocha's lively main street.
Whether you prefer a leisurely day exploring Portimão's historic center or an exciting night out in Praia da Rocha, the combination of these two destinations guarantees an enjoyable coastal experience.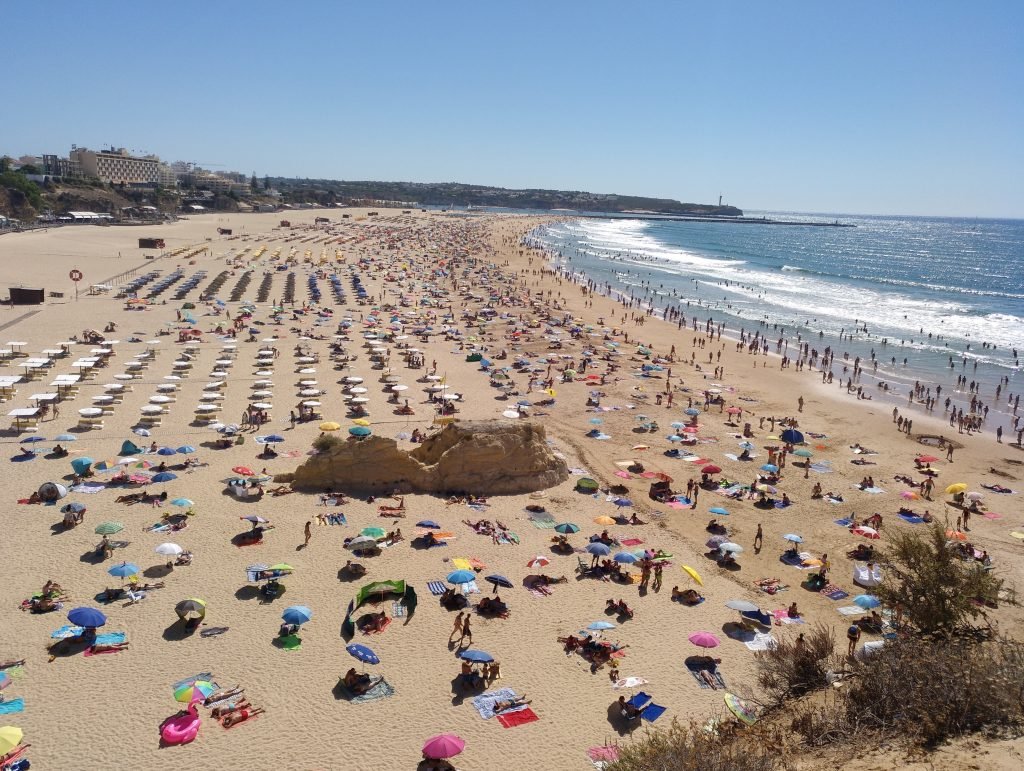 Day Trips from Lagos Portugal
Quaint Coastal Escapes: Luz, Burgau, and Salema
One of the most charming aspects of the Algarve region is the distinct coastal towns that dot the shoreline.
Just a short journey west from Lagos, you'll find some picturesque escapes in the town trio of Luz, Burgau, and Salema. All three boast unique features that will pique your interest and entice you to unwind and enjoy their peaceful ambiance.
Want to be able to communicate with the locals? Learn 15 different ways to say "Thank You" in Portuguese here.
Luz is characterized by its serene atmosphere, expansive sandy beach, and striking Rocha Negra cliffs. Beachgoers in Luz can appreciate both the sun on their skin and the breathtaking views of the surrounding cliffs. Add to that the leisurely strolls through its streets, lined with traditional houses, and you will surely appreciate the tranquil experience Luz offers.
Next, is the quaint fishing village of Burgau, which captivates with its cobbled streets, small-town charm, and traditional village feel. Exploring Burgau feels like stepping back in time, as you wander past colorful, whitewashed houses, observe the locals going about their daily lives, and savor the fresh catch of the day at one of the local seafood restaurants.
Finally, Salema is a tranquil oasis that offers a different kind of allure, nestled in a valley and boasting a beautiful, pristine beach. Surrounded by lush greenery and charming white-washed buildings, this former fishing village maintains a peaceful atmosphere that acts as a delightful escape from busier resort towns.
Escape to Luz for its serene atmosphere and breathtaking Rocha Negra cliffs.
Experience the charm of traditional fishing village life in Burgau.
Find tranquility in the stunning valley and beach setting of Salema.
Plan a day trip to these unique coastal towns to experience the calming and peaceful ambiance they provide. No matter which town you choose to explore, you'll undoubtedly be captivated by its beauty and charm, making your escape from Lagos an unforgettable experience.
Day Trips from Lagos Portugal
The Untouched Vila do Bispo Coastline
Those in search of serenity and unspoiled nature will find the Vila do Bispo coastline to be the ultimate retreat. This picturesque area, nestled within the Costa Vicentina Natural Park, promises a memorable experience for all adventure seekers and beach lovers.
Presenting pristine and untouched beaches, Vila do Bispo is characterized by its Algarve natural beauty and stunning landscapes. The area provides exclusive access to scenic hiking routes for those longing for a remote exploration of Portugal's breathtaking parks and coastlines.
Exclusive Hiking Trails and Beaches
As a haven for outdoor enthusiasts, Vila do Bispo boasts a multitude of scenic hiking routes within the Sudoeste Alentejano e Costa Vicentina nature park. These treks offer panoramic views of the Atlantic Ocean and the captivating wildlife that roam the region.
Additionally, visitors will adore the selection of untouched beaches for a more laid-back and serene escapade. The untouched nature of these secluded spots makes Vila do Bispo an exceptional feature of the Algarve region.
Securing a rental car is advised to access these less-traveled parts of the Algarve, especially when aiming to cover more ground and immerse oneself in the unforgettable scenery Vila do Bispo has to offer.
Embark on an adventurous hiking journey through the Costa Vicentina Natural Park.
Capture the essence of Vila do Bispo's untouched beaches and pristine shorelines.
Revel in the remote exploration and seclusion this beautiful coastline has to offer.
Don't miss out on the opportunity to experience the wonders of Vila do Bispo, an untouched gem on the Algarve coastline that will undoubtedly leave you in awe.
Day Trips from Lagos Portugal
Cultural Excursions in Lagos Portugal
When visiting Lagos, it is essential to indulge in the enriching cultural excursions this beautiful city has to offer.
The historic sights and old-town exploration will take you on a mesmerizing journey, providing a unique opportunity to step back in time and experience the city's rich heritage.
Lagos Portugal Walking Tour: A Step Back in Time
Embarking on a Lagos Portugal walking tour is the perfect way to immerse yourself in the city's captivating past.
The historical center boasts narrow, cobbled streets lined with whitewashed buildings, transporting you to a bygone era. As you wander through the winding alleys, you will discover architectural gems, ancient churches, and charming plazas that reflect the city's rich history.
Some must-see historic sights on your walking tour include:
The picturesque Igreja de Santo António is an 18th-century church with exquisite gilt-wood carvings and azulejos tiles.
The imposing Forte da Ponta da Bandeira is a 17th-century fortress that once guarded the entrance to Lagos harbor.
The ancient city walls have protected Lagos since Roman times.
The iconic Slave Market building was an essential stop for learning about Portugal's role in the transatlantic slave trade.
As you explore the old town, take the time to soak in the atmosphere and enjoy the fusion of historical charm with modern comforts. The city's bustling squares and inviting cafes provide the perfect setting to relax, savor some traditional Portuguese cuisine, and watch the world go by.
Read our review of Mar d'Estorias which is one of our favorite spots in Lagos to enjoy local cuisine!
Cultural excursions in Lagos Portugal are not only limited to the city's center. Venture beyond the old town, and you will find countless opportunities for further exploration, such as scenic coastal walks, lush green parks, and fascinating museums that shed light on the region's history and culture.
Whether you are a history buff or simply enjoy discovering new places, the variety of experiences Lagos has to offer is sure to captivate and inspire.
Lagos Accommodation Map
Day Trips from Lagos Portugal
Day Trips from Lagos Portugal FAQs
How many days is enough in Lagos Portugal?
The ideal duration for a visit to Lagos depends on your interests. A stay of 3 to 5 days allows you to explore its stunning beaches, historical sites, and vibrant nightlife. It provides a balanced experience without feeling rushed.
Can you do a day trip from Algarve to Lisbon?
While it's possible to do a day trip from Algarve to Lisbon, it's recommended to allocate more time to the capital. The journey takes around 4 hours round trip, so consider an overnight stay in Lisbon to fully enjoy its attractions.
Can you do a day trip from Lagos to Faro?
Yes, a day trip from Lagos to Faro is a fantastic idea. The scenic train ride takes approximately 2 hours, allowing you to explore Faro's historical sites in a day. Plan your itinerary to make the most of your visit.
Is Lagos a good place to visit in Portugal?
Absolutely, Lagos is a gem in Portugal. With its picturesque coastline, historic charm, and lively atmosphere, Lagos offers a memorable experience. Whether you're into water sports, exploring grottoes, or soaking up the local culture, Lagos has something for everyone.
Where is the nicest place in the Algarve?
Determining the nicest place in the Algarve is subjective, but Lagos is often considered among the best. Its stunning cliffs, golden beaches, and lively atmosphere make it a favorite. Albufeira and Tavira are also renowned for their beauty and unique characteristics. Explore different towns to find your favorite.
Day Trips from Lagos Portugal
Plan Your Day Trips from Lagos Portugal
Day trips from Lagos Portugal showcase the remarkable diversity and beauty that the Algarve region has to offer.
If you're looking for the best day trips to explore the Algarve, Lagos provides an exceptional variety of exciting activities and captivating destinations.
With a well-planned travel guide, your Lagos trip is sure to leave a lasting impression, making your Algarve adventure truly unforgettable.
DON'T FORGET TO PIN & SAVE THIS POST FOR LATER