Visit the Famous Tsitsikamma Suspension Bridge at Storms River (2024)
Last Updated on: 21st November 2023, 03:24 pm
Want to visit the iconic Tsitsikamma Suspension Bridge in South Africa?
Great! You'll find this Insta-famous bridge right at the endpoint of the epic Garden Route – which happens to be where we live!
Navigating our way to the Tsitsikamma Suspension Bridge and knowing what to expect the first time we went was confusing (even as a local).
So, we wanted to create this guide to help you find the bridge and enjoy the experience as much as possible while you're in South Africa!
Preparation is essential for most travel in South Africa – so we'll share plenty of details and insider knowledge to help you make the most of your trip!
Key Takeaways
The Tsitsikamma Suspension Bridge is a popular tourist attraction in South Africa, located within the Garden Route National Park.
Storms River Mouth Trail is a two-kilometer return walk that will take you about 1 hour to complete.
Visitors are required to pay a conservation fee to enter Tsitsikamma National Park, and gate opening times for day visitors are 8 am to 5 pm.
The Storms River bridge walk offers magnificent ocean views and can be completed in just over an hour, making it accessible for all ages.
Tsitsikamma National Park offers a variety of attractions and activities, including hiking, scuba diving, kayaking, and snorkeling.
Disclaimer: This post may contain affiliate links. If you make a purchase from one of them I will receive a small commission at no extra cost to you, which allows me to keep this blog up and running!
The Tsitsikamma Suspension Bridge is located in the breathtaking Tsitsikamma National Park of South Africa. It is a must-visit for anyone venturing along the famed Garden Route National Park.
Spanning the striking Storms River Mouth, this tourist attraction offers stunning views and an exhilarating experience in one of South Africa's most picturesque landscapes. The enchanting Storms River bridge walk will leave you with lasting memories and a deep appreciation for the region's beauty.
The Enchanting Tsitsikamma National Park
Tsitsikamma National Park, a beacon of coastal beauty along the Garden Route, offers an abundance of outdoor and marine activities, making it one of the top Garden Route attractions for nature enthusiasts.
Whether you're a seasoned hiker or a leisurely walker, the park's trails cater to your needs, allowing you to experience the scenic views in Tsitsikamma up close.
One of the park's most popular experiences is the journey to the Tsitsikamma Suspension Bridge.
DON'T FORGET TO PIN & SAVE THIS POST FOR LATER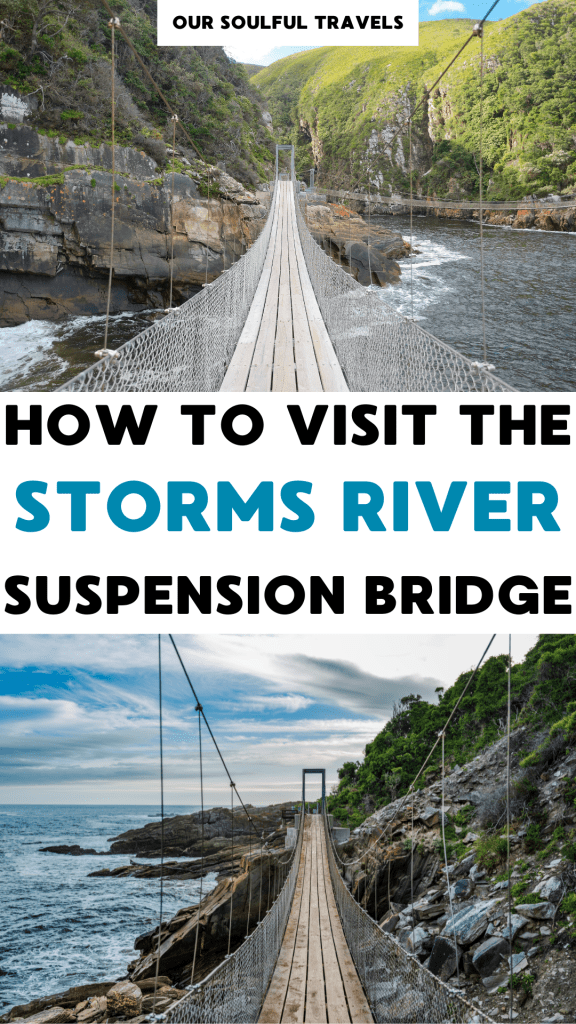 The trail to the iconic bridge serves as the ultimate Tsitsikamma hike, surrounded by lush forestry and expansive ocean vistas. The dramatic landscape perfectly complements the experience of traversing the suspension bridge, making for a memorable nature walk in Tsitsikamma.
If you're interested in marine life, Tsitsikamma National Park delivers on that aspect, too. You can encounter an array of marine sightings, thanks to the diverse ecosystem found in the area. Activities such as scuba diving and snorkeling attract adventure-seekers to the park, giving them a chance to explore the underwater world.
To help you discover the park's vast beauty, we've curated a list of popular activities and highlights ready to be enjoyed by every visitor, from breathtaking viewpoints to adrenaline-pumping adventures.
Storms River Mouth: Marvel at the point where the river meets the sea, a spectacular sight encompassing crashing waves and jagged cliffs.
Lookout Point: Get panoramic views of the park, capturing the essence of Tsitsikamma's natural beauty in one frame.
Scuba Diving and Snorkeling: Traverse the underwater world and discover the thriving marine life inhabiting the park's waters.
Kayaking or Tubing: Paddle through the serene waters of the park, exploring hidden coves and gazing upon lush forests bordering the coastline.
Forest Trails: Immerse yourself in nature as you hike amidst the dense foliage, coming across enchanting streams and small waterfalls.
| Activity | Experience | Average Duration |
| --- | --- | --- |
| Hiking the suspension bridge trail | Scenic views, forest walk, suspension bridge crossing | 2 hours |
| Storms River Mouth Zipline or visit | Marvel at the point where the river meets the sea | 1 hour |
| Scuba diving or snorkeling | Explore the underwater world of Tsitsikamma | 2-4 hours |
| Kayaking along the coast | Discover hidden coves and coastline forests | 3 hours |
| Forest trail exploration | Experience nature walks amidst enchanting surroundings | 2-3 hours |
Tsitsikamma National Park is an all-in-one destination for nature lovers, providing stunning visuals, exciting adventures, and peaceful escapes.
Don't forget to bring your camera, as the park is filled with ample opportunities to capture unforgettable snapshots of your visit.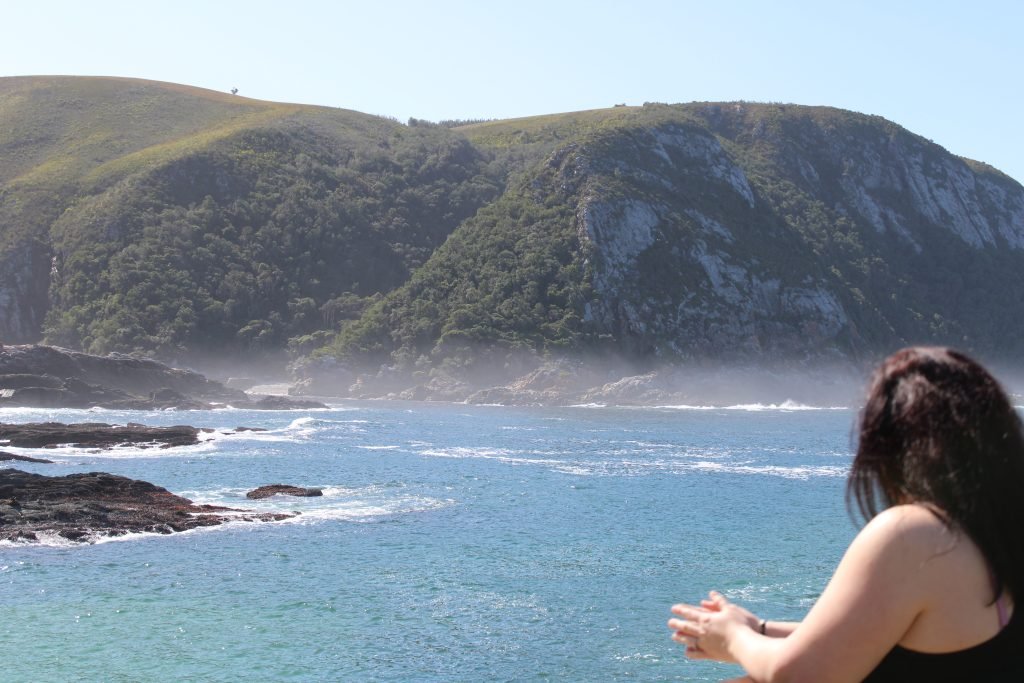 Best Time to Visit for an Ideal Experience
When it comes to South Africa Garden Route travel, the Tsitsikamma weather and the seasonal changes in the Garden Route can impact your adventure.
With differing seasonal experiences, the perfect time to visit the Tsitsikamma National Park can vary according to individual preferences for climate and crowd levels.
Summer (December to February): Ideal for warm weather lovers, offering beach relaxation opportunities
Autumn (March to May): Outstanding for hiking, with mild temperatures and stunning foliage
Winter (June to August): Refreshingly cooler temperatures and reduced rainfall, perfect for hiking trails
Spring (September to November): A wonderful time to see diverse plant life and enjoy temperate conditions
Pro tip: To avoid the peak tourist season and crowded trails, consider visiting in the shoulder months of autumn and winter.
Navigating to the Tsitsikamma Suspension Bridge
Start your journey to the Tsitsikamma Suspension Bridge by following signs along the N2 motorway for Tsitsikamma National Park.
The trailhead is at the Storms River Mouth Rest Camp, where you can register and enter the park before parking at the designated area.
The start of the trail is clearly indicated, leading to a wooden boardwalk guiding travelers through the forest and towards the iconic bridge with splendid ocean vistas en route.
Map
Essential Tips for a Smooth Adventure
Pay the conservation fee upon entry to Tsitsikamma National Park (R272 or $15 per person for international visitors).
Visit within the gate opening times, which are from 8 am to 5 pm for day visitors.
Plan your walk well with time to enjoy the trail, which may take longer if you stop for photos or rest.
Carry water, snacks, and sunscreen for your hike.
Prepare for the occasional sway of the bridges, which are secure but may move with foot traffic.
Book accommodation in nearby Plettenberg Bay as it's an easy drive from town and this will give you plenty of time to explore.
Follow these essential travel tips, and you'll be on your way to experience the breathtaking beauty of the Storms River Suspension Bridge and the surrounding wonders of the Tsitsikamma National Park.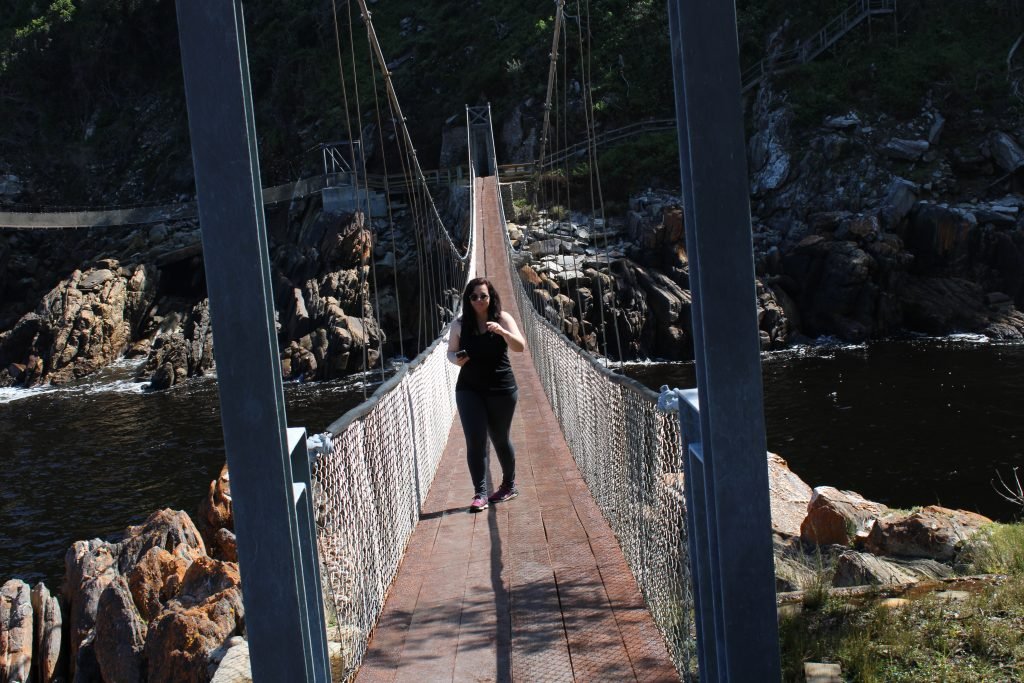 What to Expect on the Storms River Bridge Walk
The Storms River Bridge walk is an accessible and enjoyable adventure for visitors of all ages.
This two-kilometer loop comprises a total of three secure bridges suspended over the river, offering thrilling sensations as they gently sway with the movement of foot traffic. With the longest bridge spanning 77 meters and sitting 7 meters above water, the walk is as fascinating as it is picturesque.
To fully enjoy the walk, allocate just over an hour to complete the loop, factoring in stops for capturing photographs and appreciating the stunning coastal views. As the trail weaves along the river, you will traverse wooden boardwalks and stairs that reveal magnificent scenery and even a quaint, charming waterfall.
Be prepared to pay the Tsitsikamma Suspension Bridge entrance fee upon arrival, which contributes to the conservation and upkeep of this famous Storms River bridge in South Africa.
The following table showcases a few essential details for embarking on this memorable journey:
| Aspect | Description |
| --- | --- |
| Location | Tsitsikamma National Park, South Africa |
| Trail | Storms River Mouth Trail |
| Distance | 2 kilometers (1.24 miles) |
| Duration | Approximately 1 hour |
| Difficulty | Easy access, suitable for all ages |
| Conservation fee | Required upon entry (R272 or $15 pp for international visitors) |
As you embark on yourTsitsikamma Suspension Bridge experience, consider the following suggestions to make the most of your time:
Arrive early: By starting your walk earlier in the day, you'll avoid the peak visitor times and have more space and time to truly appreciate the sights and sensations of the suspension bridges.
Wear comfortable footwear: Although the trail is accessible, it does include wooden stairs and slightly uneven terrain. Opt for sturdy shoes or hiking boots for optimal comfort and safety.
Wear sunscreen: The trail goes through a shaded forest area but it can still get hot so wear sunscreen. A hat and sunglasses are also a good idea.
Bring water and snacks: While the hike is relatively short, it's essential to stay hydrated and energized as you explore the bridge walk and surrounding areas of Tsitsikamma National Park.
Bring a camera: The breathtaking views and unique experience of crossing suspension bridges make for exceptional photo opportunities you won't want to miss.
With these tips in mind, you're ready to embark on a thrilling and unforgettable Storms River Bridge walk adventure.
Maximizing Your Visit: Attractions and Activities Nearby
While the mesmerizing Tsitsikamma Suspension Bridge is undoubtedly a must-visit destination, there are plenty of other nearby attractions and activities that offer unforgettable experiences.
To make the most of your time in Tsitsikamma, be sure to explore the region's diverse offerings, from incredible natural landscapes to adrenaline-pumping adventures.
Additional Must-See Spots in Tsitsikamma
Tsitsikamma National Park boasts several spectacular scenic spots that showcase the region's incredible beauty. Whether you embark on a thrilling hike or simply enjoy a leisurely stroll, these must-see locations provide the perfect backdrop for a memorable adventure.
Stunning viewpoints along various hiking trails.
Pristine beach sites for relaxation and seclusion.
Delicious dining options with beautiful coastal vistas.
Adventure Activities for the Thrill-Seekers
If you're an adrenaline junkie seeking an unforgettable experience, Tsitsikamma has no shortage of activities that are sure to get your pulse racing.
With a range of options that cater to different interests and adventure levels, there's bound to be something that suits your taste.
| Adventure Activity | Description | Provider |
| --- | --- | --- |
| Bungee jumping in Tsitsikamma | Leaping off the world's highest commercial bungee jump | Bloukrans Bridge Bungy |
| Tsitsikamma tubing or kayaking | Paddling through the pristine waters of Storms River Gorge | Untouched Adventures |
| Zipline adventure in Tsitsikamma | Crossing a network of thrilling suspension bridges and a zipline over the river mouth. | Tsitsikamma National Park |
| Tsitsikamma snorkeling | Discovering the fascinating marine life in crystal-clear waters | Untouched Adventures |
As you explore the numerous Tsitsikamma attractions, embrace the breathtaking landscapes and exciting adventures that await around every corner.
By combining the serene beauty of nature with thrilling activities, you'll create lasting memories and discover a deep appreciation for this unique region.
Tsitsikamma Suspension Bridge FAQs
Where is the suspension bridge trail?
The suspension bridge is part of the Tsitsikamma Suspension Bridge Trail, located in Tsitsikamma National Park along the iconic Garden Route in South Africa. The trail takes you through lush forests and provides breathtaking views.
How much is Tsitsikamma National Park?
The entrance fee to Tsitsikamma National Park varies for South African citizens, SADC (Southern African Development Community) citizens, and international visitors. It's advisable to check the official SANParks website for the latest fee information.
Where is the suspension bridge in Garden Route?
The suspension bridge is situated in Tsitsikamma National Park, which is part of the Garden Route. The park is renowned for its dramatic coastal scenery, indigenous forests, and iconic suspension bridge over the Storms River.
Can you walk on the suspension bridge?
Yes, visitors can walk on the Tsitsikamma Suspension Bridge. It's a thrilling experience that allows you to appreciate the stunning views of the Storms River mouth and the surrounding natural beauty of the area.
Ready to Visit the Tsitsikamma Suspension Bridge?
The Tsitsikamma Suspension Bridge in Storms River is one of my favorite spots along the Garden Route.
We return often as the hike is easy enough, the views are stunning, and the Tsitsikamma Suspension Bridge offers a thrill. Plus, you'll find a collection of whale bones on the pebble beach on the far side of the bridge which is fascinating for young kids.
The Tsitsikamma Suspension Bridge is the perfect destination for families who want to see the best of the Garden Route!
DON'T FORGET TO PIN & SAVE THIS POST FOR LATER
South Africa Travel Planning Guide

Do I need travel insurance for South Africa?
YES — With basic coverage averaging just $5-10 USD per day, enjoy peace of mind with a plan from SafetyWing, one of the biggest names in travel insurance.

Is it safe to rent a car in South Africa?
Yes — Renting a car in South Africa is one of the best ways to see the country and the safest way to get around! I always rent with Discover Cars, which checks both international companies and local South African companies, so you get the best rates.

Will my phone work in South Africa?
Maybe — It depends on your company, so check with your provider. If you don't have free South African service, buy an Airalo eSim for local coverage.

What's the best way to book my South African accommodations?
For South African hotels, Booking.com is usually the best site but you can also check TripAdvisor for a larger variety of local options. If you're considering a South African Airbnb, don't forget to check VRBO, which is often cheaper than Airbnb.

What's the best site to buy South African flights?
For finding cheap South African flights, I recommend using the WayAway App to search and find the best deals – plus you'll get cashback on your purchases! (Read more)