Hotel White Lisboa: Honest Hotel Review (2024)
Last Updated on: 29th September 2023, 05:56 pm
Earlier this year we spent 3 weeks traveling through Portugal to see more of this beautiful country.
Our adventure started upon arrival in Lisbon after 16 hours of travel, so we were quite tired. Luckily for us, our first night in the country was spent in luxury at Hotel White Lisboa!
Not specifically a budget hotel but definitely more affordable than the bigger chain hotels, Hotel White Lisboa is perfect for couples or business travelers.
Hotel White Lisboa offers a luxurious and comfortable stay with its world-class amenities and exceptional service.
Located in the vibrant Saldanha neighborhood of Lisbon, this boutique hotel is a popular choice for both business and leisure travelers.
From spacious and stylish rooms to a rooftop pool with breathtaking city views, Hotel White Lisboa provides an unforgettable experience.
Key Takeaways:
Hotel White Lisboa is a boutique hotel located in the Saldanha neighborhood of Lisbon.
The hotel offers spacious and stylish rooms with modern amenities like flat-screen TVs, in-room WiFi, and modern bathrooms.
Guests can enjoy a refreshing swim and stunning city views at the hotel's rooftop pool.
A continental breakfast is served in the lounge each morning for guests to start their day.
The hotel's convenient location near a metro station makes it easy to explore popular attractions in Lisbon.
Disclaimer: This post may contain affiliate links. If you make a purchase from one of them I will receive a small commission at no extra cost to you, which allows me to keep this blog up and running!
Hotel White Lisboa (also sometimes called Hotel White Lisbon or White Hotel Lisbon) is a rather trendy 3-star boutique hotel located in one of the best areas in Lisbon.
Although the hotel has limited space, the decor and ambiance make up for this.
The name "White" was chosen as the basis of the hotel's identity, as it is a bright spot within the bustling city. The name is also a tribute to the bright light that is synonymous with Lisbon which is almost always sunny.
There are 41 rooms, four duplex suites, a rooftop pool, and a terrace with stunning views.
First Impression
Our check-in went smoothly and the staff members were all super friendly and accommodating.
I must mention that both driving and parking in Lisbon can be overwhelming, especially in a busy area like Saldanha where the hotel is situated. Therefore, speak to reception in advance about where to go for parking.
There is underground parking available to Hotel White Lisboa guests in the building across the street for a minimal rate when compared to other places in the city.
Stylish and Spacious Rooms
Hotel White Lisboa boasts stylish and spacious rooms, providing a comfortable and modern retreat for guests.
The design of the rooms is clean and contemporary, creating a welcoming environment that promotes relaxation and rejuvenation. Each room is thoughtfully furnished with modern amenities, ensuring a convenient and enjoyable stay.
The highlight of the rooms is the spaciousness they offer. Guests can stretch out and unwind in the generously sized accommodations, which provide ample room for both work and relaxation. The well-appointed furnishings and tasteful decor add to the overall sense of luxury and sophistication.
The rooms at Hotel White Lisboa are equipped with flat-screen TVs, allowing guests to catch up on their favorite shows or movies during their stay. In-room WiFi ensures seamless connectivity, making it easy for guests to stay connected with loved ones or attend to business matters.
The modern bathrooms feature sleek fixtures and are stocked with complimentary toiletries, adding an extra touch of convenience and comfort.
Room Amenities:
Spacious and stylish design
Flat-screen TVs
In-room WiFi
Modern bathrooms with complimentary toiletries
| Room Amenities | Features |
| --- | --- |
| Spacious and stylish design | Provides a comfortable and modern retreat |
| Flat-screen TVs | Entertainment at your fingertips |
| In-room WiFi | Seamless connectivity for work and leisure |
| Modern bathrooms with complimentary toiletries | Convenience and comfort for every guest |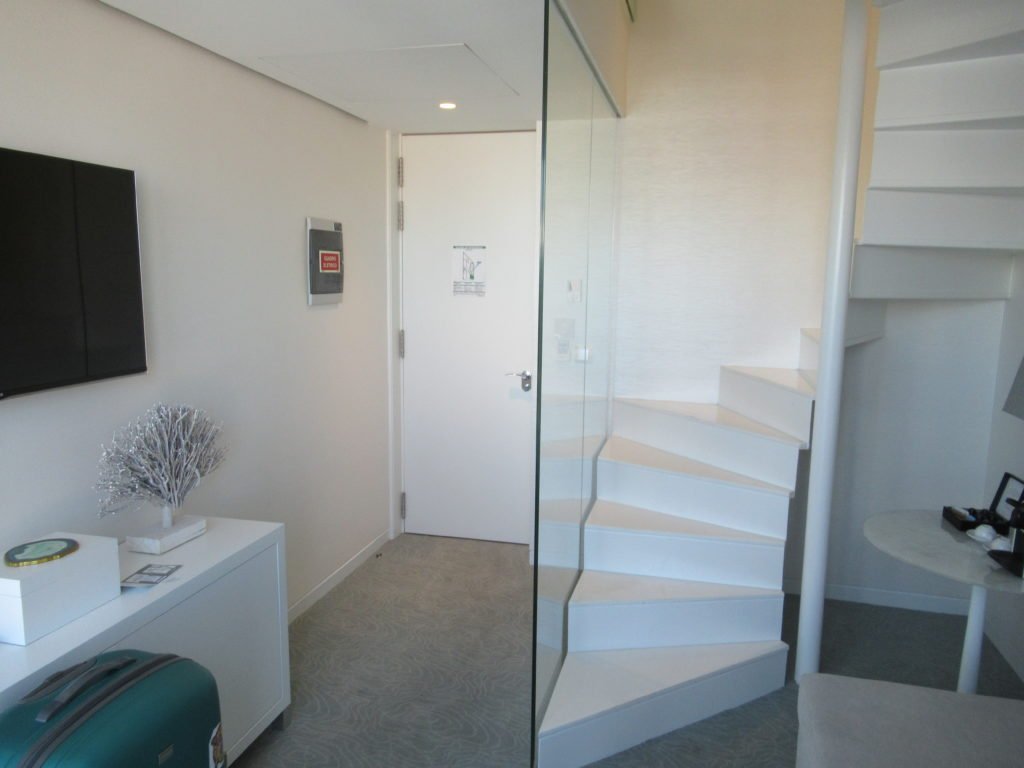 Our Suite
We stayed in the gorgeous Sky Duplex Suite which is located on the top floor.
The double-story suite had a living area downstairs with a couch, coffee table, tea & coffee-making station, TV, and a balcony.
Waiting for us when we arrived was a plate with 2 delicious "pastel de natas" – the first of many for this trip.
The spiral staircase took us up to the top floor and bedroom. The spacious bedroom also had a table, a working desk, a TV, an en-suite bathroom with amenities, and 2 balconies.
As we were so tired after our journey we indulged in a nap on the large, comfortable bed before heading out to explore.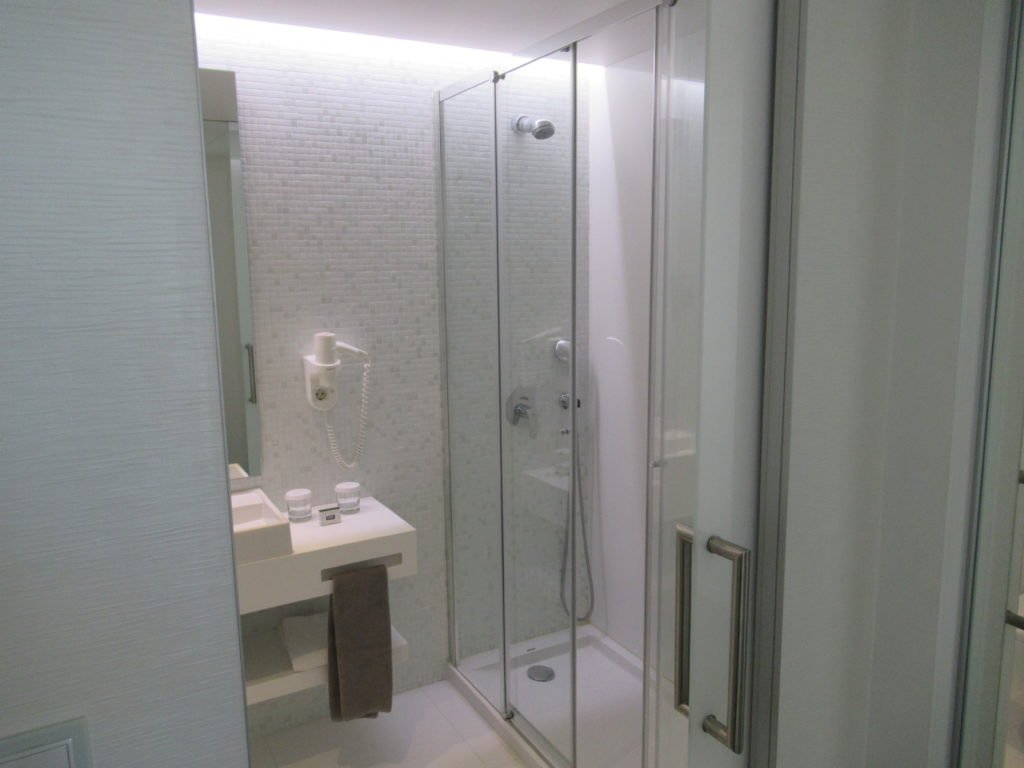 Rooftop Pool with Breathtaking Views
One of the standout features of Hotel White Lisboa is its rooftop pool, providing a tranquil oasis with breathtaking views of the city.
Whether you're lounging by the water or taking a refreshing dip, the rooftop pool offers a perfect escape from the hustle and bustle of Lisbon. The panoramic views of the city skyline create an unforgettable backdrop as you relax and unwind.
The pool area is designed with modern elegance, featuring comfortable sun loungers and stylish decor. As you bask in the sun or sip on a refreshing cocktail, you can take in the stunning views of Lisbon's iconic landmarks and picturesque neighborhoods.
From the poolside vantage point, you'll have a unique perspective of the city's charm and beauty.
With the rooftop pool at Hotel White Lisboa, you can indulge in a moment of serenity while admiring the magnificent city views. Whether you're starting your day with a morning swim or unwinding after a day of exploring, the rooftop pool is the perfect place to relax and soak up the atmosphere of Lisbon.
| Pool Features: | Views: |
| --- | --- |
| Tranquil atmosphere | Panoramic city skyline |
| Comfortable sun loungers | Iconic landmarks |
| Stylish decor | Picturesque neighborhoods |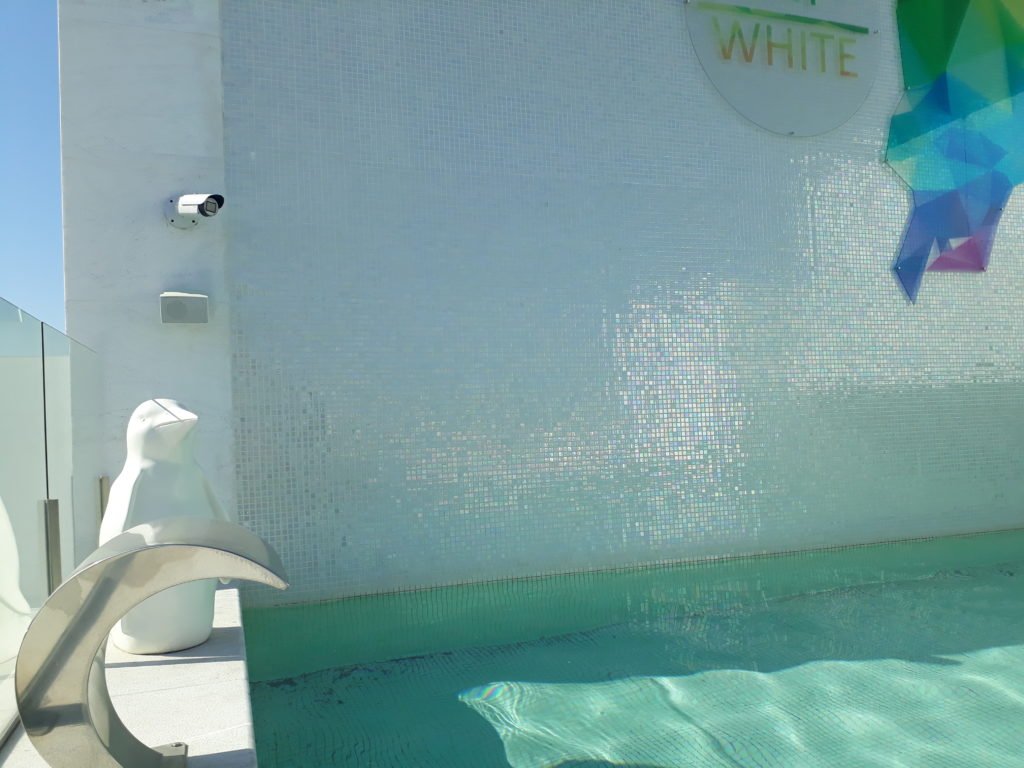 Continental Breakfast and Lounge
Hotel White Lisboa treats guests to a delightful continental breakfast served in its inviting lounge area.
Start your day off right with a selection of freshly baked pastries, breads, and cereals. Indulge in a variety of cold cuts, cheeses, and fruits, ensuring a nutritious and satisfying start to your morning. Complement your breakfast with a choice of hot beverages, including coffee, tea, or hot chocolate.
The cozy lounge provides a comfortable and relaxed atmosphere, perfect for enjoying your breakfast and planning your day ahead.
In addition to the continental breakfast, the lounge at Hotel White Lisboa offers a welcoming space for guests to unwind and socialize. Whether you're looking to catch up on work, read a book, or simply relax with a drink, the lounge provides a tranquil setting for all your needs. Sink into plush seating and enjoy the stylish ambiance as you sip on a refreshing beverage from the bar.
During your stay, don't miss the opportunity to mingle with other guests in the lounge and exchange travel stories or tips. Immerse yourself in the vibrant atmosphere and create memorable experiences as you share your adventures with fellow guests.
Whether you're traveling solo or with a group, the lounge at Hotel White Lisboa offers a warm and friendly environment for socializing and making new friends.
Continental Breakfast Highlights
Freshly baked pastries and breads
Assortment of cold cuts and cheeses
Selection of fruits and cereals
Choice of hot beverages
Convenient Business Center
Hotel White Lisboa offers a convenient business center equipped with modern amenities, catering to the needs of business travelers. Whether you need to catch up on emails, finalize a presentation, or hold a small meeting, the business center provides a comfortable and productive environment.
Business Services and Facilities
High-speed internet access
Printing, scanning, and photocopying services
Technical support and assistance
Administrative services
| Business Center Amenities | Hours of Operation |
| --- | --- |
| High-speed internet | 24 hours |
| Printing, scanning, and photocopying | 8:00 am – 10:00 pm |
| Technical support | 8:00 am – 8:00 pm |
| Administrative services | 9:00 am – 5:00 pm |
Additional Services and Amenities
In addition to its exceptional facilities, Hotel White Lisboa provides convenient services to enhance guests' overall experience.
One of these services is car rental, which allows visitors to explore the beautiful city of Lisbon at their own pace.
Whether you're interested in visiting the historic downtown area, strolling through the vibrant Bairro Alto district, or discovering the ancient São Jorge Castle, having a car at your disposal makes it easier to navigate and discover all that this remarkable city has to offer.
With the car rental service provided by the hotel, guests can conveniently pick up their vehicle directly at the hotel and begin their adventure right away. The friendly and knowledgeable hotel staff can assist you in selecting the perfect car for your needs, whether it's a compact car for easy city driving or a spacious SUV for exploring the surrounding areas.
Having a car also means that you have the flexibility to explore off-the-beaten-path destinations and hidden gems that may not be easily accessible by public transportation.
Want to venture beyond Lisbon? Sintra is the absolute best day trip!
From the beautiful coastal town of Cascais to the breathtaking views of the Arrábida Natural Park, having a car opens up a world of possibilities for your stay in Lisbon.
Car Rental Benefits:
Flexibility to explore the city and surrounding areas
Convenient pick-up and drop-off at the hotel
Knowledgeable staff to assist with car selection
Easy access to off-the-beaten-path destinations
With car rental services available at Hotel White Lisboa, your stay in Lisbon will be even more enjoyable and memorable. Experience the freedom to discover all that this remarkable city has to offer at your own convenience and pace.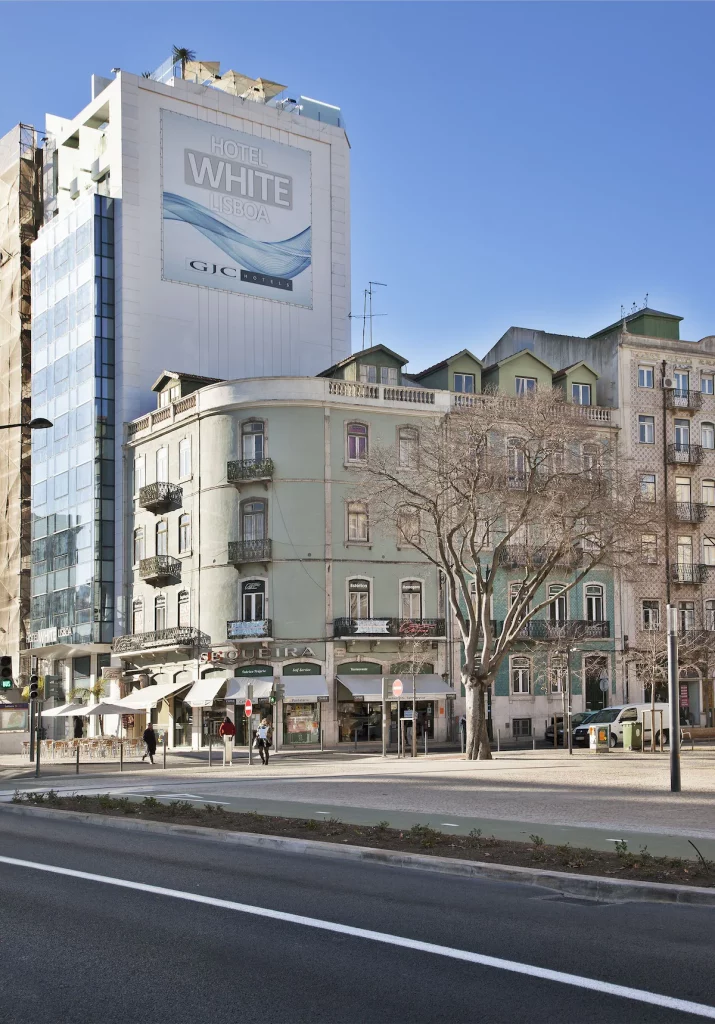 Convenient Location
Hotel White Lisboa is nestled in the vibrant Saldanha neighborhood of Lisbon, offering easy access to the city's popular attractions.
It's also a great base if you're planning on taking a day trip to Sintra or Cascais.
Easy to find and get to, as it is on the main avenue that stretches from the airport all the way to downtown Lisbon.
Located just steps away from the metro station, guests can conveniently explore all that Lisbon has to offer. The area is lively and very vibey and there is always lots going on. It is close to attractions, restaurants, bars, and most importantly the metro station.
Looking for a place in Lisbon to eat with a great view? Check out our review of Lost In Lisbon!
The hotel's strategic location also makes it an ideal choice for business travelers. With its close proximity to the metro station, getting to important business hubs and conference centers is a breeze.
Whether you're visiting for work or leisure, Hotel White Lisboa ensures that you can experience the best of Lisbon without any hassle.
When it comes to accessibility, the hotel's location allows for easy transportation to and from the airport. Within a short distance, guests can catch a direct metro or taxi, making arrival and departure a seamless experience.
The friendly and knowledgeable staff at Hotel White Lisboa are always ready to assist guests with any transportation or sightseeing recommendations, ensuring a stress-free stay in the city.
| Saldanha Neighborhood | Lisbon Metro Station |
| --- | --- |
| – Lively atmosphere | – Convenient transportation |
| – Shops, restaurants, and entertainment | – Easy access to business hubs |
| – Close to popular attractions | – Quick airport transportation |
Discover the Best of Lisbon
Lisbon is a city full of charm and history, and the Saldanha neighborhood is the perfect starting point for exploring its wonders.
From the hotel, you can easily visit the historic downtown area, with its iconic landmarks, such as the São Jorge Castle. The vibrant and bohemian Bairro Alto neighborhood is also within reach, offering a lively nightlife scene and unique cultural experiences.
Whether you're interested in exploring the city's rich history, enjoying delicious Portuguese cuisine, or simply strolling along the picturesque streets, Hotel White Lisboa's location allows you to fully immerse yourself in the vibrant energy of Lisbon.
After a day of sightseeing, you can return to the comfort of your stylish and spacious room, relax by the rooftop pool, and take in the breathtaking views of the city.
Historic downtown with São Jorge Castle
Vibrant Bairro Alto neighborhood
Picturesque streets and delicious cuisine
Rooftop pool with stunning city views
Exploring the City
Located just moments away from popular attractions, Hotel White Lisboa is the perfect starting point for exploring Lisbon's rich cultural heritage.
Immerse yourself in the historic downtown area, where narrow cobblestone streets wind their way past stunning architecture and charming cafes. Visit iconic landmarks like São Jorge Castle, perched high atop a hill, offering panoramic views of the city.
Take a stroll through the lively neighborhood of Bairro Alto, known for its vibrant nightlife and trendy bars. Indulge in delicious Portuguese cuisine at local restaurants, savoring traditional dishes like bacalhau and pastéis de nata.
Ever wondered if Lisbon is safe to explore at night? Check out our Lisbon safety guide here!
For those looking to delve deeper into Lisbon's history, visit the stunning Belém Tower and the Jerónimos Monastery, both UNESCO World Heritage sites. Explore the fascinating museums in the area, such as the National Museum of Ancient Art and the Museu do Azulejo, showcasing the beautiful Portuguese tiles that adorn the city's buildings.
After a day of exploration, return to Hotel White Lisboa and relax in the stylish comfort of your spacious room. Rejuvenate yourself by taking a refreshing dip in the hotel's rooftop pool, while enjoying breathtaking views of the city.
| Attractions | Description |
| --- | --- |
| Historic Downtown | Explore the charming cobblestone streets and stunning architecture of Lisbon's historic center. |
| Bairro Alto | Experience the lively nightlife and trendy bars in this vibrant neighborhood. |
| São Jorge Castle | Enjoy panoramic views of Lisbon from this iconic hilltop castle. |
| Belém Tower | Discover this magnificent fortress and UNESCO World Heritage site along the Tagus River. |
| Jerónimos Monastery | Admire the stunning architecture of this historic monastery, also a UNESCO World Heritage site. |
| National Museum of Ancient Art | Marvel at an impressive collection of Portuguese art from the Middle Ages to the 19th century. |
| Museu do Azulejo | Explore the history and art of Portuguese tiles in this fascinating museum. |
FAQs
Where is Hotel White Lisboa located?
Hotel White Lisboa is located in the heart of Lisbon, Portugal's capital city. It is situated on Avenida da Liberdade, one of the city's main avenues, known for its luxury shops and restaurants.
What are the room types available?
The hotel offers a range of room types to cater to different needs and budgets, including standard rooms, superior rooms, and suites. All rooms come with amenities such as free Wi-Fi, air conditioning, flat-screen TVs, and minibars.
Is breakfast included in the room rate?
It depends on the type of room you book. Some room rates include breakfast, while others do not. It's best to check the room details and rate inclusions before booking.
Does Hotel White Lisboa provide airport transfers?
Yes, they can arrange airport transfers for an additional fee. It's best to contact the hotel directly to book this service.
Does Hotel White Lisboa have an on-site restaurant or bar?
No, Hotel White Lisboa does not have an on-site restaurant or bar. However, it serves a continental breakfast each morning in the lounge.
Is there a rooftop pool at Hotel White Lisboa?
Yes, Hotel White Lisboa features a rooftop pool with breathtaking city views. It offers a refreshing place to cool off and enjoy the scenery.
Book A Stay At Hotel White Lisboa
Hotel White Lisboa combines luxury, comfort, and convenience, making it an ideal choice for both business and leisure travelers seeking an unforgettable stay in Lisbon.
With its commitment to providing excellent service and comfortable accommodations, Hotel White Lisboa offers great value for travelers seeking a stylish and convenient experience in Lisbon. Book your stay today and discover the perfect blend of luxury, comfort, and convenience at Hotel White Lisboa.
We would like to thank Hotel White Lisboa for hosting us. As always, all opinions are my own.