Lisbon Rooftop Bar & Restaurant: Lost In Esplanada (2024)
Last Updated on: 11th September 2023, 07:06 pm
Lisbon is a city of many hills and even more hilltop locations with gorgeous lookout points. One of the best things to do while visiting this sunny city is to head to a bar or restaurant with a view for a drink or a meal. While we were staying at My Story Hotel Tejo in downtown Lisbon, we decided to check out this rooftop bar and restaurant. Lost In Esplanada (Bar in Portuguese) is a quiet oasis with incredible views over the bustling city. Lost In is located in the popular and busy Principle Real neighborhood. The spot can be tricky to find though and we had to ask for directions as we found the Lost In shop which is across the street from the bars alley entrance. Off the main street you will duck into an alley and pass under a bridge before your reach the bar.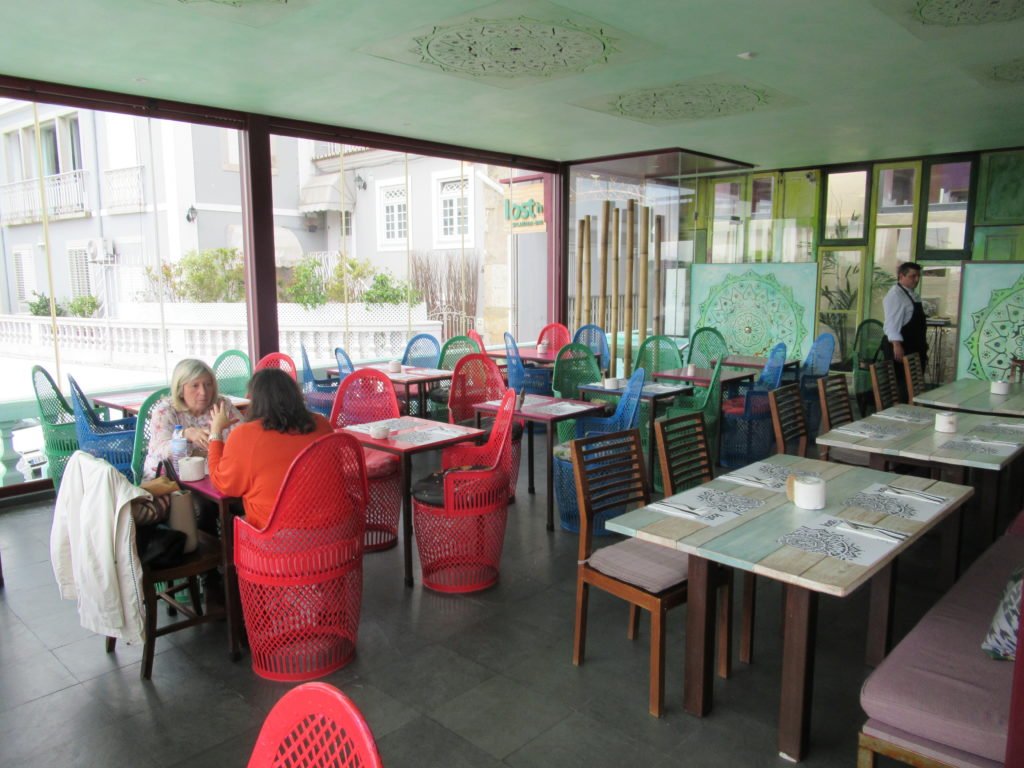 City Views and Eclectic Decor
Lost In Esplanada may be difficult to find but once you enter this gem of a place you will know it was worth the effort. We had a alunch reservation so were seated within the indoor restaurant section right by the large full-length window. The views from our table were breathtaking and we were able to get a glimpse of Lisbon from a different perspective. Lisbon is really huge through and each hill top will only reveal a certain part of the city. There is also the outdoor bar section with more uniterrupted views of Lisbon. Choose a seat on an armchair, bed or even a rocking chair and enjoy a cocktail while admiring the sights. Lost In is full of bright colors and eclectic Indian decor. With a tranquil yet cosmopolitan atmosphere this is undeniably the best rooftop bar and restaurant in Lisbon.
Signature Cocktails
Something worth noting about the Portuguese – they make amazing cocktails! Therefore, we tried a cocktail at almost every restaurant during our trip. During our lunch we tried a Caprinha and their signature cocktail CaipiLost. My CaipiLost was deliciouly sweet and made with plenty of fresh raspberries. The vodka drink, fresh fruit and fruit juice was expertly crafted and tasty. However, the Caprinha which is a typical Portugues cocktail could have been better. We had drunk the favorite Portuguese drink numerous times throughout our trip and almost all of them had been amazing except this one. I would have liked to try more but we did not have the time – so I will be returning in the future to sip on a cocktail while watching the sunset over Lisbon.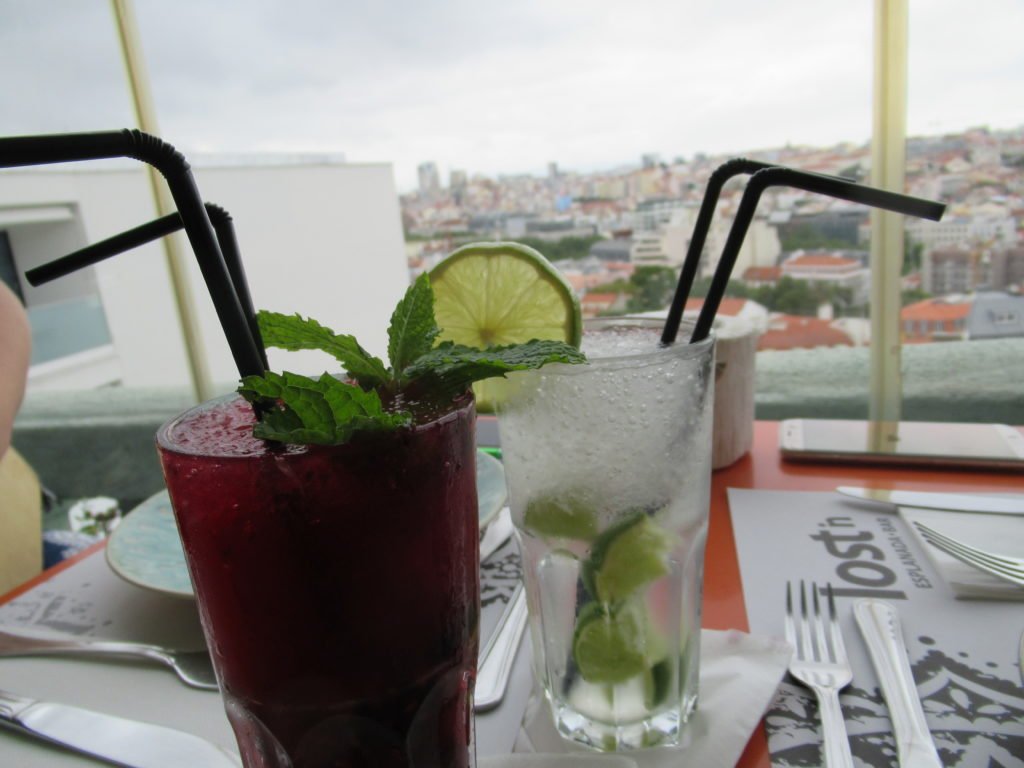 Starters
For starters I ordered the sauteed prawns in coconut oil, garlic, chilli and kaffir leaves and also the goat cheese mille-feuille with wild berries coulis. Both these starters were divine and my prawns were well prepared while the sauce complimented it perfectly. However, the real winner was the goat cheese mille-feuille which was reccommended to us by the hostess. The mixture of the goats cheese, crisp pastry and sweet berries sauce is something that we would return for.
Main Course
For our main course we tried some more suggested dishes and weren't dissapointed at all. We had the seared tuna seasoned with fresh herbs, caramelized onions and oriental coleslaw. Also the seared duck breast, shitake mushrooms and red beet purée. The tuna was soft, flavorsome and fell aprt in my mouth. It also went really well with the fresh seasonal vegetables. The duck was well-prepared, soft and juicy pairing well with the beetroot.
Delicious Desserts
Finally, we ended off our lunch with delicious desserts. We thoroughly enjoyed the chocolate cake with ginger crumble and cream ice cream. Also the chocolate mousse with salt flower and olive oil. Like the rest of the dishes there is a focus on using healthy ingredients that are sustainable and locally sourced. Both desserts were sweet and tasty but made with healthy alternative ingredients. The chocolate cake was made without flour and with dark cacao. Whereas the choclate mousse had no sugar in and also consisted of dark cacao. The added saltiness of the saltflower just enhanced the sweet chcolate flavor. Both dishes were sumptuous and a great way to end our experience at Lost In.
We would like to thank Lost In Esplanada for hosting us for lunch!
As always all opinions are my own!
Are you planning to visit Lisbon soon and want to know where else to go?
Sign up below to download my FREE Lisbon Travel Guide!
PIN IT FOR LATER: