The Qontinent Music Festival in Belgium (2024)
Last Updated on: 9th November 2023, 12:44 pm
The Qontinent Music Festival in Belgium is a must-attend event for hardstyle music lovers, offering a one-of-a-kind experience on an island surrounded by natural beauty.
Located in Wachtebeke, this popular festival is known for its electrifying beats, sense of community, and life-changing impact.
Join us as we dive into the world of The Qontinent Music Festival and discover why it has become a top choice for music enthusiasts.
Key Takeaways:
The Qontinent Music Festival is a must-attend event for hardstyle music lovers.
The festival takes place on an island surrounded by natural beauty.
The main stage creates a unique atmosphere, immersing attendees in the music.
Accommodation options include Festipis and a convenient campsite.
The festival offers food and drink vendors on the grounds.
Attendees experience a sense of unity and community.
The music at The Qontinent is described as life-changing and powerful.
Disclaimer: This post may contain affiliate links. If you make a purchase from one of them I will receive a small commission at no extra cost to you, which allows me to keep this blog up and running!
It's a Lifestyle
With The Qontinent 2024 already on everyone's mind, I wanted to take some time to update this post.
We went in 2017 and it t took me a year to get to the point where I could formulate words about our crazy four-day experience in Belgium!
Hardstyle music is a lifestyle and as such a trip to one of the Q-Dance festivals has been in the making for a long time. Therefore, we were happy to realize that The Qontinent coincided nicely with our travel dates.
As South Africans, we didn't quite realize the enormity of these European festivals, and the festivals we are used to just cannot compare.
The Qontinent Festival 2017 (Decade of Dedication) was a huge celebration of 10 successful years and we were lucky enough to be there!
Experience the Electrifying Beats at The Qontinent
Get ready to be blown away by the pulsating beats and immersive experience of The Qontinent's six stages, with the main stage at the heart of the festival. This renowned Belgian dance festival is a haven for hardstyle music lovers, offering an electrifying atmosphere that will leave you craving for more.
Getting There
The Qontinent takes place in Wachtebeke in Belgium and is about an hour's drive from Ghent where we were staying.
On Friday we spent the morning exploring Ghent before making our way to Ghent Train Station to catch our bus. The moment we stepped off the tram at the station we knew we were in the right place. Queues had been formed, Hardstyle was blaring and there was an energy of excitement in the air.
After a wait, we hopped on a bus with a huge crowd of people (bags and all) and we were off into the Belgian countryside.
Entering the Qontinent
Getting to a booth to pick up our wristbands was quite easy – getting into the festival grounds was not. Nothing could prepare us for the number of people we encountered at the entrance.
There were no actual queues but just a mass of bodies slowly inching their way forward every few minutes as we were herded through the check gates by officials who were checking bags for drinks (there was a limit that each person may take into the grounds and no glass bottle are allowed).
Nothing could dim our enthusiasm though and we powered through with barely contained excitement.
Finally, we made it through those gates and we were in The Qontinent!
Feel the Music, Embrace the Atmosphere
These words from an attendee perfectly encapsulate the essence of The Qontinent.
The festival's electrifying beats, combined with the enchanting surroundings of an island location, create an unparalleled atmosphere that unifies music lovers from all walks of life.
It's a journey that transports you into a world where the power of music knows no boundaries.
So, if you're seeking an unforgettable adventure that combines breathtaking music, a unique location, and a sense of community, look no further than The Qontinent in Belgium.
It's an experience that will stay with you long after the last beat fades away.
Accommodation in a Festipi
After dancing the night away, relax and recharge at The Qontinent with a range of accommodation options, including the unique Festipis, and enjoy the convenience of the on-site campsite and delicious food vendors. The festival understands the importance of providing comfortable and convenient lodging options for attendees, ensuring that the experience extends beyond the music.
As we were traveling through Europe for three weeks we opted not to lug a tent and all the extras around.
Instead, we booked a Festipi which gets set up for you and has mattresses and pillows included. All we had to bring with us was sleeping bags and camping chairs.
We got to the Festipi camp and were shown our awesome and colorful Festipi – home for the next few days.
If you are traveling from another continent I would definitely recommend making use of this service or one of the other accommodation options.
It was so convenient and a super fun experience staying in the Festipi Village which was like a little community and resulted in us meeting some interesting people during the stay.
The Festipis are a fan-favorite accommodation choice at The Qontinent. These cozy tipi-style tents offer a one-of-a-kind camping experience.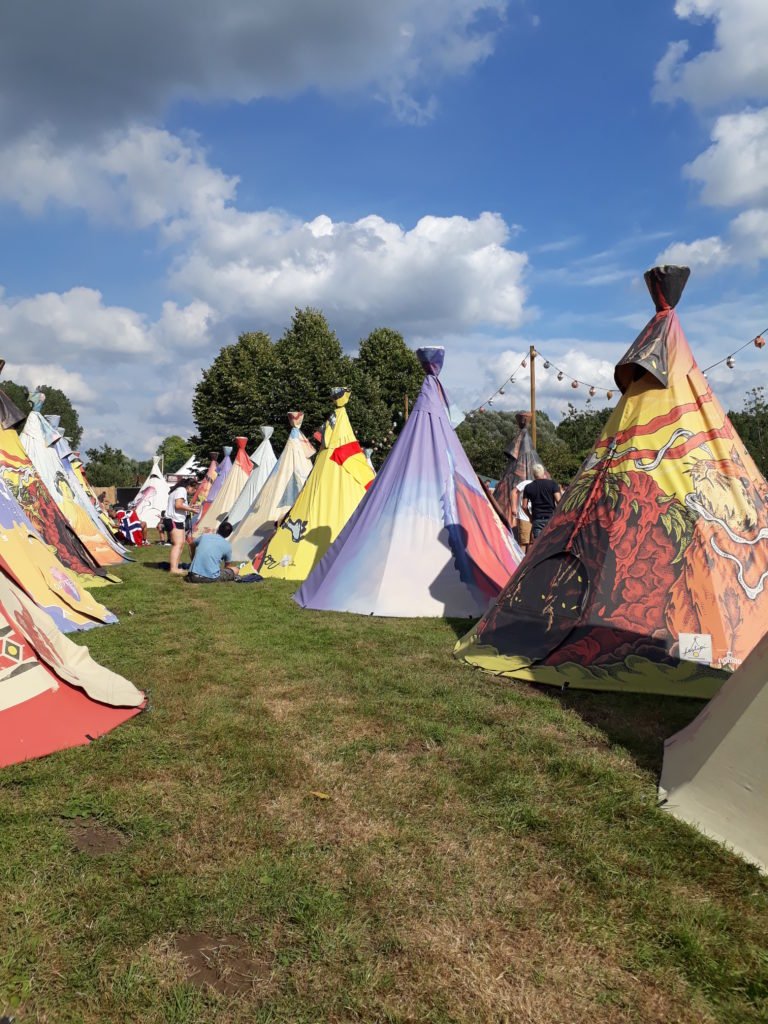 The Campsite & Other Information
In addition to the Festipis, The Qontinent also offers an on-site campsite, allowing festival-goers to bring their own tents and set up camp. It's a great option for those who prefer a more traditional camping experience. The campsite provides basic amenities such as showers, toilets, and secure lockers, ensuring that you have everything you need for a comfortable stay.
When it comes to food and drink, The Qontinent has you covered. The festival grounds are home to a variety of food and drink vendors, offering a wide range of culinary delights to satisfy every craving. From mouth-watering street food to refreshing beverages, there's something for everyone.
The festival operates on a token system, making it quick and easy to grab a bite to eat or quench your thirst. No money is used at The Qontinent except to buy tokens which have a monetary value and can be used to buy anything in particular food and drinks. These tokens are also used to buy merchandise and to use the hot showers set up at the campsite.
The campsite is huge and makes up the outer area of the island that is The Qontinent – the actual island on the other side of the water is where the stages are. The campsite has numerous vendors to buy food and drinks as well as toilets, and shower areas.
You are not allowed to take food or drinks into the actual event area and there are even more food stalls and bars located in between the stages. Take your own drinks and snacks with you to enjoy in the campsite though as it can be quite pricey.
The Stages
The Qontinent showcases a variety of sub-genres within the hardstyle music genre, ensuring there's something for everyone's taste. From euphoric melodies to heavy basslines, the festival caters to the diverse preferences of its attendees. Each stage offers a unique ambiance, allowing you to explore different music genres and discover new artists.
To give you a taste of what to expect, here's a breakdown of the stages at The Qontinent:
| Stage | Genre |
| --- | --- |
| Main Stage | Hardstyle, Rawstyle, Hardcore |
| The Qontinent Forest | Deep Hardstyle, Psychedelic |
| Tent of Tribes | Rawstyle, Frenchcore, Uptempo |
| The Qontinent Beach | Hardstyle, Freestyle, Happy Hardcore |
| Hangar of Time | Hardstyle Classics |
| The Qontinent Underground | Industrial, Raw Hardstyle |
As you move from one stage to another, you'll be immersed in a world of mind-blowing performances, captivating visuals, and a contagious energy that sweeps through the crowd. The main stage, in particular, is designed to create a feeling of being surrounded by music, amplifying the exhilaration of the festival experience.
There were six amazing stages in total but only three were open on Friday (the pre-party) which meant there was an element of mystery on the first night as to what the rest of the stages had in store. There were three outdoor stages and three indoor stages, each playing a specific sub-genre of Hardstyle music.
The stages were so well designed and each was unique and appropriate to the style of music. The main stage was huge and encircled by speakers which means it created a feeling of being surrounded by music.
Two smaller outdoor stages also had the same effect. Two large tents were set up for an indoor effect as well as a smaller bunker-type dance floor with crazy visuals. All the stages were set up with wooden dance floors to prevent a muddy mess and people slipping while dancing.
The Music
The thing about these types of festivals is that it is not just a music festival; it's a feeling, a movement, a lifestyle. A life-changing experience of epic proportions that results in a feeling of wholeness and interconnectedness – because music unites.
The music was amazing and it was awesome to be able to see many of our favorite DJs play live sets. We danced constantly and were so tired by Sunday but kept going. Sets were scheduled from 12:00 to 00:00 each day but the music continued playing throughout the campsite for most of the night anyway.
Each day we were treated to fantastic sets and shows by some of the best DJs in the genre. So much was happening that we could not even get a chance to dance to all the sets we wanted to and although we missed some DJs, it was still so worth it.
On Sunday night as the Endshow was taking place and the fireworks show began to the sounds of Miss K8 our hearts were full of happiness and appreciation for this legendary festival – The Qontinent!
Embrace the Sense of Community at The Qontinent
The Qontinent is more than just a festival – it's a lifestyle that fosters a strong sense of community and unity, brought to life by its unique location and the powerful music that leaves a lasting impression on attendees.
As you step onto the festival grounds, you immediately become part of a vibrant community of like-minded music lovers. The Qontinent's location on an island surrounded by breathtaking natural beauty adds to the sense of escapism and togetherness. Surrounded by fellow festival-goers, you can't help but be swept up in the contagious energy and shared enthusiasm.
The stages at The Qontinent showcase a diverse range of hardstyle music sub-genres, each with its own dedicated following. From euphoric melodies and uplifting beats to heavy basslines that make your heart race, the music transcends mere entertainment. It becomes a life-changing experience that brings people together, transcending language and cultural barriers.
This sense of unity is further enhanced by the festival's dedication to providing a comfortable and inclusive environment. Whether you choose to stay in one of the convenient Festipis or camp under the stars, you'll find yourself surrounded by friendly faces and a welcoming atmosphere. The campsite becomes a hub of activity, with food and drink vendors offering a variety of options to satisfy your cravings.
Table: Festival Highlights
| Location | Unique Features | Music Genres |
| --- | --- | --- |
| An island in Wachtebeke, Belgium | Surrounded by natural beauty | Hardstyle, euphoric, raw, hardcore, and more |
| | | Variety of sub-genres within hardstyle |
In the midst of the pulsating music and awe-inspiring performances, friendships are forged, and memories are made. The Qontinent is a celebration of life, love, and the power of music to bring people together. It's an experience that transcends the ordinary and leaves festival-goers with a profound sense of unity, belonging, and an unquenchable thirst for more.
The Qontinent FAQs
How many stages are there at The Qontinent Music Festival?
The festival features six stages, including a main stage that is designed to create a feeling of being surrounded by music.
What kind of music can I expect at the festival?
The festival showcases a variety of sub-genres within the hardstyle music genre.
What accommodation options are available at The Qontinent?
The festival offers a variety of accommodation options, including Festipis, which are convenient and provide a fun experience.
Are there food and drink vendors at the festival?
Yes, the festival grounds include a campsite with food and drink vendors.
How do I make purchases at the festival?
Tokens are used to make purchases at The Qontinent Music Festival.
What makes The Qontinent Music Festival special?
The music at the festival is described as not just a festival, but a feeling and a lifestyle. It is known for creating a sense of unity among attendees and is praised for its unique location and amazing music.
The Qontinent: A Journey Worth Taking
Embark on a journey like no other at The Qontinent, Belgium's premier music festival, known for its unforgettable vibe and status as one of the top music festivals of the summer. This popular event is a haven for hardstyle music lovers, offering a unique experience on an island surrounded by natural beauty in Wachtebeke.