9 Magical Christmas Markets to Visit Around the World (2023)
Last Updated on: 9th September 2023, 03:34 pm
It's the most magical time of the year again and to make it even more special you may want to wander to one of these Christmas Markets.
Many northern hemisphere destinations are blessed with snowy winters which create an enchanting landscape for the bright lights of Christmas Markets. These much-loved markets tend to pop up miraculously just as the first snowflakes float down to earth (sometimes before). There are many cities around the world that still practice this ancient tradition of creating joyful experiences for locals and travelers.
The majority of the top Christmas Markets are found in Europe and are full of old-world charm and fir-tree-lined squares. However, you may find a few magical Christmas Market cities in North America if you know where to look. We have curated a comprehensive guide of some of the most magical Christmas Market destinations to visit this winter.
Disclaimer: This blog post may contain affiliate links. Keep in mind that I may receive a small commission at no extra cost to you when you click my links and make a purchase. However, this does not impact my opinion in any way. I only promote brands I believe in and products that I use and love myself. I try my best to keep things fair and balanced to help you make the best choice for you.
A Quick List of Must-Have Items for Christmas Markets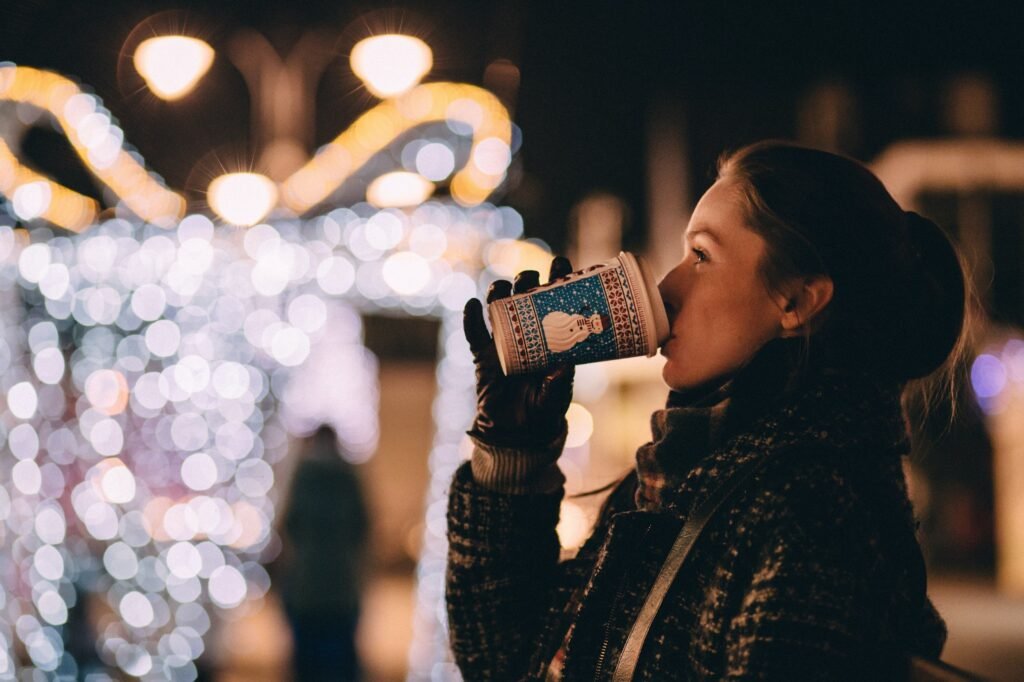 Now, let's take a look at the 9 most magical Christmas Market destinations around the world:
Strasbourg in France
Strasbourg is a city located in eastern France and is home to France's oldest Christmas market. Astoundingly the original market took place in 1570 and the tradition has continued on throughout the centuries, celebrating its 451st year this December. Strasbourg Christmas Market or "Christkindelsmärik" is the undisputed Capital of Christmas as it takes place throughout the city. Besides the traditional markets in the city streets, hundreds of events and exhibitions are scheduled to take place to enhance the atmosphere.
Throughout December, Strasbourg becomes one of the most illuminated cities in all of Europe and this fairy-tale ambiance is sure to enchant every visitor. Indulge in the myriad of year-end festivities of this medieval city such as sampling bretzels, drinking hot spiced Alsatian wine, purchasing crafts, or just marveling at the sparkling lights and great Christmas tree. Strasbourg even provides visitors with an opportunity to experience other traditions by honoring a guest country. This year, Finland and Iceland will be featured in a market with culinary exhibitions as well as folk dancing.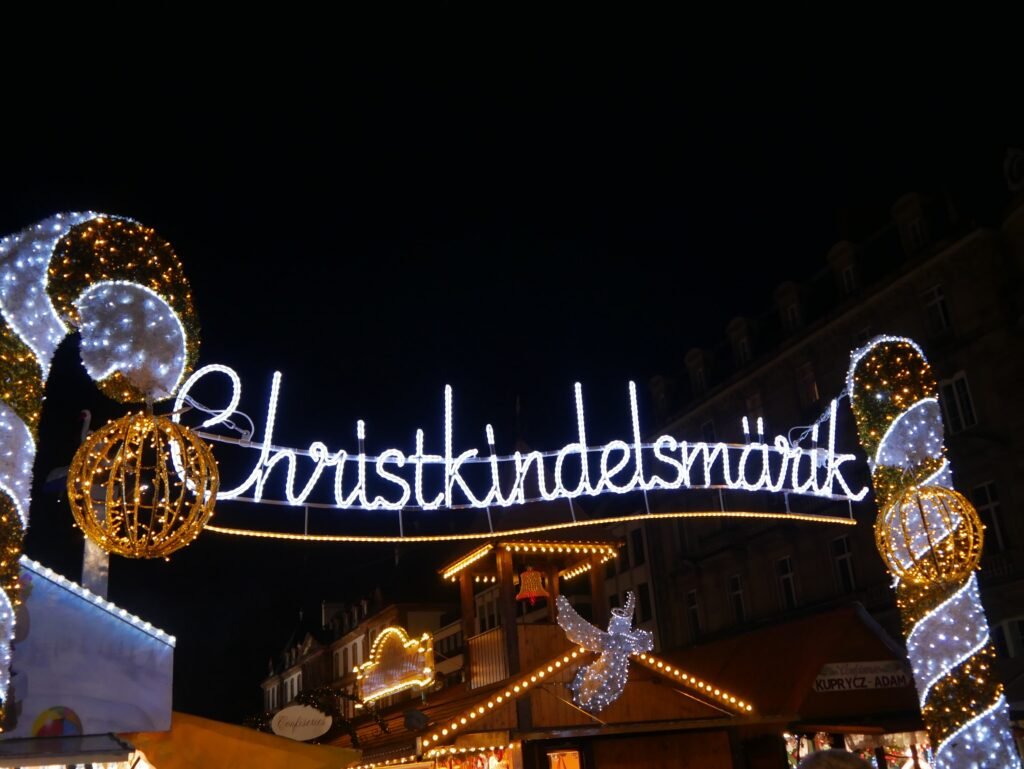 Vienna in Austria
The Austrian capital of Vienna is a city truly steeped in the festive spirit and an unforgettable winter destination. With a Christmas market tradition that dates back to 1298, the offerings have evolved over time. There are more than 20 different Christmas Markets that pop up throughout the city during the Advent season. Most of the popular squares are transformed into colorful Christmas villages and the whole city is illuminated. In Vienna, you will be able to experience the most traditional Christmas Markets in Europe, specifically The Old Viennese Christmas Market.
Here visitors can browse or purchase handmade crafts, enjoy choral performances, or even ride Christkindl Express – a train that winds through the winter wonderlands of Vienna. However, any market in the city will get you in a festive mood while you taste the local sweet treats or hot brandied punch. Other attractions include the winter sport of curling on the ice rink that can be tried by all and Vienna City Hall that turns into a giant advent calendar. The dates are different for each market but most are open from 16 November to 27 December each year.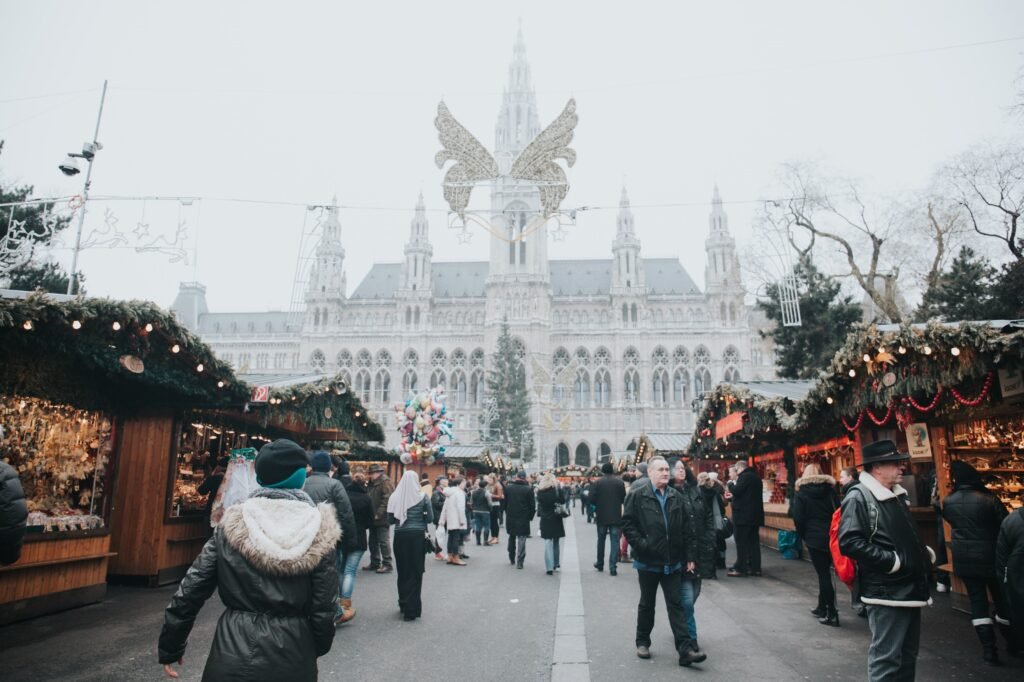 Toronto in Canada
The city of Toronto in Canada offers a beautiful but unique Christmas market experience that lures many visitors. Toronto Christmas Market is inspired by traditional European Christmas Markets and aims to recreate their romance and magic. By combining old-world charm with modern holiday attractions, this market is an excellent winter destination. Over the course of a month, the event celebrates the distinct sounds, sights, and scents of the holiday season. Situated in the old Victorian-era and cobblestone-lined streets of the Distillery Historic District, Toronto Christmas Market is a real treat.
Visitors will appreciate the sense of community as local craftspeople, musicians and artisanal food-makers come together to create an extraordinary experience. Sip on mulled wine while you wander through stalls, taste European food delicacies, listen to musical performances or just enjoy the festive lighting and décor. During the non-stop entertainment make sure to take a photo by the giant Christmas tree decorated with over 40,000 lights.
Prague in the Czech Republic
The central medieval city of Prague offers a beautifully unique atmosphere during the holiday season. The Christmas Markets are the key ingredient to this festive magic that takes over the city during December. Prague offers the most impressive markets in the Czech Republic and they light up the city to create a true winter wonderland. These markets are an opportunity for the local communities and travelers to come together in celebration. Old Town Square and Wenceslas Square hosts the two main markets and are only a few minutes away from each other so both can be explored in one day.
There are a number of smaller markets throughout the city but these two are superb should definitely be visited. Each Christmas market consists of brightly decorated wooden huts stocked with local crafts, jewelry, toys, and Christmas ornaments. However, what makes the Czech market stand out are the tasty treats and drinks available such as klobása (Czech sausage) and Medovina (honey wine). Generally, open every single day from 1 December all the way through to the first week of January.
Manchester in England
Manchester in the United Kingdom is a true melting pot of Christmas traditions and Christmas Markets are taken seriously in this city. Manchester Christmas Markets are divided up and take place at nine different spots throughout the city. With a total of over 300 stalls that feature a wide variety of local and international products. Although the main market hub will be in Albert Square, there is much on offer at all the markets. Visitors can purchase a wide range of different items such as leather bags, specialty jams, and even liqueurs. As usual, the biggest hit at these markets is the food and drink.
In Manchester, you can enjoy delicacies from other countries such as Hungarian goulash, Dutch stroopwafels, Spanish paella and of course German glüwein. Best of all, drinks come in returnable glasses or mugs as part of a green initiative. This year a magical Ice Village can also be visited in Cathedral Gardens with an ice cavern full of ice sculptures. If you are in the UK during the festive season, Manchester would be the place to visit.
Copenhagen in Denmark
Copenhagen is a genuine Christmas city and the ideal winter travel destination if you are looking to get into the festive spirit. Soak up the lovely atmosphere of this city at one of its many Christmas Markets. There are three main Christmas Markets to enjoy in Copenhagen. The most popular market is the Tivoli Christmas Market that takes place within the famous Tivoli Gardens which is an amusement park. Although the park is a year-round attraction, it offers an extraordinarily special experience during December. Inside you will find miniature villages with shops full of gifts and the entire park is full of Christmas lights.
Besides the usual market offerings, three different light shows take place in the park and traditional Pixie Bands play festive songs to enhance the ambiance. There are even fireworks shows that take place on certain days throughout the month. Each year visitors marvel at the spectacular transformation of Tivoli Gardens and the entire city of Copenhagen. Tivoli Christmas Market is usually open from mid-November until the end of December each year.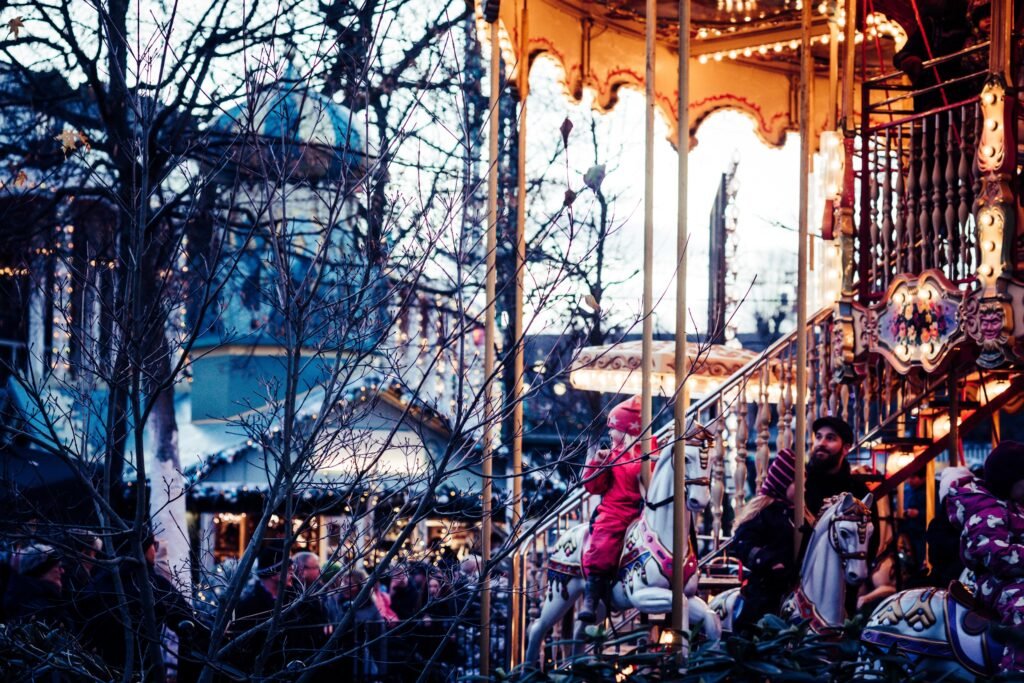 Nuremberg in Germany
Christkindlesmarkt is a world-famous Christmas Market that takes place in Nuremberg in southern Germany. The market is over 400 years old and still, the enchanting tradition continues each year. Imagine tempting aromas of mulled wine, sweet roasted almonds, bratwurst, and gingerbread all within an unforgettable setting. The Old Town is transformed into a "Christmas City" full of stalls, bright lights, and colorful décor. Christkindlesmarkt is definitely the most popular market in Germany and likely the whole of Europe.
Each year the festivities and market are opened with a performance by the Christkind on the balcony of the Church of our Lady. Christkindlesmarkt is not just for adults as the Nuremberg Children's Christmas is nearby. This is a child's fairy-tale dreamland complete with a two-tiered nostalgia carousel, Santa Claus, and fun activities. The traditional atmosphere, lively music, and mouth-watering food combined means that this is a one-of-a-kind experience not to be missed. Make sure to end your night on a high note with a horse-drawn carriage ride around the magical Old Town.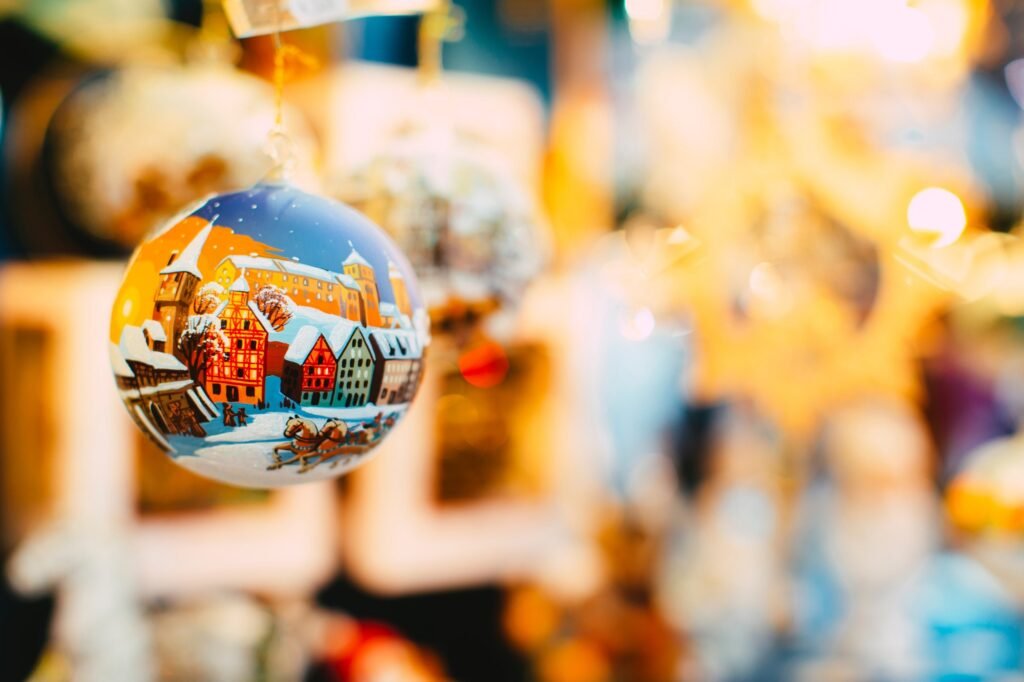 Brussels in Belgium
Brussels is a Belgian city that really knows how to get in the Christmas spirit and spending the festive season here means one long celebration. There are so many Christmas markets to visit and they are just as diversified as the city itself. With such an ample choice of markets your destination all depends on what you are looking for. Your options include traditional, artisanal, gastronomic, alternative, and even vintage markets. Brussels offers exciting experiences for everyone throughout the cobblestone streets of this lively city.
The most popular location is definitely the Winter Wonders Christmas Market that can be found spread out around Grand Place. More of a festival than a market, Winter Wonders includes fairground attractions such as a Ferris wheel as well as an ice rink for skating. Meander through over 200 chalets that serve festive treats such as hot chocolate, glühwein, Belgian beers, and waffles. The giant Christmas tree and sound and light shows are also a major draw for many visitors. Make sure to attend one of the many shows and exhibitions that take place in the areas surrounding the market. Usually, open from the end of November until the first week of January every year.
New York in the USA
Spending the winter in New York can be just as much of a magical experience as in Europe. The city that never sleeps comes alive with joyful possibilities during December and the scale of the celebrations is impressive. With all the extra fairy lights and colorful decorations, New York is the ideal place for immersion in a winter wonderland. There is a range of different Christmas Markets to visit throughout New York, but only a few special ones really stand out.
The Bank of America Winter Village in Bryant Park is the most famous and a firm favorite with locals and travelers. Enjoy the European-style open-air market that features over 125 stalls with vendors from different parts of the world while snacking on winter treats. Bryant Park is centrally located and also one of the prettiest holiday markets in America. There is a lot to do for adults and kids such as ice skating at the large outdoor ice rink which is New York's only free ice skating rink.
The best way to experience Christmas Markets in these cities is to make sure you have access to all the attractions and public transport as well.
TIP: Consider purchasing a City Pass for the destination you'll be visiting. These come in 24 hr, 48 hr, and 72 hr options and can be purchased directly from the tourism office of the city.
If you're an aspiring travel blogger/writer then you may want to reach out and pitch the tourism board directly as they often supply members of the media with these City Passes during events like the Christmas Markets.
Are you planning to visit any of these magical Christmas Markets this year?