How I Maintain my Wellness Habits all Year
Last Updated on: 23rd October 2021, 12:00 pm
As we enter the second quarter of this year (which is racing by), I wanted to review how the first quarter of my year has gone. Although it was off to a really frustrating start and lots of obstacles, I have learned to be more patient and to trust the Universe. This is in part due to the wellness habits I have cultivated over the years and maintain right through every year. You see, creating lasting wellness habits is easier to maintain than New Years resolutions. Resolutions are limited and based on a one year deadline, not on creating lasting change. Most people also make too many resolutions that are impractical or unrealistic. As a result, studies show that most New years resolutions fail by February. Does that sound like you? Then I would like to share how I cultivated and maintained lasting wellness habits.
Wellness Foundations
Research shows that successful behavioural changes occur during times of novelty (e.g. New Year) but I believe it comes out of neccesity. Change happens when you reach that point where you have grown tired of your own self-sabotaging bullshit. It is at this critical juncture that we choose to develop new good habits that propel us forward or cling to our bad habits that hold us back. This choice becomes the foundation on which we build our lasting wellness habits. We also have a tendency to overcomplicate the wellness journey. But the best results come from focusing on the basic wellness foundations:
Clean Eating
Regular Exercise
Yoga & Meditation
Mindfulness
Sleep Well
Invest in Your Wellness Habits
[mailerlite_form form_id=0]
Your wellness journey is a highly personal and totally subjective experience. However, it is an experience that you actively need to be a part of. There are no quick fixes or shortcuts when it comes to cultivating habits – especially healthy ones. You need to invest in yourself through time, energy and sometimes money. While researching and writing an article for the recent issue of Rare Luxury Living Magazine, I discovered a number of forward-thinking brands that understand the journey. Many of their products are created with the purpose of helping you live your best life. To test it for myself I partnered with some of these companies to try out their products for the last four months and I can confirm that the ones listed below really help me maintain my wellness habits.
Asanas
There is so much that I can say about yoga and meditation, but lets keep it simple. These practices changed my life. After ignorantly refusing to try either for years, I started yoga in 2015 and meditation followed shortly thereafter. Quickly these practices became a part of my regular daily routine and it felt strange when I didn't practice. Even as life gets busy and when we travel often, I try to make time for yoga at least a few times a week and short daily meditation sessions. I recently started using the Yoga Design Lab Combo Mats and it has really enhanced my practice. They have redefined yoga mats by combining a mat and towel into one beautiful designed product. Not only are these mats gorgeous, but they are environmentally friendly as well. Their mats are made from recycled plastic bottles and natural tree rubber.
Pranayama
Just like with yoga it took me an embarrassingly long time to try meditation or even implement mindfulness. These, in particular, are practices that are so simple they seem deceivingly difficult. However, as soon as I started meditation I realized it was something I thoroughly enjoyed and truly needed in my life. Being mindful at all times and regularly practicing meditation positively affects every aspect of your life. While testing wellness products, I tried the Komuso Design Meditation Breathing Necklace. Inspired by the Japanese Komuso Monks, the necklace helps you achieve the perfect exhale. This 'shift' calms the nervous system, slows the heart rate and reduces cortisol levels to relax the mind and body. I am a nervous flyer so I tested the necklace while flying to Mauritius last month and it really helped me to calm down and even relax a bit.
Beauty Sleep
Getting enough sleep is not just about beauty (but it helps), it is vital time our body needs to reset. When we sleep our body has enough time to regenerate and heal from the damage and stressors we experienced while awake. Getting enough sleep is such an important wellness habit and luckily, there are ways to optimize our rest. I tried out the organic Avocado Green Pillow recently and am quite impressed with the quality. This non-toxic pillow made with organic cotton is both eco-friendly and provide great support for your neck. I combined it with a silk pillowcase from The Silk Lady for the optimal sleep experience. A silk pillowcase is the perfect item for beauty sleep and luxurious comfort. It benefits your skin and hair and even delays the ageing process as you sleep. When used together these items will help you sleep well again.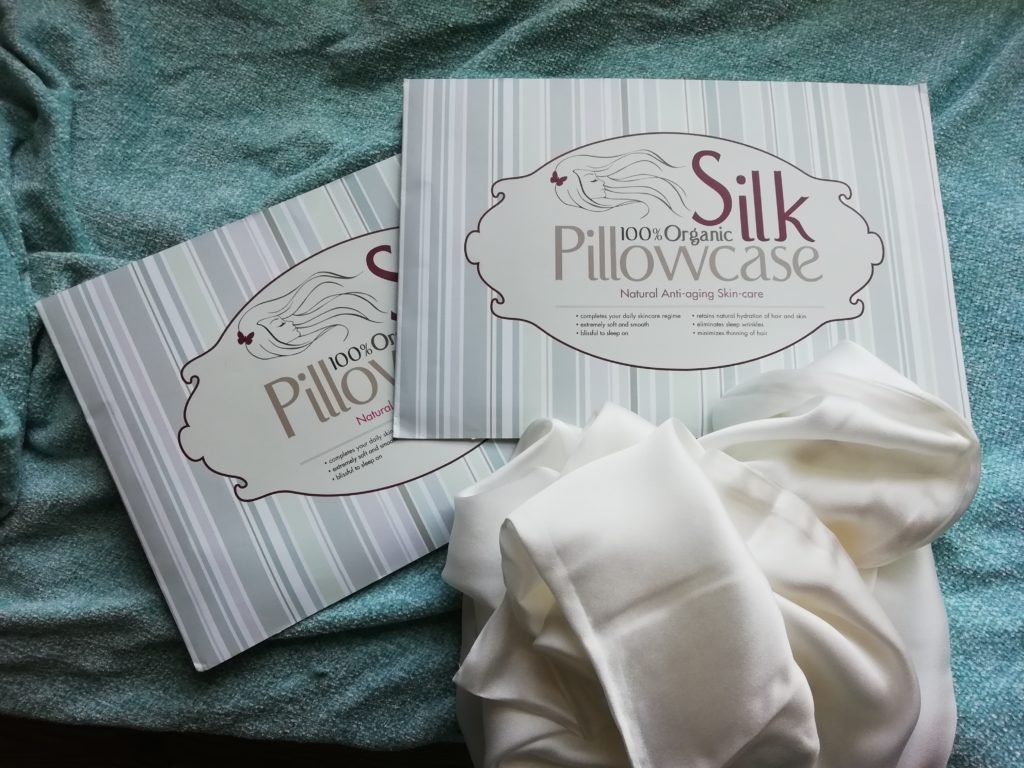 Alternative Therapies
I am a big believer in alternative therapies and natural remedies of all kinds. This makes up a big portion of my wellness habits as there are many alternative healing techniques. My goal for this year was to incorporate more Aromatherapy into my life. I was well aware of the benefits but never stuck with it permanently. Besides adding essential oils to my detox baths or burning inscence during yoga, I did not utilize the therapy fully. This all changed when I started using personal essential oil diffusers from MONQ. I am absolutely in love with these portable diffusers and use them daily.
MONQ is based on scientific reserach and was developed by an orthapedic surgeon. The therapeutic air comes in a variety of lovely blends to provide targeted aromatherapy for specific issues. The new MONQR flip open case is chargeable and can be refilled with new pods as needed.
Want 10% off your first purchase at MONQ? Follow any link to the MONQ website in this article and your 10% discount will automatically be applied… YAY!!!
I am most definitely not an authority on wellness and still have a long way to go in terms of my wellbeing. But I wanted to share my own experience and what has worked for me. You will notice I have not really mentioned healthy eating as this is something that I am still working on and trying to achieve myself. However, it is important to remember that wellness is a journey, it takes time to cultivate habits. Your focus should be on long-term results instead of short term fixes.
I would like to thank Yoga Design Lab, Komuso Design, Avocado Green Mattress, The Silk Lady & MONQ for sponsoring this post! As always, all opinions are my own!
How do you maintain your wellness habits?
PIN FOR LATER