3 Excellent Wellness Spas for Healing Holidays in the USA (2024)
Last Updated on: 9th September 2023, 06:59 pm
Exercise, clean eating, relaxing and getting enough sleep has always been the fundaments of a healthy lifestyle. But we often forget that there is more to health and wellness. The concept of true wellness is a focus on the holistic approach. To view people as multi-faceted beings made up of mind, body, and soul. This is the principle behind wellness spas many of which support long-lasting health and longevity.
The Appeal of Wellness Spas
Wellness is one of the fastest-growing industries in the world. Which has resulted in the emerging trend of health and wellness spas. The population as a whole is more concerned with sustaining a healthy lifestyle than ever before. Not only is this evident in older generations but these non-traditional ways have been adopted by trendsetters, influencers, celebrities, and younger generations. All of whom understand the importance of taking care of their bodies for future health. Head to any of these top wellness spas in the US. To disconnect, reset and get away from the busy, noisy world.
Lake Austin Spa Resort in Texas
Lake Austin Spa Resort can be found in a secluded lakefront setting in an area that is definitely not typical of Texas. This luxurious all-inclusive Wellness Spa Resort welcomes guests who want to embrace a simpler way of life without forgoing style and service. Feel refreshed between the gorgeous rolling hills, lush greenery, and a stunning lake. The main goal of the resort is to promote relaxation, and the focus is on health and wellbeing. Guests are provided with the perfect spot to unplug, unwind and get away from the hustle of everyday life. Both the surroundings and the resort rooms' designs make guests feel comfortable, relaxed and at peace.
The resort packages include accommodation, gourmet meals throughout the day and the activities on the schedule which changes regularly. Book spa and beauty treatments such as massages or facials at an extra cost. The activities, designed to promote wellness for the mind through meditation activities, the body through yoga or Pilates and the soul through mindfulness and other programs.
Lake Austin Spa Resort truly knows what's needed for a healthy lifestyle, and they provide it to guests in pure luxury. The extravagant spa treatments make use of the world's best ancient practices combined with modern therapeutic techniques to leave you feeling blissful. To get the best out of the experience at this resort make sure to take part in the wide range of activities, book a few spa treatments and make time to soak in the natural surroundings.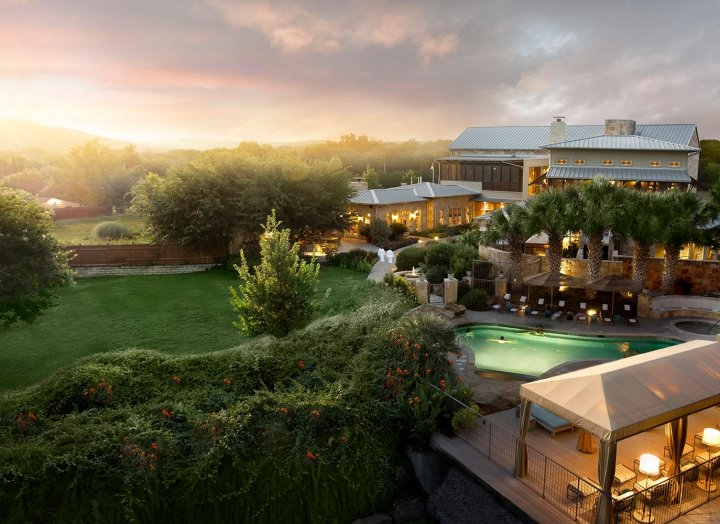 Golden Door in California
Golden Door in Escondido, California, is the ultimate Wellness Spa. And a top destination spa. The spa, created in 1958 makes it the original luxury destination spa in America. Due to a recent upgrade by the new owner, it is still one of the best in the world. Golden Door specializes in seven day stays that are mostly aimed at women. However, at certain times during the year, there are co-ed or men's weeks as well.
This is probably one of the most beautiful spas you will ever stay in due to the vision of the original owner. The spa, modeled on a Japanese Ryokan (inn) from the Edo period has communal baths, koi ponds, landscaped courtyards, labyrinths, and soothing sand gardens. The exclusivity of Golden Door is a result of it being one of the most expensive spas in the country and it lures many celebrities looking for a retreat. This one-of-a-kind experience immerses guests in the pampering of mind, body, and soul. During the stay, guests are provided with a set of clothes as well as skincare and bath products to ensure the most comfortable time.
Guests will also appreciate the one on one session with a personal trainer. As well as fitness classes such as yoga, skincare treatments, spa treatments and much more. The activities and surroundings have created a truly holistic approach to health and wellness. Guests are also encouraged to make use of the facilities. Such as hiking trails, swimming pools, gyms, a therapy pool, and bathhouse. Golden Door is the ideal place to de-stress, recharge and reconnect with yourself and others in the most luxurious setting. As an extra bonus, it is good to know that they donate profits to selected charities to further help better this world.
Red Mountain Resort in Utah
Red Mountain Resort, known as the most luxurious adventure resort in America with a focus on health and fitness. The resort, beautifully blended into the natural landscape of vivid red rock cliffs and canyons. These iconic Utah sights form the perfect backdrop for a health and wellness spa. Guests will find everything they need to relax and refresh at the resort. With an ideal location near National Parks, they offer a wide range of customized adventure activities. Each of which encourages harmony with nature.
While staying at the resort, guests are free to be as active or relaxed, social or private as they choose to be. There are a number of resort packages to choose from depending on preference and needs. Choose between adventure retreats, health and wellness retreats, and personal discovery retreats. Within the resort is the award-winning Sagestone Spa & Salon where guests can indulge in a myriad of treatments. The stimulating and healing surroundings and luxury treatments offer a full spectrum of sensory pleasures. Many of the treatments are unique to Red Mountain Resort and are a special experience. The spa makes use of ancient health and beauty rituals. Complemented with natural beauty products made from indigenous botanicals.
The real benefit of the resort comes from full immersion into the mind-body connections of fitness, wellness, relaxation and time outdoors. With the wide variety of programs and activities on offer all set within the most gorgeous natural surroundings, this is the place to find peace. Packages include accommodation, meals, activities and more for a well-rounded and truly transformational experience.
Why Wellness Spas?
As you can see, there's no better place to relax, unwind and find yourself again. Wellness spas are the place to find inner peace and health within your physical and energetic body. Although there are plenty of travel wellness options around the world, these three wellness spas are our top choices in the USA
Which wellness spa is your favorite?
PIN FOR LATER