MSC Orchestra Review of Our Cruise to Pomene Island in Mozambique (2024)
Last Updated on: 16th November 2023, 07:22 pm
So in an attempt to try a greater variety of travel experiences, we opted to go on a cruise with MSC. This cruise took place in February 2020 just about a week before the world closed to travelers.
Neither of us had ever been on a cruise before so it was a rather novel experience. Now this is both an MSC Orchestra review and a review of the cruise to Pomene Island in Mozambique, in general.
Now, I must admit that although there were a number of positive points to this experience, it wasn't all smooth sailing. There are some pros and definitely some cons to this cruise.
Therefore, I aim to be as honest as possible in this MSC Orchestra review. But please know this is only based on my experience of the short cruise from Durban to Mozambique.
MSC Orchestra is a relatively large vessel, offering state-of-the-art amenities, luxurious accommodations, and a wide range of entertainment and dining options.
This cruise is perfect for anyone looking for a South African escape and a chance to explore the exquisite beauty of the Mozambique coast.
Key Takeaways
Join me on my MSC Orchestra review journey to Pomene Island in Mozambique.
Discover the luxurious amenities and dining options onboard the MSC Orchestra.
Explore the unique cultural experiences and activities available on Pomene Island.
Gain practical travel tips and information about MSC cruises.
Find out why I generally recommend this cruise for your next cruising experience in this MSC Orchestra review.
Disclaimer: This post may contain affiliate links. If you make a purchase from one of them I will receive a small commission at no extra cost to you, which allows me to keep this blog up and running!
MSC Orchestra Review: About the Cruise Ship
To start this MSC Orchestra review, I thought I would provide you with some information about the cruise ship itself.
MSC Orchestra is one of the flagship cruise ships of MSC Cruises. It was launched in 2007 and underwent a major renovation in 2015 to update its features and amenities. The ship has a capacity of over 3,200 passengers and offers a range of cabins and suites to suit different budgets and preferences.
| Features | Amenities | Experience |
| --- | --- | --- |
| State-of-the-art theater Various lounges and bars Panoramic waterfront promenade Water park with slides and pools Mini-golf course | Multiple swimming pools and jacuzzis Spa and fitness center Casino and gaming area Internet cafe and library Shops and boutiques | International and multilingual atmosphere Friendly and attentive staff Relaxed and casual vibe Wide range of onboard activities and entertainment Family-friendly environment |
Overall, my MSC Orchestra review finds that the ship offers a comfortable and enjoyable cruising experience with plenty of options for entertainment, relaxation, and adventure.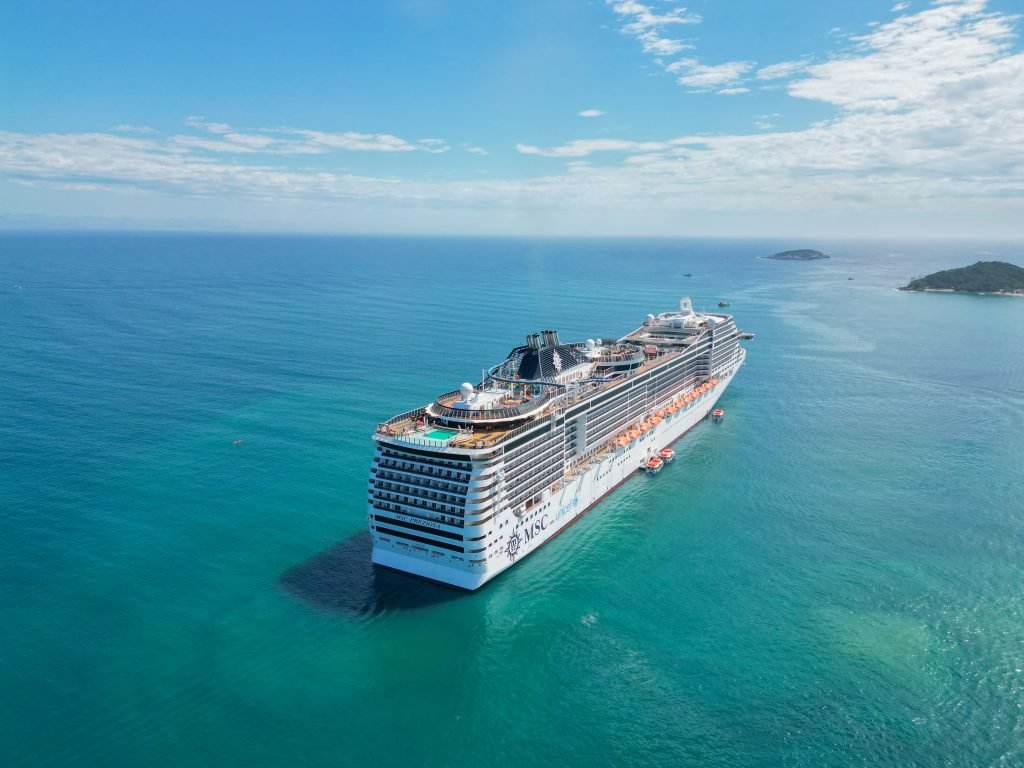 MSC Orchestra Review: The Cruise Itinerary
The next part of this MSC Orchestra review will take a look at the itinerary.
Our 4-night/ 5-day cruise departed from Durban Harbour in South Africa on Monday afternoon before heading north up the coast towards Mozambique.
Our itinerary was as follows:
| Day | Port of Call |
| --- | --- |
| 1 | Durban, South Africa |
| 2 | At Sea |
| 3 | Pomene Island, Mozambique |
| 4 | At Sea |
| 5 | Durban, South Africa |
On the second day, we had a day at sea to enjoy the amenities of the ship, before arriving at Pomene Island on day 3. That morning we joined the queue to get on the ferry which would take us over to Pomene Island.
The island offered stunning beaches and clear waters, perfect for swimming and sunbathing. You could also join a tour to explore the mangroves and discover the diverse marine life. The island was truly a hidden gem and was the highlight of the entire cruise.
Throughout the journey, the ship's staff provided excellent service and kept us informed of all the activities and events taking place onboard. The itinerary was well-planned and allowed for plenty of time to relax and enjoy the various destinations.
MSC Orchestra Review: Cruise Essentials
As part of this MSC Orchestra review, I want to provide you with practical advice and real tips on how to make the experience better.
I'm going to explicitly state three facts that you need to keep in mind to ensure that you have the best experience on an MSC cruise. Others may disagree especially if they've gone on numerous cruises before.
But, I believe these three things are what made our experience more enjoyable than it might have been:
Priority embarkation and disembarkation (both in Durban and again at Pomene Island).
A balcony cabin (specifically the Fantastica Experience).
The top drinks package (and the wifi package).
These three things played a huge role in our overall experience. Therefore, I recommend that if you go on an MSC cruise, do it well by splurging on those luxuries.
First, priority embarkation at the harbor made the process of getting ourselves and our luggage on board quick and efficient.
With almost 3000 people trying to board a cruise ship at the same time, being able to bypass the queues is a real bonus. After receiving our cruise cards we easily went through the Customs procedure and found ourselves on the dock next to the huge ship.
If these are the only things you take away from reading this MSC Orchestra review, they will help to ensure you have a lovely cruise experience.
MSC Orchestra Review: On Board the MSC Orchestra
Once on board, we spent some time trying to familiarize ourselves with the layout of the ship (don't worry, you'll still get confused even on the last day; especially if you're drinking).
We wandered through the expansive and stylishly decorated lounges, before taking the elevator up to the top floor for lunch at the buffet. After a quick lunch, we headed outside to view the pool deck as we waited for our cabin to be ready for check-in.
As we explored we took note of the many restaurants, and myriad bars, found the reception area, window shopped at the stores, and peeked in at the Covent Garden Theater. MSC has a large fleet of cruise ships and the MSC Orchestra is considered as one of the medium-sized ships. Nevertheless, I was amazed at the size of the ship and how much was inside.
The Italian-owned company MSC works hard to keep everything looking new and luxurious even in their older ships and the MSC Orchestra sure does sparkle inside. Expect a remarkable crew on board these ships that are patient, friendly, and efficient.
MSC Orchestra Review: The Cabins
As part of the MSC Cruise Fantastica Experience, we had a lovely balcony cabin on the 9th floor assigned to us. This is the first level that has cabins with balconies and directly below our balcony was the reassuring fleet of orange lifeboats.
Once they announced that the cabins were ready we rushed off to find ours and were pleasantly surprised with the size of the cabin. The large bed took up most of the space but we even had a cupboard, desk, chair, couch, and small coffee table. Although the ensuite bathroom was small it was well laid out to make the most of the space available with plenty of shelving and storage for toiletries (note that shampoo and body wash are provided just like in hotels).
Another reason to love a balcony cabin? It's private and quiet which can be a blessing when the crowds out on the deck get a bit overwhelming.
But, as I'm sure you can guess the best feature of the cabin was our private balcony. We immediately unpacked, got into some more casual beach clothes, and spent some time relaxing on the balcony.
The gentle lapping of the waves far below was a soothing feature that truly made it a calming and peaceful experience. There's nothing I love more than hearing the sound of the ocean. As we departed the harbor, with the help of a tugboat, the entire ship erupted with cheers and singing as passengers celebrated on their balconies and the decks – a great sendoff that put everyone in a cheerful mood.
I suggest grabbing a drink from the minibar and toasting the beginning of your sea voyage – well that's what we did!
MSC Orchestra Review: The Cruise Experience
This MSC Orchestra review would not be complete without a discussion about the onboard entertainment and activities – I mean it's what makes a cruise fun, right?
If you opt for an upgraded package as well as a decent drinks package then you're in for a lovely experience. The all-inclusive type of experience really makes the trip fun; especially since you don't have to worry about converting the Dollar prices to Rands.
MSC Orchestra Review: Dining Options
One of the highlights of my MSC Orchestra cruise was the dining experience. There are plenty of dining options available on board, catering to all tastes and preferences.
Depending on your package, your cruise card will indicate at which restaurant you can eat dinner and even which table you'll be seated at.
The basic packages include only the buffet option but we had the pleasure of dining on gourmet 3-course meals at 'Ibiscus restaurant each night. The food was superb and the service even better.
The same was true at the other restaurant where breakfast was served each morning and the premium Shanghai Restaurant where we had a sushi lunch one afternoon.
Make sure to always keep your cruise card on you as you'll be using it for just about everything (not just to get into your room).
After dinner each night we headed to our favorite bar (and bartender) to try a new cocktail. The menu is extensive. We wanted to try them all.
With a drink in hand, we'd head outside to stroll along the topic deck. The fresh night air and bright stars lured us out and we spent some time taking everything in.
MSC Orchestra Review: Entertainment & Excursions
One of the highlights of the MSC Orchestra cruise experience was the variety of onboard entertainment and activities that were available. Whether you are looking for relaxation or adventure, there is something for everyone on this ship.
Live Performances
The ship's theatre hosts a range of live performances, including Broadway-style shows and comedy acts. I particularly enjoyed the Michael Jackson tribute show, which featured impressive choreography and singing.
Sports Facilities
For sports enthusiasts, the ship offers a variety of sports facilities, including a basketball court, a mini-golf course, and a jogging track. There is also a fitness center with state-of-the-art equipment for those looking to stay active during their cruise.
Recreational Activities
The ship has several pools, including an adults-only pool and a waterpark for kids. There is also a games room with pool tables, foosball, and arcade games. For those who prefer quieter activities, there is a library and a card room.
The entertainment on the MSC Orchestra is extensive and there's something to appeal to everyone. Between daily Bingo (win up to $25k) and the various shows, you won't be bored.
There are things for kids and adults to enjoy.
Take a dip in the pools, relax in the Jacuzzis, play adventure golf, or even play in the arcade. MSC has created ships that are full of experiences and have something that appeals to any age. There is even a disco area on board for those who want to party late into the night.
The lights, the activities, and the energy of the ship make it an experience you won't soon forget. Although we don't really enjoy musicals we loved Bryan Miles's Mind Waves show. The interactive mentalist-type show was intriguing and fun to enjoy before our second sitting dinner.
Pomene Island
But, the best experience was the trip to the island of course. Pomene is a small island off the coast of Mozambique that comes alive when cruise ships arrive. After a short boat trip to the island, we walked through the local crafts market but headed straight for the beach.
The Indian Ocean water was the perfect temperature for a dip and we went back twice.
After lunch, we took one of the first transfer boats back and enjoyed some time on the cruise ship without the crowds – a perfect day on our MSC Cruise.
Onboard Facilities and Deck Plan
This MSC Orchestra review won't go into the specific details of the deck plan.
However, the ship's deck plan is very well-designed, with plenty of space for passengers to move around without feeling crowded. There are several bars and lounges throughout the ship, including a wine bar, a sports bar, and a piano bar. The ship also has a casino and a disco for those looking to party late into the night.
Overall, I was impressed with the variety of onboard entertainment and activities at MSC Orchestra. Whether you are traveling with family, friends, or solo, there is something for everyone to enjoy.
MSC Orchestra Reviews: Pros & Cons
Luxurious Accommodations
Extensive Itineraries
Family-Friendly Environment
Gourmet Dining Options
Entertainment and Activities
Eco-Friendly Initiatives
Multilingual Staff
Onboard Wellness Facilities
Innovative Ship Features
Crowded Public Areas
Additional Fees for Certain Activities
Limited Onboard Internet Connectivity
Language Barriers for Non-English Speakers
Strict Dress Codes for Formal Nights
Limited Vegetarian and Vegan Options
Potentially Long Wait Times for Elevators
Limited Accessibility for Wheelchair Users
Occasional Inconsistency in Service
Tendering Process for Port Visits
MSC Orchestra Review FAQs
Can I bring alcohol on board the MSC Orchestra?
MSC Orchestra has a policy regarding bringing alcohol on board. It is recommended to check with the cruise line for specific guidelines and restrictions.
What language is spoken on MSC cruises?
The primary language spoken on MSC cruises is English. However, the crew members also speak a variety of other languages to cater to the diverse passenger base.
How can I cancel my MSC cruise?
To cancel an MSC cruise, it is important to contact the cruise line directly or reach out to your travel agent if you booked through one. They will guide you through the cancellation process and provide any relevant information regarding refunds or rescheduling.
What are the prices for MSC cruises?
MSC cruise prices vary depending on factors such as the destination, length of the cruise, cabin type, and time of booking. It is recommended to check the MSC Cruises website or contact a travel agent for the most accurate pricing information.
What are some travel tips for an MSC Orchestra cruise?
Here are some travel tips for a smooth and enjoyable MSC Orchestra cruise:
– Pack comfortable clothing and footwear for various activities and excursions.
– Familiarize yourself with the ship's layout and facilities using the deck plan provided.
– Make dining reservations in advance to secure preferred dining times and venues.
– Stay hydrated and use sunscreen to protect yourself from the sun.
– Participate in the onboard activities and entertainment to make the most of your cruise experience.
DON'T FORGET TO PIN & SAVE THIS POST FOR LATER
MSC Orchestra Review: Key Takeaways
As this MSC Orchestra review shows, this cruise is a great affordable option for South Africans.
Overall, my MSC Orchestra cruise to Pomene Island in Mozambique was a fun experience. From the stunning destination to the fantastic onboard amenities, MSC Cruises delivered in every way.
One of the most memorable moments of the trip was visiting the beautiful Pomene Island and taking part in the various water sports and beach activities available. The crystal clear waters and sandy beaches made for the perfect day in paradise.
Throughout the cruise, I found the onboard entertainment and activities to be top-notch. From live performances to sports facilities, there was something for everyone.
The dining options also impressed me with the variety of restaurants and cuisines offered, including some specialty dining experiences.
Be sure to check the itinerary, plan ahead, and take advantage of all the onboard amenities and activities. I hope this MSC Orchestra review helps you plan your cruise!
We would like to thank MSC for hosting us! As always, all opinions are my own!