A Foodie Travelers Guide to Dining in Johannesburg in 2024
Last Updated on: 9th September 2023, 07:22 pm
I have lived in Johannesburg for almost a decade now and as a result have a insiders perspective on the food scene. Made up of many different cultures, there is something special to try in every corner of the city. This is definitely the place to explore for all foodie travelers. The Johannesburg food scene has always been unique but is heating up more each year. Recently, I took up the challenge to explore the city as a traveler would and dined on exceptional meals in unexpected places. Below you will find some of my top picks to use as your guide to dining in Johannesburg.
Urbanologi
Urbanologi is a unique dining concept located in the Mad Giant Brewery. The restaurant and brewery can be found in Ferreiras Dorp – the heart of Johannesburg. The asian-fusion restaurant serves urban garde cuisine in a modern industrial space resulting in an unusual dining experince. With a relaxed ambiance and a trendy atmosphere, Urbanologi is popular with diners throughout the city. However, many of the patrons were young students from the local University. Bright splashes of colourful grafitti results in a youthful vibrance.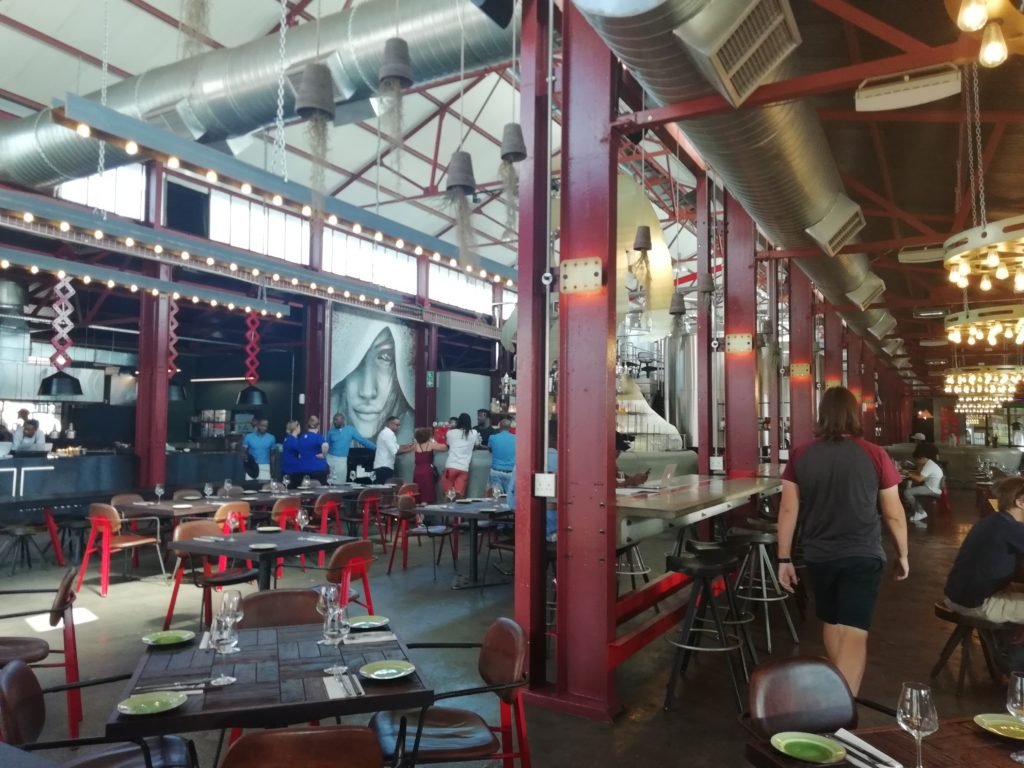 Dining at Urbanologi
We started with some drinks, specifically a cocktail and an ale brewed on-site. The Jozi Thyme cocktail which is one of their signature drinks is made of a unique combination of ingredients. However, these elements blended into the perfect drink. Smooth, sweet and full of flavours, I could barely taste the alcohol. The Super Session Cannabis Ale caught our attention and was very tasty. A well brewed craft beer that should definitely be sampled at Urbanologi. Therefore, I highly suggest that you enjoy a signature cocktail or craft beer during your meal. The food at Urbanologi is experimental in design but very tasty. Their menu changes with the season and according to what is available. Locally sourced ingredients ensures that dishes are sustainable. The meals come in smaller portions and the dishes are best for sharing.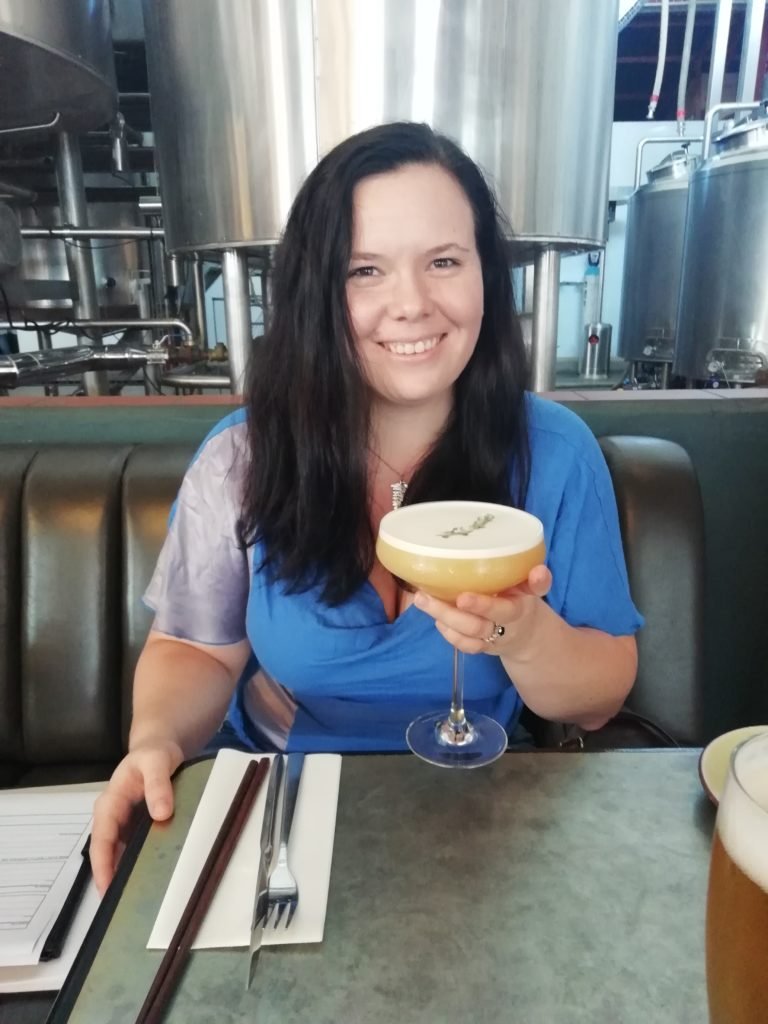 We enjoyed the Ciabatta and Goats Cheese Board as starters. However, the variety of cheeses really got our attention. Each dish was served with a number of sauces, dips, jams, butters and other goodies. For the main course we sampled the Duck Breast and the Lamb Loin. Both the duck and the lamb was soft, juicy and delicious. Therefore, it was difficult to choose our favourite. The dishes had a number of vegetables and sauces that added to the flavour. Dessert truly was the highlight of this lunch and was exceptional. We had the Rolled Oat Mousse and Banna Malt Gelato. The mousse was divine – fluffy and only sweetened by the raspberries and syrup below it. However, the gelato was just as good and combined with a brownie made of pure cacao.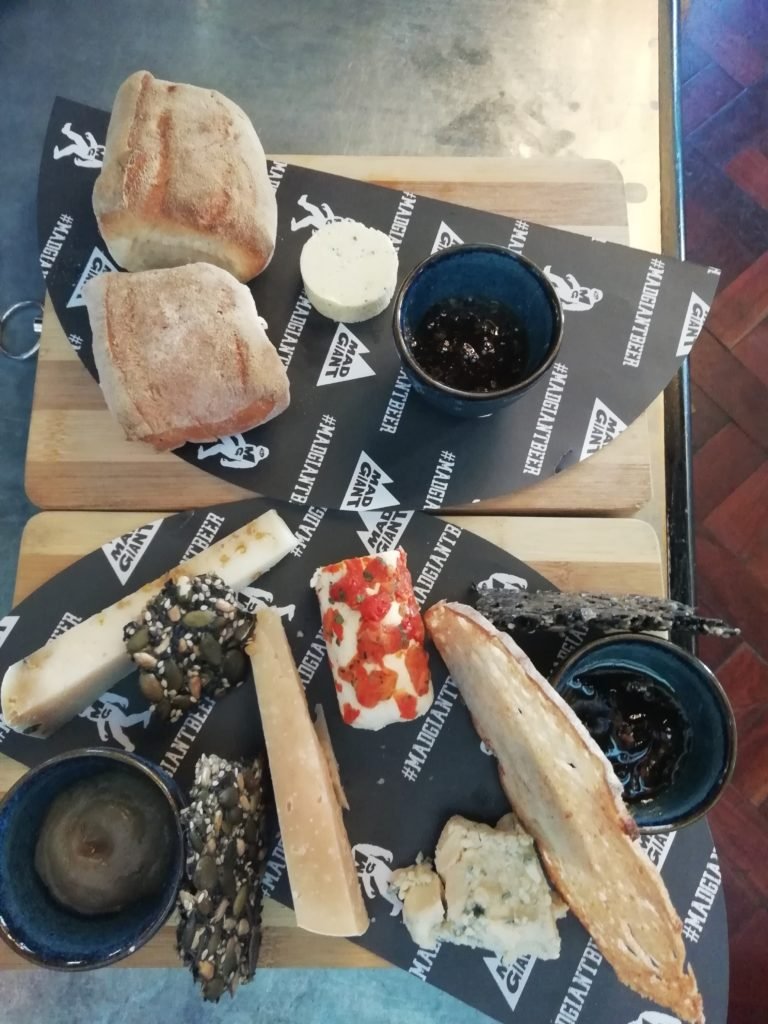 Che Argentine Grill
Che Argentine Grill is another terrific retsurant in an up and coming area of Johannesburg. Maboneng like Ferreiras Dorp is situated on the outskirts of the CBD and is part of the current rejuvenation of the city. The area is much safer than it was in the past and made up of businesses such as Che Argentine Grill which contributes to its revival. Therfore, this restaurant is quite popular with travelers and a great dining spot for locals as well. The owners are originaly from Argentina and the got their start by selling their local fare at markets. Due to the popularity of their empanadas, they were able to open a restaurant and share more of their cuisine with Johannesburg. We joined them for one of their events recently and really enjoyed the experience. The Argentinian event we attended was quite fun and the atmosphere was energetic.
Dining at Che Argentine Grill
Upon arrival we got to taste their signature Iona wines before we were seated. We then sampled some cocktails, specifically Caiprihina's. Most people in South Africa just don't know how to make these cocktails so we were eager to try the Argentinian versions. We had Che's Caiprihina which included grapefruit and naartjie and the Latin Caiprihina which was flavored with ginger and chilli. Both were superbly mixed, but the latter was quite hot. For starters we tried those famous Empanada's that are pies. The pastry is full of beef and a selection of vegetables. Served with a traditional tomato puree it was one of the best pies I have ever had.
Next up was the Churizo which was spicy and full of rich flavours. All meals are prepared from traditional recipes and are typical Argentinian fare. Our main course was Pork Ribs which they cooked on an open fire outside. The meal included crispy chips and a freshly made salad. The meat was soft, juicy and very tasty. There was a good mix of meat and fat but it was very rich. We ended off the lunch with authentic Argentinian deserts. We tried the Pancake with Vanilla Ice-cream and the Flan. Both desserts were served with a toffee or caramel sauce that is common in Argentina. It was such a yummy way to end our meal at Che Argentine Grill.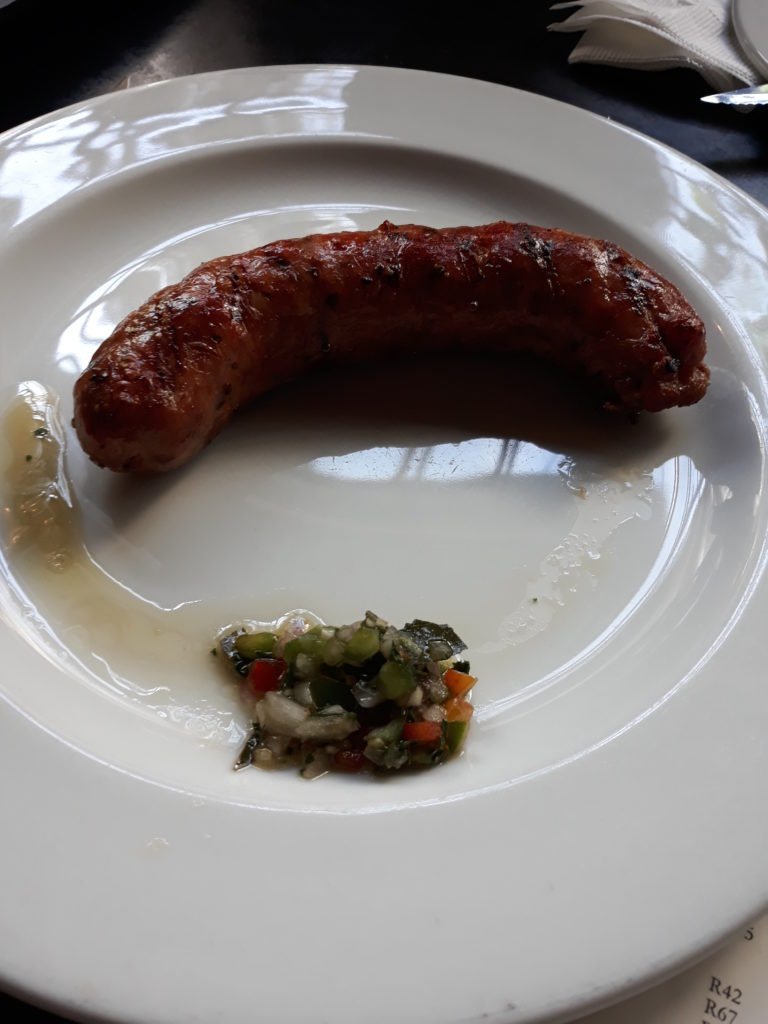 Parea
Parea is an authentic Greek restaurant located in the lovely area of Illovo. The central location is right within the corporate environment of Johannesburg and as a result is busy at all times. Parea is a large but inviting space with a very lively energy. The retsurant is decorated in whites and blues in a typical Greek style. However, the open terrace with its red and green fairy lights is the prime spot for diners. With such a special ambiance and bright beautiful lighting it attracts many people who drive along this busy street. And the spectacular food makes sure that people return. We had the pleasure of dining at Parea on a Friday night and got to enjoy the festivities. On weekend evenings Parea provides live entertainment for a festive vibe. The entertainment that night included traditonal Greek dancers, plate breaking,as well as talented belly dancers.
Dining at Parea
We began the evening with some cocktails since it was a Friday night. During the night we tried the Strawberry Daquiri which was amazing, the Caiprhina that was very strong and the well prepared Mojito. The starters were a tapas style array of choices that we really enjoyed. We sampled the Pita Bread with four tasty dips before trying the traditional Greek Salad. Next we had the Calamari Tubes and Squid Heads which was my favourite. At the same time we tried the Fried Brinjals in a tomato sauce with melted feta which was rather interesting. We really enjoyed the variety of starters we sampled at Parea.
For the main course we had the Parea Line Fish served with Chicken Kebabs and an Endive Salad. The fish was well cooked and so soft it fell apart after we added some sauce. We loved the taste of the well-prepared kebabs as well. The salad was unique and the main course as a whole was very filing. The portions at Parea are quite large and you will leave feeling satisfied. Our dessert was quite authentic as we tried the Baklava with Ice-cream and the Greek Youghurt sweetened with nuts and honey. Both dishes were scrumptions and uniquely Greek. Our experience at Parea was overwhelmingly positive and we are eager to return to try some more of their meals as the menu is quite large.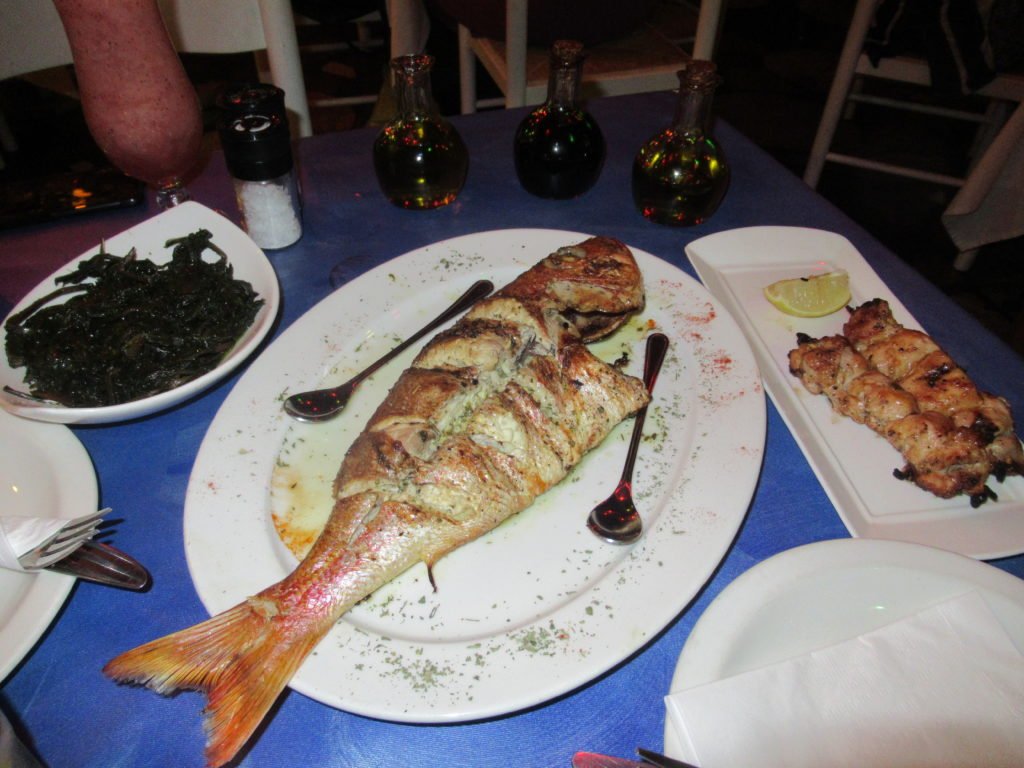 Dukes Burgers
Dukes Burgers is a hiden gem in the lively neighbourhood of Greenside. This vibrant space in Johannesburg is always busy as it offers plenty of entertainment options. Dukes Burgers has the best gourmet burgers in the city. As you duck in off the street you are greeted by a space decorated with regal purples and an interesting collection of items. Head further in and you will find the secluded courtyard at the back. Dine in the fresh air in this secret spot protected by big leafy trees. The causal atmosphere, friendly staff and peaceful surroundings will have you feeling relaxed instantly. We had lunch at Dukes and I just want to mention that the portions are huge, so make sure you arrive hungry.
Dining at Dukes Burgers
As usual we tried their cocktails, but I was tempted to also try their unique alcoholic milkshakes. During the lunch we tried the Rainbow which was very sweet and colourful, the Blood Orange Coco Mojito that was a delicious blend and a Watermelon Mint G&T which was refreshing. For a starter we shared the Firestarters and they were really spicy. These crumbed pickled jalepenos were stuffed with cream cheese, mozarella, feta and mixed herbs. We chose not to have two starters as the portions are incredibly generous at Dukes and we could barely finish all our food. Luckily we took home some leftovers and could enjoy it all over again.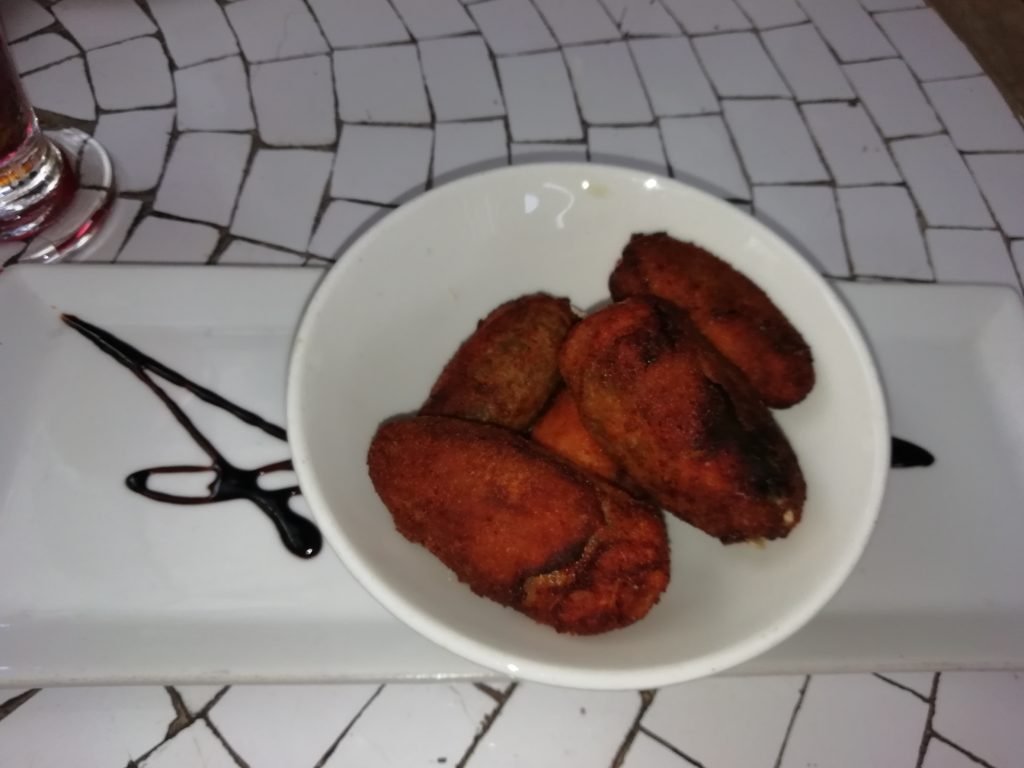 Dukes offers burgers made from a variety of different meats. Whether you want the usual beef and chicken or want to try something a bit different like lamb or ostrich, there is a patty and burger combo for you. We had the Feather Duster which has an ostrich patty in a BBQ sauce topped with melted blur cheese, mushrooms and crispy bacon – absolutely incredible. The flavours mixed perfectly and I enjoyed every bite. We also tried the Snow White which had a lamb patty topped with mint jelly and thin apple slices – such a unique combination but amazing. Both burgers were served with sweet potato crisps that are a healthy alternative to chips. For dessert we savoured their large pies and ice-cream that was simply divine. We had the mixed berry pie the apple crumble pie and left Dukes feeling full but happy.
We would like to thank Urbanologi, Che Argentine Grill, Parea & Dukes Burgers for hosting us! As always, all opinions are my own.